Good throw and grow plot?
11-12-2009, 08:08 PM
Good throw and grow plot?
---
There's a few spots on the land that I hunt that are open inside the timber and would be fantastic spots for a food plot. Just one problem, there's no way I could get equipment in there to plant it. Anybody else been in this situation? Any ideas/ways/things to plant??
11-18-2009, 10:54 AM
Spike
Join Date: Sep 2009
Location: Peoria County Illinois
Posts: 28
---
Have you considered brassicus? I have never tried it, but from what i hear it is really easy to grow, and the deer love it. There are quite a few articles about brassicus food plots online. From what I have been told if you can kill whatever is growing there now, all you do is broadcast the brassicus on the ground and it will take off from there.
11-18-2009, 11:06 AM
---
I would think Throw & Grow would work fine. If it were me, I would get a soil sample just to make sure your work will not be for nothing. If the soil is really acidic, your crops might not grow. Another issue to consider is the size. If the plot is very small and there are animals that frequent that area, they'll probably have it mowed down to the ground before it even gets a chance to take off.

I've never been serious about using throw and grow but I wish I would have. I planted about a 1/4 acre of Hot Spot and it grew okay. The Buck Wheat is what really took off but the deer didn't seem to care for it. I had a bag of T&G that I was going to throw away because it was old and had be open for a while. I took a handful of it and threw in on the plot in one corner when I planted the Hot Spot. The Brassicas really took off and looked great in that one little spot I threw the T&G. I should have planted the whole plot with that stuff. Lesson learned.
11-21-2009, 04:40 AM
---
I am starting to come around on rye(grain, not the grass). Easier to get up than oats or wheat in a throw and grow method. Here is a pic of some that I broadcast into some soybeans before leaf drop. I was very pleased with the results.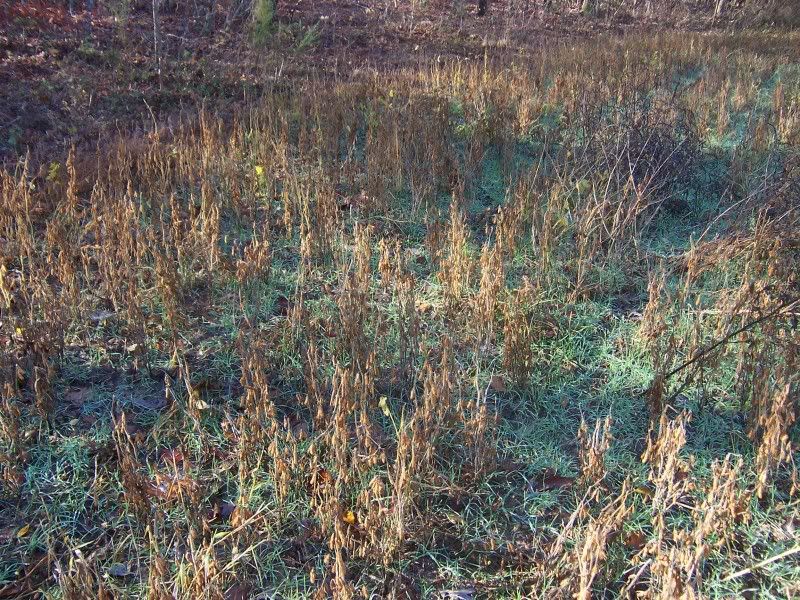 11-29-2009, 06:57 AM
---
We have tried throw and grow on a couple of different plots and have had different results. One of the plots was on an open patch in the middle of the woods. That one did green up right away, but dried up very quickly. The soil was less than an inch deep and no water would stay for the plot. Another plot was in the middle of the woods, but is down in a holler that soil was being washed in from the run off. The brassica grew well. Just haven't got much deer activity so far.

Throw and Grow is great for a new last minute plot or where equipment cannot access. You would be surprised on what a garden rake and some sweat can do though. In fact, even if you use T&G, I would recomend scratching the ground up at least a little. Turkey and other birds can pick a small plot clean before it grows.

One of our problems with the plots is all the clover growing in the pasture. Doe are hitting the fields hard right at dark. Our plots just are not getting activity. Some, but mainly pass through on the way to the pasture.

One last thing, soil samples. If you do not know what the soil needs, it doesn't help to put anything out and waste money on the seed. Found that out the expensive way.
Posting Rules
You may not post new threads
You may not post replies
You may not post attachments
You may not edit your posts
---
HTML code is Off
---