Just a thought
10-12-2005, 12:22 PM
Just a thought
---
Just curious as to your opinions. Don't shoot. One could make an argument that feed plots and winter supplementation is poor wildlife management. Yes, it gives the deer something to eat when food supplies are low, but aren't we hurting the gene pool by "helping" too much? Kind of like feeding the ducks at the lake. If they get fed too much, they lose or abandon their natural ability to find food on their own. Plus, it could hamper nature's own weeding out process (natural selection). The ones that would typically not survive winter can now make it through "unnaturally" and thus possibly weaken the gene pool. Yes it would ensure higher deer numbers, but maybe not the strongest, biggest ones. Maybe better wildlife management would be to ensure their natural habitat is not destroyed. Or maybe restore natural habitat where it has been destroyed. In my opinion/experience, when man tries to control or "enhance" nature, he screws it up big time. Just like eradicating predator species in most areas has led to unhealthy prey animals. Or eliminating hunting in areas with low predator populations has led to over population of deer, and thus smaller, weaker, and in some cases, sick deer. CWD? Just a thought.
10-12-2005, 06:06 PM
Nontypical Buck
Join Date: Feb 2003
Location: Ontario Canada
Posts: 2,059
RE: Just a thought
---
In many cases food plots are helping to restore natural habitat. It can be planting/fertilizing oaks and other trees, food shrubs and other natural plants. In many ways the food plots take pressure off of the natural environment. Check some of Farm Hunters posts. His underbrush has grown back since he started tilling the soil.

Deer populations may be high due to the animals utilizing agricultural crops during the growing season.Plots assist the animals through the winter. The alternative would be starvation as the main predators have been removed from the food chain. It would be more natural to have predators but I don't think the general public would be keen about wolves in the suburbs.

CWD is a disease which affects healthy and unhealthy animals. It may spread quicker due to feeders but food plots tend to be more spread out.
The same type of congregation of animals happens in the wild at apple, oak,and persimmontreesbut I don't think that you'd want to cut them down to prevent the spread of CWD?

So many changes havetaken place in the natural environment that even our wilds are nothing like they were before settlement. They are lacking Chestnuts and many other food trees that have been timbered and removed from the natural environment.We prevent natural burn cycles which wouldremove the tree canopy and foster new undergrowth for wildlife feed.What you call natural in many cases is unusableby deer.Imported grasses have displaced shrubs and seedlings that they feed on. Properly planned food plots in many ways are only assisting the deer in an environmentthat is not "natural".

Dan O.





10-12-2005, 08:34 PM
RE: Just a thought
---
Thanks for the info Dan. I should have made it more clear that I'm not for or against anything. I have absolutely no experience or knowledge in this area, so I was just wondering. You hear so much from other people, I wanted to hear from hunters and farmers who actually do this type of thing. Never intended to offend anyone by looking like I was against it. I was just curious. I'm still interested to learn more, I'll check out FarmHunter's posts. Thanks.
10-12-2005, 10:25 PM
RE: Just a thought
---
Yes, it gives the deer something to eat when food supplies are low, but aren't we hurting the gene pool by "helping" too much? Kind of like feeding the ducks at the lake.
I tend to agree with Dan O. - as far as food plots and even Winter Supplement feeds go. I understand your concern for keeping things "natural". In fact I often think about it.
I use food plots for alot of reasons - one is to help the deer in our herd have quality food available at all times of the year. Other reasons are more selfish. My plan mimics that of a "lazy farmer" - one that never can seem to get his crops harvested - but overall - the property very much resembles a working farm - not a deer factory by any means - Our deer are very wild - and heavily preyed on by coyotes (which also flourish with the increased bounty!).
In my mind's eye - a perfect, natural,hunt would be on rolling farm land - like when I was a kid - with corn fields, and Winter Wheat - maybe even clover or alfalfa bright green on a colorful fall day!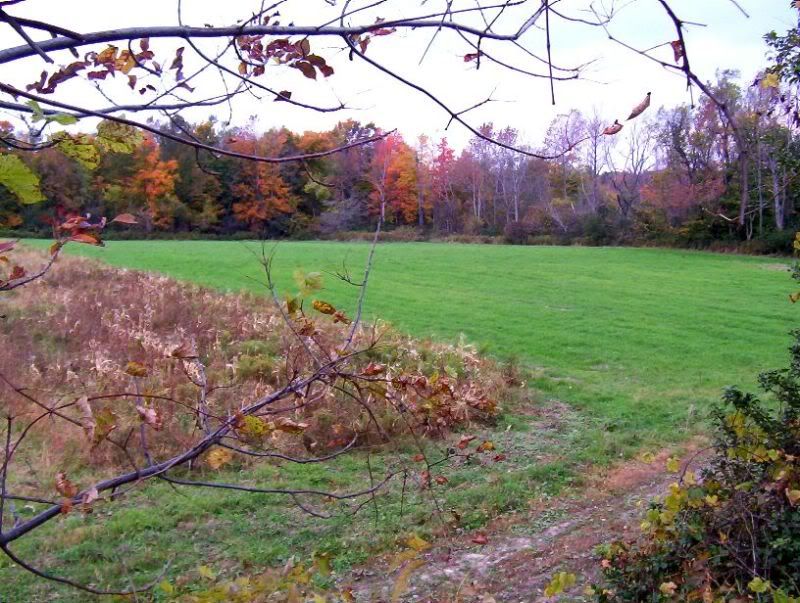 As far as letting the deer fend for themselves - We already alter that plan considerably at our place by taking 40-50% of the deereach year - not the most "natural" of situations - but normal in most places these days.
FH
10-13-2005, 11:45 AM
Join Date: Sep 2005
Location:
Posts: 23
RE: Just a thought
---
By planting/fertilizing natural browse you can keep/revert a propertyto a more natural state and still provide proper nutrition. I agree with others who have said that our forests and habitat is nothing similar to what the whitetails experienced before this great country was settled. Indians used fire in pine forests for a variety of reasons. Fireis the number one method to revert a pine forest to its natural state. A good timber mgmt plan will enhance wildlife habitat (not just deer habitat) and increase monetary value of trees. Fire and selective thinning will convert a brush choked, thick pine forest into a natural food plot. Fertilizing the forest will help increase forage production and exponentially increase timber value. If you have natural browse already growing on your property, then simply fertilize these areas. According to Alabama wildlife biologist and MSU, by fertilizing honeysuckle with 100lbs per acre of 13-13-13, the protien level in the plant increases from around 9% to over 17%. You should also identify mast producing plants and trees and fertilize these as well. But, keep in mind, a beautiful green field in winter is a sure way to attract and hold all kinds of wildlife on you place.

As far as genetics, this is the area of deer mgmt that is the hardest to control, of all the deer mgmt techniques used today, genetics is the one area that deer managers control the least. Most of us have small properties and/or no control over mgmt activities, unless you control enough land to manage several different herds of deer, you will not be able to effect any changes in genetics, besides, the strongest always survive withing an area. The best thing to do is be selective yourself and encourage others to do the same.

Let the small ones grow, shoot a doe!

10-13-2005, 02:45 PM
Boone & Crockett
Join Date: Feb 2003
Location: Ponce de Leon Florida USA
Posts: 10,079
RE: Just a thought
---
You wouldn't believe the number of clients and landowners I run into that won't spend a little money on burning, fertilizing or herbicide spraying. All of them think some fairy dust will magically appear for free that will make their lousy stands of timber look like a park. They gripe and refuse to sign contracts for pulpwood grade thinnings because they think the price is too low and won't believe you when you tell them that the timber will stunt and that the percentage of future sawtimber investment return will be greatly diminished. Almost any kind of timber management action will improve the wildlife habitat.
10-13-2005, 09:44 PM
RE: Just a thought
---
Dan - I couldn't find the pics I know you are taling about - they must be on my old Computer still.
Basically - they showed a browse line all the way around the field edge - Pictures of the same field 2 years after serious food plots - show Trees, shrubs, and forbs/grasses along the same field edges - right down to the ground.
Combined increased deer harvest & especially having food plots - AT THE RIGHT TIME OF YEAR - have helped to restore the field edges - as well as the understory in so many of our woods.
Woods that used to lookbarren on the forest floor - now have shrub, forb, and young tree growth - without cutting trees. In areas we cut trees out too - the growth is incredible.
Notice the green forb growth in this picture :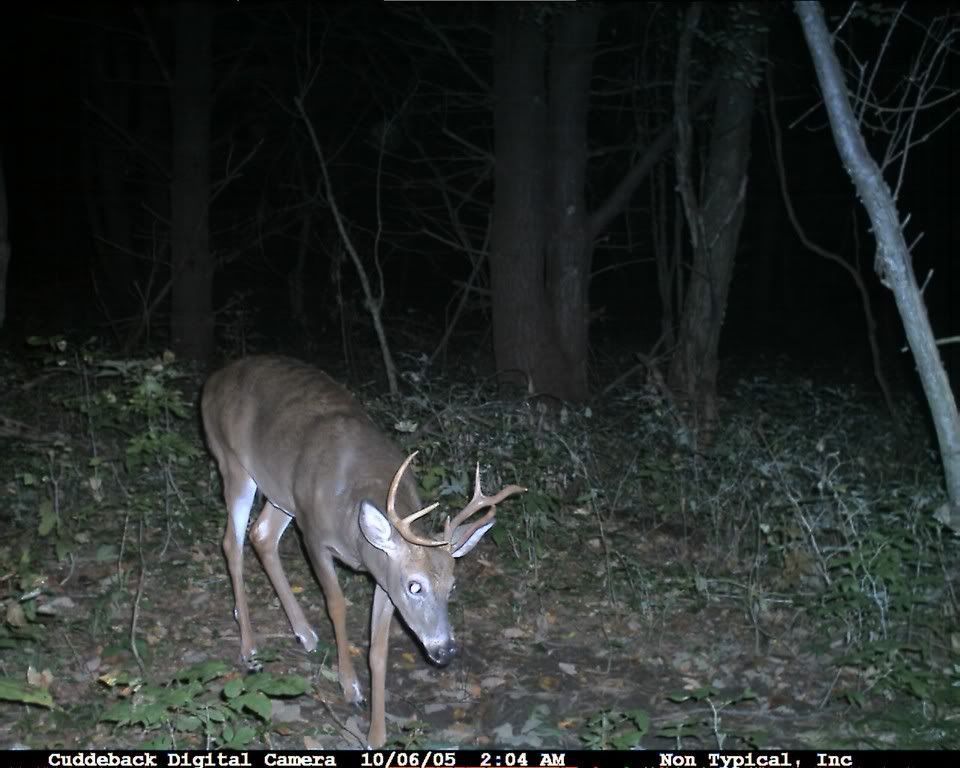 This is a 60 year old hemlock, cherrry, Ash, Maple & White Pine woods that was WIDE OPEN a couple years ago. In areas where trees fell or we cut - the woody growth is HUGE.
I'll try to get some good pictures this week when hunting.
FH
10-13-2005, 11:24 PM
RE: Just a thought
---
Supplemental feeding can disrupt natural migration patterns of some wildlife. Animals that do not migrate naturally due to supplemental feeding operations are often more vulnerable to malnutrition, because they do not have access to the correct type and amount of foods found in traditional wintering habitat. Also, without the protection of wintering habitat, animals are particularly vulnerable to severe winter weather and predation. Predation, not starvation, is the often the major cause of winter mortality for wildlife. Winter severity (deep snow, intense cold) and the quality of wintering habitat are the real determinants of survival in winter. Winter-fed animals are still vulnerable to predation, if wintering conditions are severe, particularly where feeding occurs in marginal habitat. Supplemental feeding can actually lower populations by increasing predation during winter-feeding. Winter-fed animals usually congregate near the feeding sites. Concentrating animals in a feeding area for extended periods of time will attract more predators and will lead to higher predation than if the animals were spread out.
Typically winter feeding occurs near urban areas which can lead to an increase in animals killed by car collisions and other human associated mortality sources. Unnatural congregations of animals in winter feeding areas can also increase the instance of communicable disease. Wildlife can grow accustomed to human contact and therefore be less wary which can lead to increased instances of human-wildlife conflicts, accidents, increased predation and starvation. Remember, the STATE and therefore the people, own the wildlife, you do now own the wildlife that uses your property.