jrbsr ( shed hunting )
01-22-2005, 10:43 PM
Nontypical Buck
Join Date: Feb 2003
Location: ND
Posts: 1,627
jrbsr ( shed hunting )
---
jrbsr
You need to know what the deer are feeding on at this time of the year. We spend a lot of time scouting now to see where and what they are feeding on.
Keep track of all good feeding areas. Feeding areas are the key to good shed hunting in my area.
Once most of the bucks have shedded or if you have competition, by scouting you now have good places to start looking. We find roughly 80 % of our sheds in feeding areas. Our area is probably different from yours but the feeding area is always the best place to start. You will find sheds on trails going from the feeding area going to the bedding areas.
When we first started shed hunting, we just walk everything and found very few sheds. Once we started scouting and actually knew where the deer where feeding when they shed, our success rate sky rocketed.
Since the deer sometimes move away from our hunting spots and winter in other areas... Now is a good time to get permission from land owners for shed hunting, especially farmers!!! Not only will you have a greater chance to find sheds, it could open doors for hunting once the landowners gets to know you. With the way leasing/guiding is going... the more land you have access to now will help you in the future.
Some people think dogs, antler traps or baitpiles are the way to shed hunt... I disagree. Take a kid shed hunting and go tromping. The kids get to learn about nature. The smile on their face when they do find a shed is priceless. You will be rewarded 100X more then the other 3 ways of doing it. Trust me!!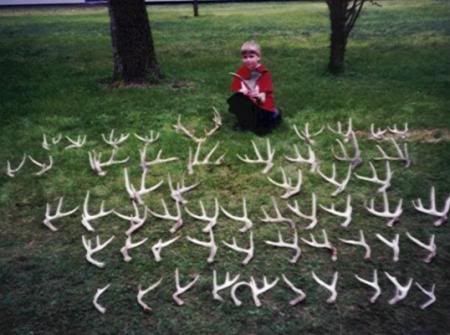 last year...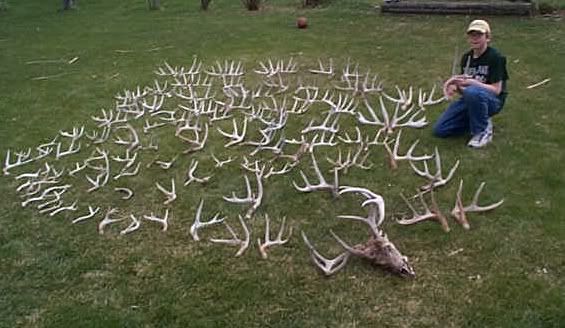 Tim
01-23-2005, 05:58 AM
Join Date: Dec 2004
Posts: 71
RE: jrbsr ( shed hunting )
---
sounds agreeable but what do they generally feed on during winter? Farms and fields are very few mostly just hardwoods and cedars. Cedars are so matted down from doe yards and only things i find is an occasional coyote kill.
01-23-2005, 07:13 AM
Fork Horn
Join Date: Feb 2003
Location:
Posts: 112
RE: jrbsr ( shed hunting )
---
Messenger, if you are in the Catskill Mts then finding sheds will be hard when most of the bucks are harvested every year. Where abouts are you anyway? I grew up in the Catskills and now live on Long Island.
01-23-2005, 11:53 AM
Nontypical Buck
Join Date: Feb 2003
Location: ND
Posts: 1,627
RE: jrbsr ( shed hunting )
---
messenger

That's why I put in " my area is probably different then yours " and to " Scout " . We have mostly AG land and CRP in my area. We put a lot of miles in tromping since I have access to a lot of land but I imagine it is a lot easier to find sheds here since it is so open with quite a bit of cropland.

Wish I could help you out with specifics for your area but I can't. You will have to scout and find out for yourself. Pay attention to south facing hills and hill tops if you have snow. Deer will bed to take advantage of warmth from the sun and to get out of the wind. Using hill tops or ridges is much easier walking then plowing deep snow in lower areas.

Walk fresh trails to see how the deer use the area. Pay attention to where the deer are digging in snow or what is being browsed on. Grassy areas are also a good place to look for deer sign.

Goodluck!!

Tim
01-25-2005, 08:46 AM
Fork Horn
Join Date: Aug 2003
Posts: 225
RE: jrbsr ( shed hunting )
---
Wait until the snow melts then go back to the areas that you know they were hearded (yarded) up at, you should find some drops.
I've had great success the last two years in New England by hitting spots where the deer scavanged for acorns and beech, all the sheds have been found in close proximity. TJF hit it on the head though, take the kids with, my 9 yr. old daughter loved shed hunting last year and loves to walk in the woods.
Here are some sheds we found last year.
Thread
Thread Starter
Forum
Replies
Last Post
2008 - 2009 Firearm Deer Contest
2008 - 2009 Firearm Deer Contest
Posting Rules
You may not post new threads
You may not post replies
You may not post attachments
You may not edit your posts
---
HTML code is Off
---