Milo vs Mitch
11-24-2003, 12:36 PM
Milo vs Mitch
---
I know this can get heated but all I want to know is which deer you would rather kill. My opinion is that Hanson' s buck is the " perfect" deer while Rompola' s, be it real or fake, is kinda freakish looking.
Milo Hanson' s deer...
Mitch Rompola' s deer...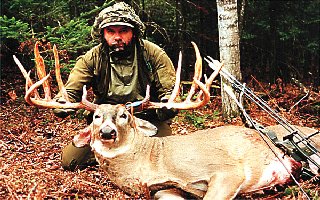 ..and I' ll throw in the Beatty buck just for kicks...
Let' s say all three are taken in fair chase, in the same manner. I would take the Hanson buck hands down.
11-24-2003, 12:42 PM
RE: Milo vs Mitch
---
That is a good question. Kinda of left me stumped. I would be overjoyous with either buck, but if they were all 3 coming down the same trail i' ld take the one that either gave me the first and best shot. You cant be too picky when you are talkin about giants like those.
11-24-2003, 12:47 PM
Fork Horn
Join Date: Feb 2003
Location: Southern MD USA
Posts: 436
RE: Milo vs Mitch
---
While the Hanson buck is the " perfect" rack, and would be an awsome harvest... I like to be different.. I would like to have the Beatty buck, that is just wild looking I love all the non-typicals out there... Hole in the Horn, missouri monach... I cannot wait to see this buck taken in Iowa by the Kid... Our gun season starts on Sat morning, hopefully I won' t have to decide...[:-]
11-24-2003, 12:50 PM
RE: Milo vs Mitch
---
Troph,

Ok, add Goliath to the mix, even tho I think he is as much of a fake as Rompola' s deer because of the genetic altering. Which one would you take.

" They are all good"
" Whichever one I could"
" I would be happy with any"

NO NO NO NO NO....those are not acceptable answers.