Need help with stand placement
09-14-2013, 03:27 PM
Spike
Join Date: Sep 2012
Posts: 13
Need help with stand placement
---
I need some help with some stand placement ideas on public land. We are going tomorrow morning to put up our stands. I haven't been able to do some scouting do to work and it being 2 hours south of me. This will be my 3rd year hunting.
My first year I shot a nice doe at the light green spot labeled #1, I saw 7 doe total that morning (my first time hunting, only hunted 1 day of season do to work). Last year I hunted this area 2 days first shotgun season, labeled #2, and did not see any deer. We hunt other areas 2nd and late season.
The light grey spots with letters are areas I'm thinking of placing my stand. I hope to get another stand or 2 before shotgun season starts.
The light blue areas are water.
I can hunt anywhere in the red.
If you have any better ideas than what I have here please let me know, I'm still trying to learn.
This is the area without my marks: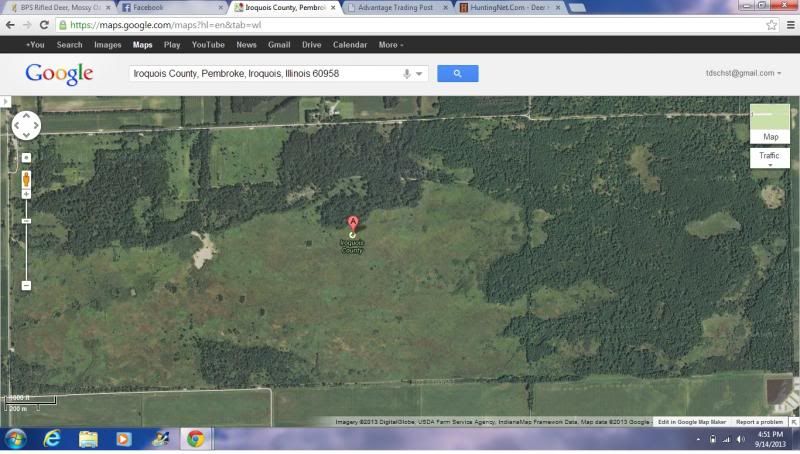 This is the area if you wanted to put in Google maps to zoom in or out:
Iroquois County, Pembroke, Iroquois, Illinois 60958
Thank you for any help, like I said I'm still trying to learn.
09-17-2013, 09:19 AM
---
B looks like a pretty good spot, I would also check the area North West of A it looks to be a good pinch point. Although looking at an aerial map and putting boots on the ground are completely different. Look for the best sign, I would definitely check out the area North West of A.
09-17-2013, 11:51 AM
Fork Horn
Join Date: Nov 2009
Posts: 141
---
Agree with the above posters. I would also want to check out the two isolated fields toward the Northeast corner. The woods look pretty thick around them, so you might could find a good travel route. The more northern field seems like the thicket thins out on the western side, might be a good place to look for some sign. I prefer to hunt woods over fields though, so that may not fit your style. I always try to set up on travel routes into fields... Is any of this land cropped or CRP or what?
Posting Rules
You may not post new threads
You may not post replies
You may not post attachments
You may not edit your posts
---
HTML code is Off
---