My son's first buck.
11-25-2012, 06:18 PM
Typical Buck
Join Date: Feb 2003
Location: Free Union, VA
Posts: 751
My son's first buck.
---
We hunted all day Friday. 25 degrees in the morning to a high of 62 degrees. Saw some turkey in the morning but season is over for them. Saturday morning we knew it was gonna be cold so we took extra layers. It never got out of the low 40's and it was windy. We got our blind set up just after Dawn and settled in. I had forgotten my grunt call but didnt' want to go back to the truck for it. We were set up in some mixed hardwoods...a few mature trees but lots of young trees and scrub. The longest shot you could pull here might be about 125 yds on the opposite hill.
We had decided to hunt the same spot he had taken a doe on youth deer day two months ago. That day, I had to wake him up to shoot the deer, but He got this one on his own. I have to sit with him due to his age. Bout ten minutes before. Maybe fifteen, I had seen a nice buck on the opposite hill. He couldn't see it. I put my crosshairs on it. Had just a moment but didn't want to do the shootin when he was there. Let it go. Then a minute or so later saw it head down the hill at an angle. It disappeared in the scrub. We sat for a while them heard some noise. I told him to grab his rifle. Told him if he saw it coming our way he could shoot it directly in the front of the chest (he has been practicing archery hunting for the last two years so I wanted to make sure he knew he didn't have to wait for a broadside shot.) He said " I know this".
He got his rifle up and Said. " oh my god, it's a giant buck." He told me to hold up the front of the rifle. So I held my palm up for a rest. I never saw the buck. Was more concerned with the rifle muzzle 13 inches from my face. He was sitting on my right. And the deer was on my 9 o'clock. He said the deer was looking at us. Getting a little nervous. He wanted to get a better angle. I told him if it was getting nervous to shoot the first good shot he had. He said said "this deer is gonna die". I covered my left ear and he said " say good night". He fired and I looked. It was on the ground moving its rear legs. He chambered another round but it never lifted its head. When he walked over to it he had to pull the antlers out of the ground. He said he shot and it lunged two feet to the left but just did a face plant and that was it. He also added that the antlers weren't as big as he thought. I told him I thought it was a fine deer. We gutted it, dragged it up jnext to our blind and waited a couple hours before heading out to the butcher and getting lunch. Then went back to the blind for the rest of the day.
I got to spend two days with my son in the woods. On the second day...He killed his first ever buck.
Exactly what I wanted for my birthday. Yep. My son killed a buck for me on my birthday. I have to say I was excited.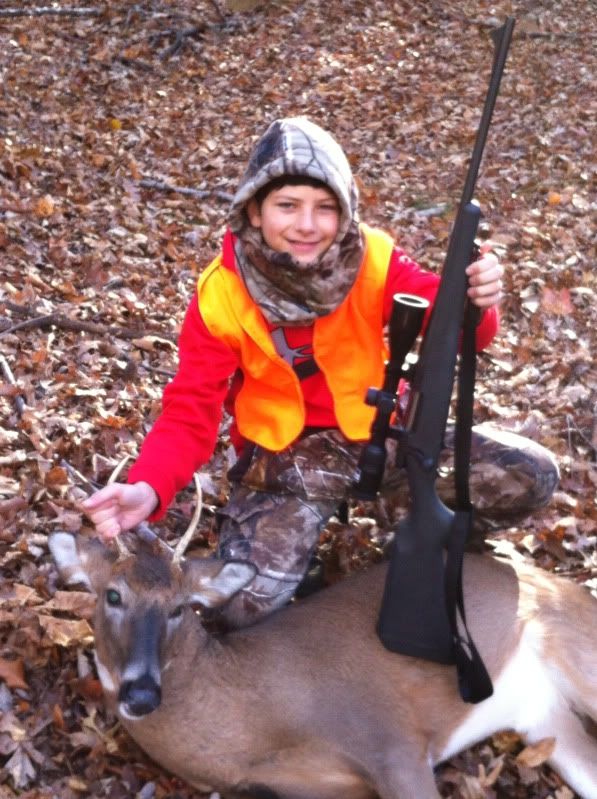 11-26-2012, 06:10 AM
---
Man DPV, you AND your son are having an awesome season! Congrats! I can't wait until my kids are old enough to hunt with me. Did you hunt Powhatan WMA? Saturday was a doe day...I'm assuming it was crazy busy.

I took my sister out to hunt for the first time. We went in blind to some private land belonging to a friend of hers (neither of us had been there). I figured hunting there would be better than Powhatan WMA on a doe day. I think I need a ground blind. I saw deer in the thickets with my binoculars but she moved a lot when she got uncomfortable, and I'm thinking they spotted her. We also had our hunt stepped on by DEER DOGS from adjoining properties. Go to private land to avoid this crap and it still happens. If it were my property the dogs were crossing onto, well...S.S.S.

How do you like hunting out of a ground blind? Is your vision limited?