Buck Down
11-15-2012, 09:50 AM
Buck Down
---
http://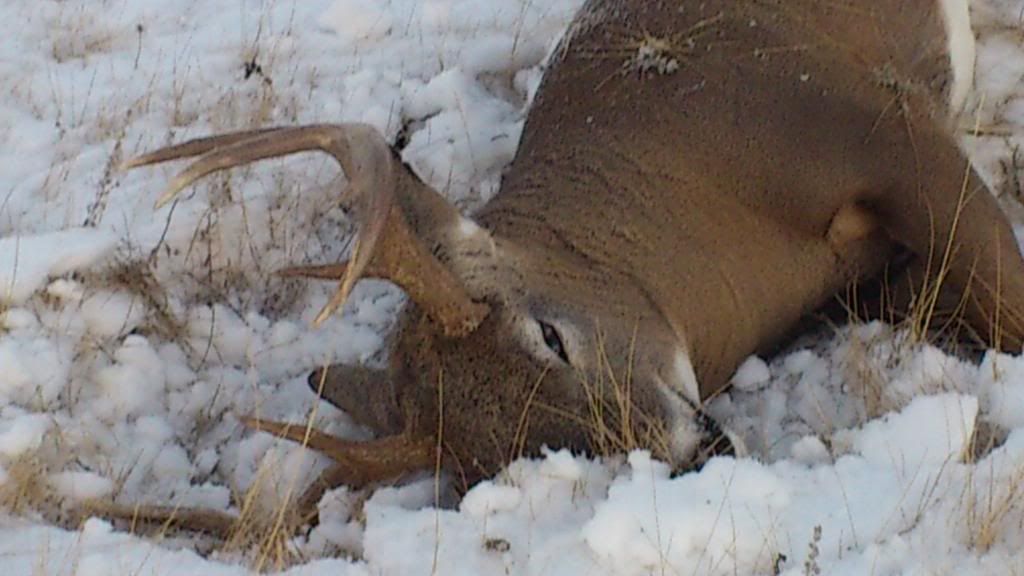 I was up at 5 am,and ready and raring to go. The old bones squawked and the muscles were complaining about my decision. I went upstairs, started the tea kettle, and started loading my pickup. I then made a Thermos of tea, with lots of honey. Stopped at the store and picked up a couple packs of smokes, and ws on my way. I arrived at 7 am where I wanted to be, poured a cup of tea, cracked open a chocolate bar and started glassing the creek bottoms and brush and ridges.I seen a pile of whitetail does, lots of magpies, a few eagles, but no horns. Around noon, I decided to move. I then seen a good shooter buck coming across the stubble, and he was late for a date. Couldn't get a shot at him. I then left there, and on the way out, met an old man and his wife that were looking for a 3 legged deer that someone had shot in the hind end and blew the back leg off at the hip.That took care of a couple hours, and we couldn't find him. I decided to head for Dennis's place. On the way, I checked out another draw that I have hunted before. There I found a herd of mule deer. In this herd I seen the biggest mule buck that I have ever seen in my life. I was wishing that I had a mule tag this year. I watched them for a while, and then was on my way again. I got to Dennis's place and covered lots of miles in there. Seen 2 herds of mules, one herd had 2 shooter bucks in it, the other had 1.Left there, heading to another area, and met a lovely lady named Donna that has a ranch way back in the boonies. She was standing at her fenceline with a 303 British watching 2 whitetail bucks and a doe in her stubble field. She couldn't reach them with the 303, and asked if I could. I said yes, and got things ready to go. The deer changed the game by trotting across the stubble heading for a draw. She climbed into my pickup, and we headed across the stubble. We came in on the opposite side of the draw, and snuck up to the top of the ridge. They were down in the bottom, and i lasered them at 335 yards. Got comfortable, The weatherby roared, the 303 went bang, and there were 2 bucks on the ground. I field dressed mine, and then went over to see how she was making out. She had no bone saw, and her knife left a lot to be desired. I dressed her buck, loaded it in the back of the pickup, and we headed to her house. She had called her dad, Tracey, who met us at her place. He is a great old guy too. We talked for a while,and she got my address and phone number and has promised that as soon as she manages to get into the city, that she will be coming to visit with me. She told me that anytime I feel like hunting, c'mon down to her place. She is a single lady, loves hunting and fishing and kinda cute. All in all a great day. New friends, new hunting grounds. What more could a fellow ask for.
http://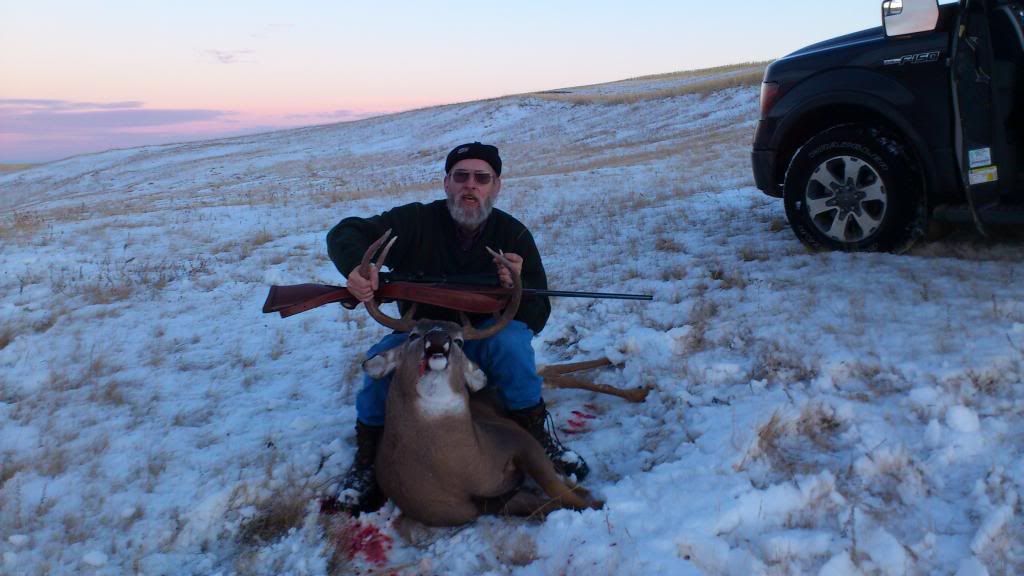 ---
Last edited by redgreen; 11-15-2012 at

10:01 AM

.
11-15-2012, 10:20 AM
---
In the areas where I hunt, you park, get out the spotting scope, glass the countryside, and if nothing promising is visible, you drive elsewhere. When you finally find something, you get yourself into a position that will intercept the deer, or sneak over the ridge and shoot. I choose my shots wisely. I make sure that I can drive up to the animal after the shot. The days of running 50' of chain and 300 feet of rope to haul them out of the bottoms are over.
11-15-2012, 04:39 PM
---
That's a nice buck. Looks old! Cool story. Kinda hard to imagine...the hunting is so different here on the east coast. LOL, see some deer in a field, watch them head into a draw and hop into the pickup truck?? Awesome! Seems like you have a lot of places to hunt. Very cool.