A blind squirrel Gets a nut.
11-13-2012, 05:13 PM
Typical Buck
Join Date: Feb 2003
Location: Free Union, VA
Posts: 750
A blind squirrel Gets a nut.
---
Couldn't get to the big woods this weekend. Decided to just grab the crossbow and get into a tree near home. Just after getting into the stand I heard a deer come walking thru but it was too dark to see anything. About a half hour later the woods were becoming light and I heard a deer coming my way. I watched this deer come in but was struggling in the early morning light to evaluate it. I could see antlers and could see what looked like a plump body. From the height, angle, and low light I was trying to figure out how big it was. I think I was doubting what I saw because I have never been over a really big deer before. (really big to me). He walked over to a holly tree and rubbed his antlers in the branches, kind of tickling them in the leaves. He was in range but I didn't have a clear shot. If he continued in that direction he was gonna disappear into the morning darkness. Then he turned and came back my way. He was sniffing along and gave me a broadside shot but I still wasn't sure about him. I could see there was a nice split and shape on his right side antler so I felt he was more likely a mature buck. He was still shuffling forward and paused again....I had the crossbow up but the angle of the shot wasn't great. Then he turned his body slightly and I shot. I knew the hit was good. Saw him run. I heard him stop running...couldn't see him at this point....then heard him fall and thrash around. It ended quickly. Within minutes the woods were light enough that I could see him from the my stand. I gave him well over an hour before going to check. He was an 8 pointer. The biggest deer I have ever killed. Dressed out to 160. I paced off the blood trail...he ran 45 yds before stopping and only staggered 3 more before going down.
I wanted to be in the mountains. I was gonna go out to the woods in public land nearby. I was gonna say to hell with it and stay in bed. For some reason I decided to give it an hour or so then come back home and I got lucky. This Deer has never been on my game cams before that morning. Here is a picture of him from just before coming into my stand.
This is what he looks like now.
11-13-2012, 07:06 PM
---
Time in the stand is important. I tell guys that all the time when they complain about not having time to go hunt a full day, or time to drive three hours to their favorite spot. You cannot shoot them from the couch. I've walked in and sat on the ground before because I had the bow in the truck and an hour to spare (Passed on a three point that time). Anyway, nice buck, and good job getting out when you could. Post another picture when it's finished. Cool to have a live picture right before getting him.
-Jake
11-14-2012, 04:21 PM
Typical Buck
Join Date: Feb 2003
Location: Free Union, VA
Posts: 750
---
I will have to get some glue before I can post pictures of the mount. It's a hell of a lot of creepy gross work. I turned the heat up to high and some of the bones came apart. I think I can fix them but it's a rough learning curve.
11-14-2012, 04:52 PM
---
Just a tip (at least it works for me) don't boil, (that will destroy the bone) just simmer for a few hours, pulling every-now-& then to scrape off the bigger stuff, after a few hours of simmering pull the skull & use the pressure washer to blast everything off, I have done a fair amount of skulls & this works best for me. very easy, No mess, Doc
here is the deer I took this year, not very big, but I do all my deer
I will put it through the whiting process when I get time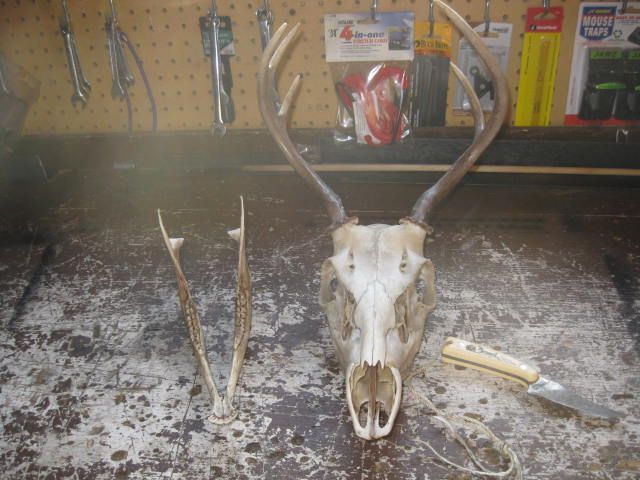 ---
Last edited by DocD; 11-14-2012 at

05:00 PM

.