First Rifle Hunt--Score!
09-30-2012, 07:38 PM
Typical Buck
Join Date: Feb 2003
Location: Free Union, VA
Posts: 750
First Rifle Hunt--Score!
---
My 13 year old sat in a tree behind our house several times last year with my crossbow but I never let him shoot....the shots just weren't right. This year he took the hunter safety class and also did a skills weekend put on by the VDGIF. Last week we went to the range and spent a few hours shooting. Went from fear of the weapon and recoil to putting a best group of 1 1/2 inches at 100 yds from his .243. Saturday was Youth Deer day here in VA so we traveled to a spot near a farm that I had gained access to. We got to our hunting site around 15 minutes before dawn. You can legally shoot 30 minutes before dawn and He was eager to get there and get settle in. I had a hard time slowing him down on the hike up the mountain....didnt' want to be all sweaty. Whe we go to the spot we had scouted out several weeks ago, he decided he didnt like the place I had planned to set up so we moved. I didn't like his spot so we kept going till we found a spot we both liked. Fairly thick young hardwoods that we're in view of some mature oaks dropping acorns and overlooking a draw. We were in our blind settling in around 715. He was figgity and complaining. The chairs were to big and crowded the blind. His coat made his shirt rise up in the back. He was cold. He didnt want to wear his hood Because he couldn't see. I gave him my hat and he relaxed.... enough to fall asleep.
We got busted by a squirrel who raised hell for 10 minutes then calmed down. Not 5 minutes later I see a deer walking about 60 yds away. I took his head in my hands and whispered to him. He woke fully alert and raised his rifle. The deer spooked and ran But stopped 10 after 10 yds.
I told him to let it calm down and just be still. Another deer that was with it came our way and cut the distance in half. It was staring at us trying to figure out what we were. He had picked his rifle up off the rest and was holding it freehand. I told him to find it with the naked eye first. He said he had it in his scope and asked if he had a shot could he take it. I had barely said yes when "BOOM!!". The deer ran off and crossed the draw into some mountain laurel. Thru my ringing ears I thought I heard it crash. We sat for ten minutes then I saw another deer come from the same direction as the first two. He was never able to get it in his sights. That deer was relaxed and hung out about 70 yds away just barely visible thru some thicker stuff, for a while till a bunch of crows sounded like they had found the downed deer and began raising Cain. We headed over and followed a significant blood trail. It was tumbled up against a barbed wire fence and had gone 100 yds after the shot. broadside chest shot...a little low but it definately did the job. I think I was as pumped as him.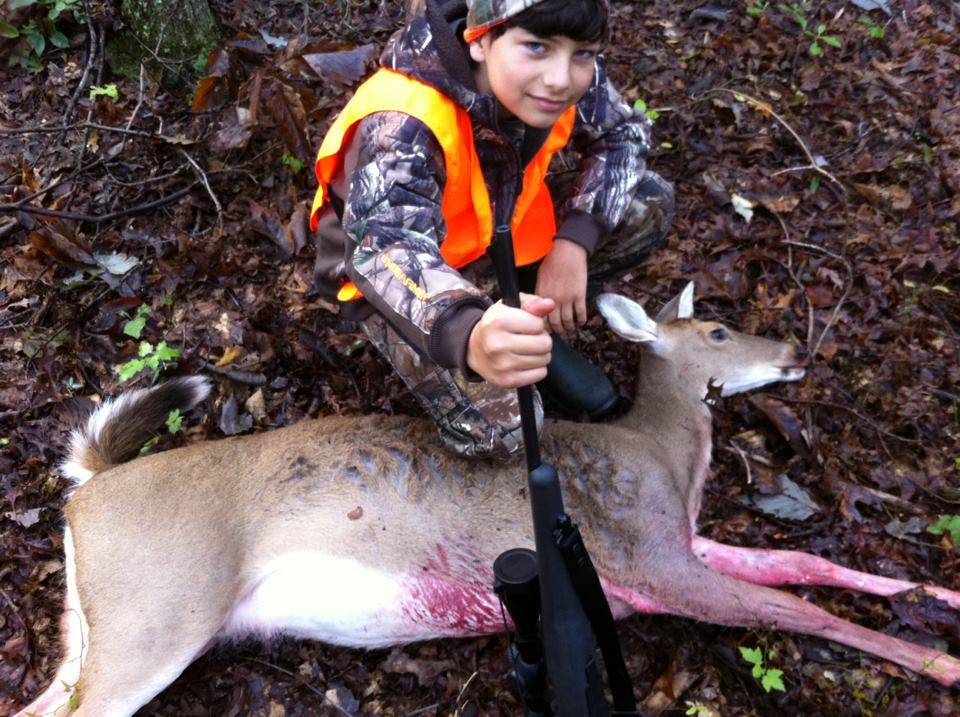 10-03-2012, 09:16 AM
---
A dad will never forget his kids first deer weather it was his son or daughter. That moment was priceless to me and I will fore ever remember them in detail. Congrats to the both of you, a once in a lifetime moment.