| | |
| --- | --- |
| H80Hunter | 08-22-2012 10:24 AM |
---
Trailcam Pic and Question about antlers

How much do antlers grow over the summer? This buck was seen on June 24th, and the batteries in the camera died July 11th so this is the only picture of this guy we have.
I'm sure he's gonna be a nice one, since he already was in late June -- but this is our first summer with the camera out, so I'm unfamiliar with how much he'll have grown by now.
The camera is back out, so hopefully I'll know for sure in a few weeks.
Thanks!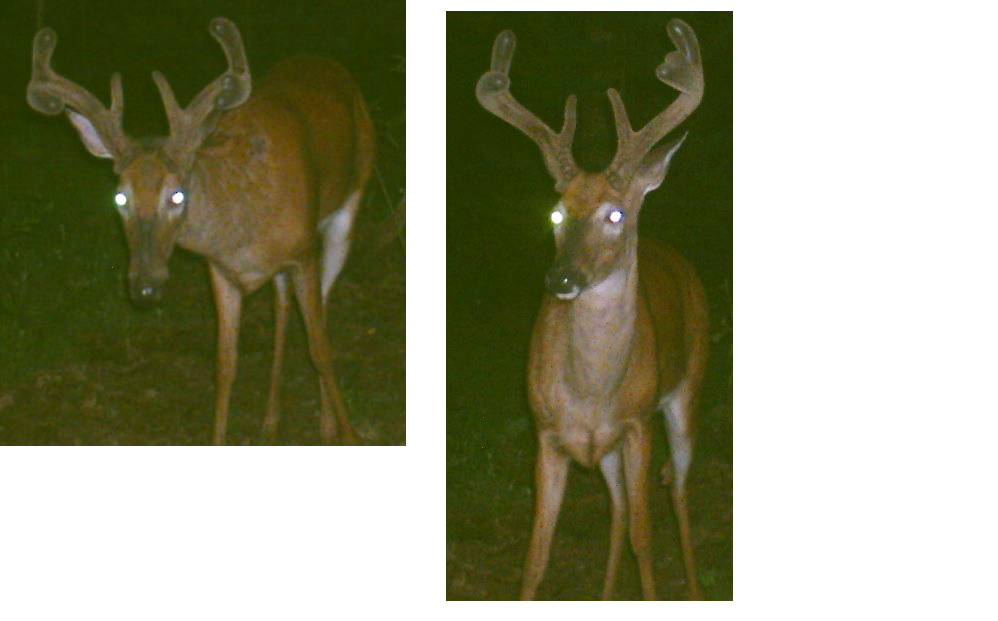 | | |
| --- | --- |
| TeamWiscoUNIT61 | 08-22-2012 11:35 AM |
---
I think you'd be surprised to find how much noticeable growth there is between july and august. It will develop quite a bit in that time
| | |
| --- | --- |
| HatchieLuvr | 08-22-2012 12:00 PM |
---
by mid July they usually have most of their "main frame" grown. I doubt that deer will get much wider but his beams will grow longer as will his tines (his G-1s appear close to peak however). Their spread and beam "height" is pretty much done growing by the time their beams "make the curve" or start growing back inward. They just add on length too the points. I'd guess he'll grow into about a 16" 7ptr.

Mass always appears much larger while in velvet but that deer sure appears to carry that mass out everywhere for a buck that size! ;)
HL
| | |
| --- | --- |
| croc2116 | 08-22-2012 04:37 PM |
---
They grow on average 1/2" a day depending on deer and some are full grown by last week in july and some deer will continue to grow until first or second week of Aug.
All times are GMT -8. The time now is

12:10 AM

.

Copyright © 2021 MH Sub I, LLC dba Internet Brands. All rights reserved. Use of this site indicates your consent to the Terms of Use.