Late Season Smokepole Buck
12-29-2010, 07:50 AM
Spike
Join Date: Feb 2005
Location: Marylands Eastern Shore
Posts: 15
Late Season Smokepole Buck
---
Hmm where to start... I saw this deer on the very last day of last years archery season on Jan 31st and he came in at the very last light and I couldn't get a kill shot so I decided to let him walk rather than take a crappy wounding shot. I hadn't seen him yet this year and have been actually hunting another spot but since I worked midnight and got up and had things to do , I didn't have enough time to go hunt it and figured I would slip into this other closer spot and see what happened. I was simply biding some time and planning my hunt for tomorrow
. Little did I know this buck from last year would show up.
We had just had a blizzard 2 days ago and had 14 inches of fresh blown snow on the ground, it had been a day since it quit snowing and I figured there would be movement which is why I was kinda bummed I didn't have enough time to got down south and hunt the whopper I had seen last week. On my way in I noticed very few tracks but did pick up on the fact that I saw a nice Big set of tracks and was thinking matbe , just maybe the buck I saw last year was actually still around. I stopped just long enough to snap a picture .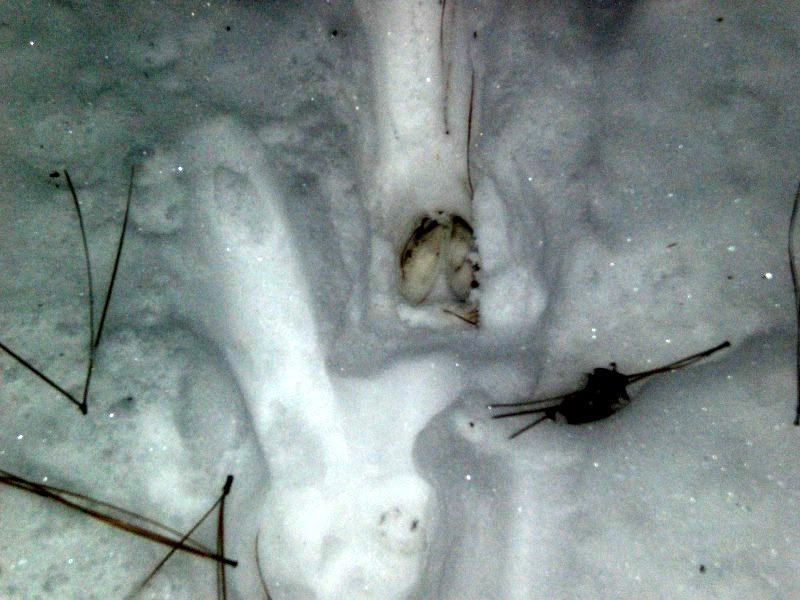 I made it into the area I wanted to hunt and made a quick check of the wind and set up between a couple of big oaks on the ground ... I cleaned the area quietly of the piles of snow and got myself set up comfortably , I knew where the deer bed in this area and had a favorable wind.. I got in place and smoked a ciggy lol
I hadn't been there longer than maybe 20 minutes when I saw some movement by the grown over clearcut , I saw 2 does working the edge but I had taken 4 does already this year so freezer meat was out of the question, lets wait things out. Another 25 minutes passed and I saw movement in the edge of the cutover and got a slight glimpse of horns. I eased my Knight up and situated myself in case it was a good buck and got my scope on the area where I saw the movement. I kept getting glimpses of horns and at one point I saw enough of them that I knew I was gonna shoot this deer if I could he was a good one... He had a knack of keeping just enough trees between me and him that I couldn't see more than glimpses of his horns but he looked good. He finally let me see his whole rack and I never had to even think as I got set for a shot. I knew it was last years "Dandy " lol but again he had the edge with trees blocking any shot but his guts and then he suddenly looked very uneasy... hmmm I had a clear gutshot and lots of snow on the ground but I wasn't that desperate to do that although I knew he was a very good buck for any hunter and easily my best... I'm not sure exactly how long it was as I aimed at his neck area that was too close to a tree and I didn't want to take a chance.. I was willing him in my mind to please simply take one more step. 2 maybe 3 minutes went by and he was still not moving , it seemeed like 4 hours holding that gun up on him, but he finally looked down at the snow (finally some movement) and took his last and final step forward clearing his neck area and I let the knight rip and he dropped in his tracks and kicked around a bit .. I called my daughter and she laughed at the way my voice was shaking lol but I knew I had a good one
here he was as he layed dead in his tracks ... 10 point mature buck shot from the ground , what a rush ...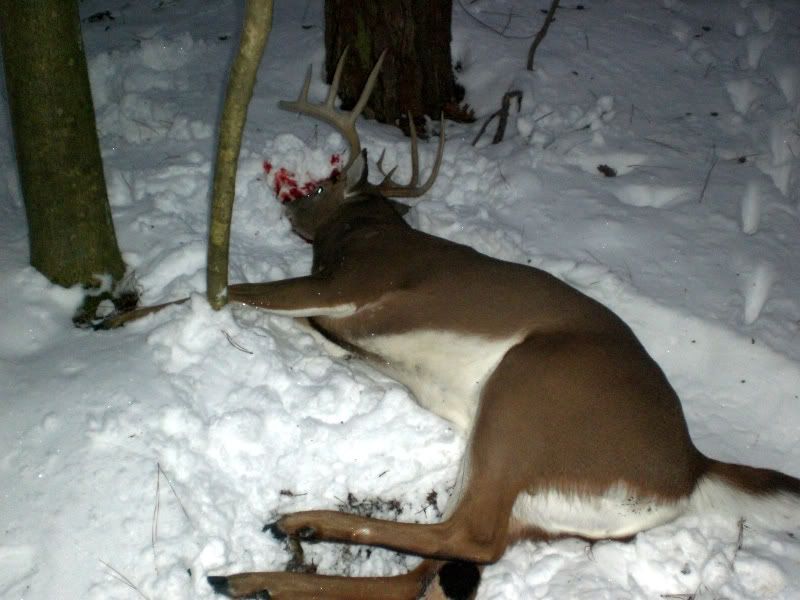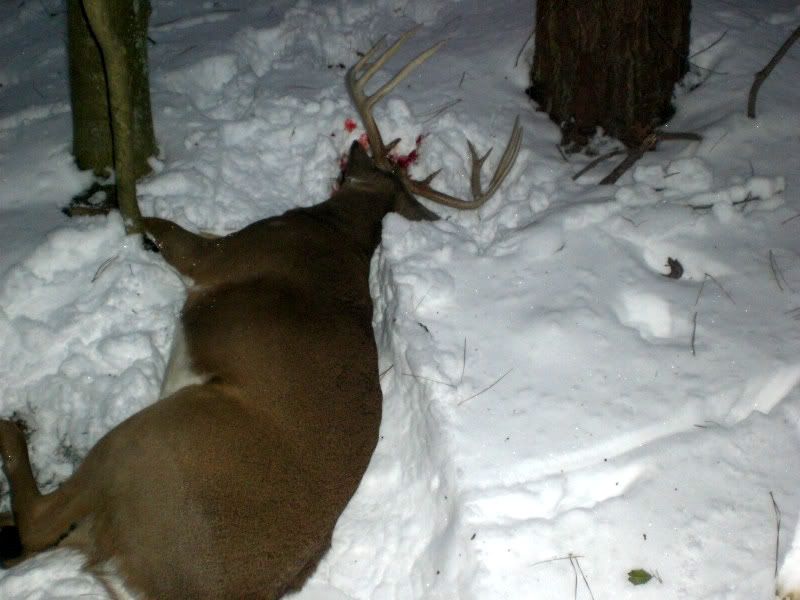 here he is in my hands
I think he should score in the mid 150's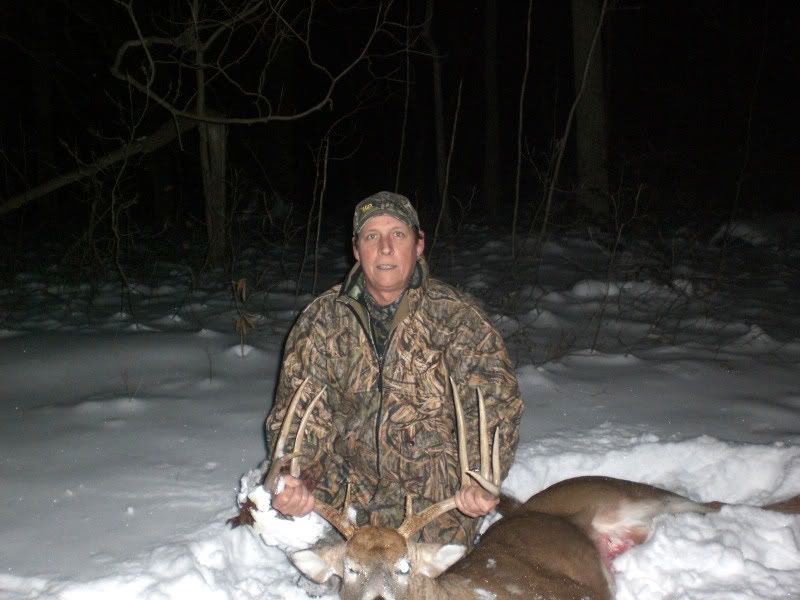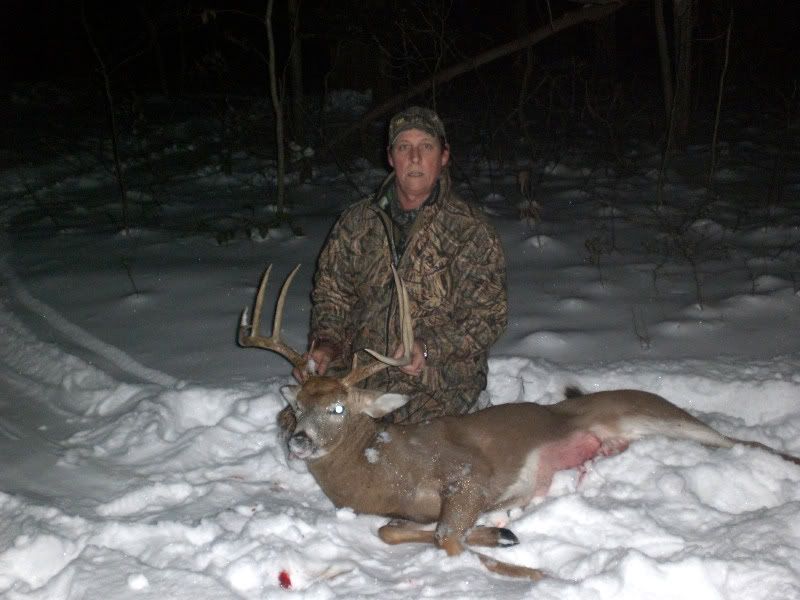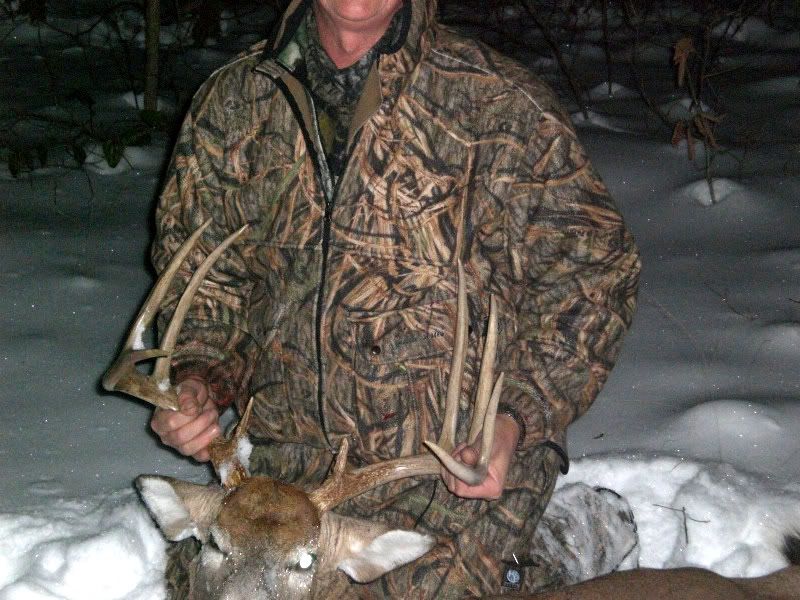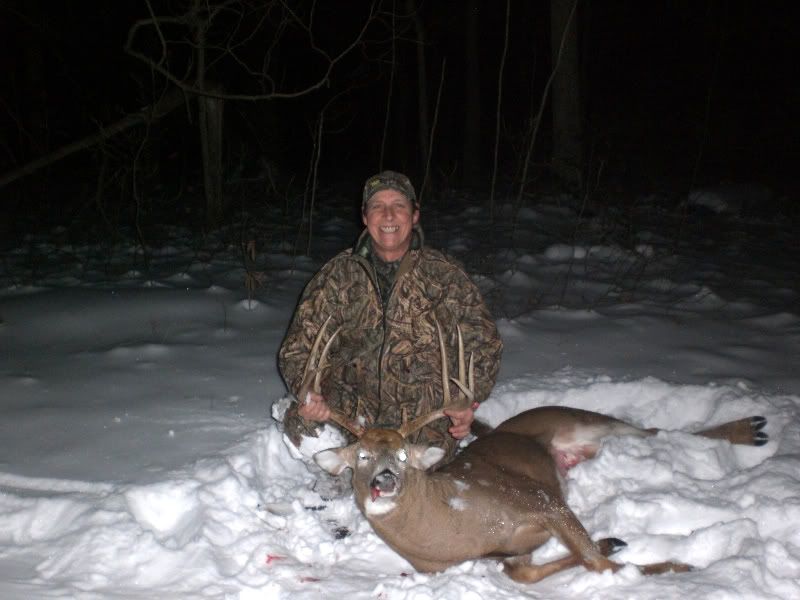 12-29-2010, 09:13 AM
Spike
Join Date: Feb 2005
Location: Marylands Eastern Shore
Posts: 15
12-29-2010, 12:09 PM
Fork Horn
Join Date: Nov 2007
Location: Tennessee
Posts: 362
---
Awesome story. My adrenilin was up reading it. Funny how things work out when they don't go as planned. I shot a 300 pound wild hog this year when my favorite evening spot was already taken. You gave me hopes that the big buck "easily my biggest" that I saw this year is still around. Congrats!!!