Victory!
12-04-2010, 08:10 PM
Victory!
---
Long time, no rap. Sorry, its been hellish round there parts and it looked for all the world like we were going to have to sell our land. I've had to work out of town alot and been busy trying to save my business. Blah, Blah, Blah...
Anyhow, I've been trying to slip off and get some hunting done but with a StealthCam out, just not seeing a whole lot. I scouted a little at the end of last year but I didn't get set up quite like I wanted to nor near early enough. I swapped out memory cards and did some house cleaning around my blind with the weedwhacker and not seeing much but a few does and a trash horn buck I marked for my 8 year old daughter's first except she was at a birthday party when he rolled up and stood broadside at 60 yds...../sigh.
So...over Thanksgiving I reloaded my camera chip, cleaned up some more and headed back out of town for work. I hunted Friday evening and saw two does but picked up my memory card to take home but worried because the camera was lying on its side.
Sure enough, skipping to the end told me that a mess of hogs bowled the tripod over. Damn. Oh well, lets see.....
Oh my God......
And this sucker is making the rounds every morning on the camera from Thanksgiving on. So much for sleeping in Saturday morning!
So my 8 yo and I loaded up bright (well....DARK) and early and headed out. Sure enough....biggest monster I have ever seen, in the flesh, standing right there. Sometime over the last week I misplaced my binoculars so I was relying on my daughter to spot for me a little.
"Is it him?" as I'm adjusting the scope on my ought-six.....
"Umm...I think so, I wish he would pick his head up....YES!"
"Fire in the hole!"
"Daddy, I think you missed..."
My heart sunk. I thought it was a hit (dammit, I KNOW the ought-six is money and as nervous as I was, I lined up a solid lung shot with a good rest) but he took off and slipped behind a brush pile that obstructed my view.
Waiting at this point is the hardest part. I didn't want to jump him up, so I sat on my hands.....
We left the stand and walked down to wear he was. I didn't see anything but wait....there...and there.....bright red.....!!
We followed the trail a few steps and lost it but my little bloodhound found a few more spots in the tall grass. We stepped around a big cedar and......Wow. I about fainted. Just unreal. He only made it about 60 yards but it felt like a mile. We pulled him up to a rock and took turns taking pictures and I began texting, emailing, tweeting everyone I know. My daughter was so excited! It was one of the greatest moments of my life. Sure, shooting a trophy buck is great and all but sharing that experience with my little hunting buddy is what made it.
I called my wife back (I had called her from the blind and told her "Its HIM and I took a shot, now we're waiting him out because he ran) and she headed out to meet us and see. My dad was on his way to check his cattle and he told me to wait, he wanted to see it. I called my brother, who had all but given up trying to hunt this season with a 2 and 4 year old and not seeing much game. I tend to think he'll be getting after it the rest of the season.
Ok, so what about this buck? Well, I'll post a pic at the end of the post but I know anyone who reads this will have already skipped ahead!
8 natural plus a monster drop on his right. Wide....I guess 22"+...I suppose I could go measure it /shrug....ok, I lied, 18"....huh, looked bigger. This old guy had been through some wars! Both his ears were split and scarred from fighting, he has gray hairs all over his back and around his eyes, and his teeth say he's at least 7.5 maybe 8.5. Perfect lung shot at about 80 yds. clean through and the lungs looked like hamburger, all else intact. FN/Mauser 30.06 w/ old school Weaver scope. Our place is all low fence except where the neighbors have one of those hardcore trophy-mill outfits but they have double high fence and as good as my buck is, he didn't come from there. I shot a dinky meat buck last season and no one else has gotten anything in the past 5-7 years that I know of. We had a big lease with more open pasture, this place has always been the reserve and tough to hunt for the thick brush and rocky terrain.
Well.....so much for that. My spot is up on a hill and draws across a couple big trails that lead into a little dry creek. I had alot of plans for that spot but none made it into practice because of the doubt about keeping the place. I wanted to have an elevated stand so I could see down the hill but I had to settle for sticking my ground blind in there and having two way hunting down either end of a sendero.
To be honest, it NEVER happens like this. And no one EVER gets a drop tine buck. Its special. He's not as big, honestly, as the one on my office wall but he's alot more rare and special. But no one sees a buck one day on a trail cam and goes out the next morning and pops him, do they? I suppose I could lament the fact that it seemed too easy....I mean, he walked out on cue, stood broadside and wham!
Ok, ok....enough bull****, here he is:
And yeah, I'm the jerk who doesn't post for 8 months, shoots a biggun and then has to crow about it to anyone who will listen. So shoot me.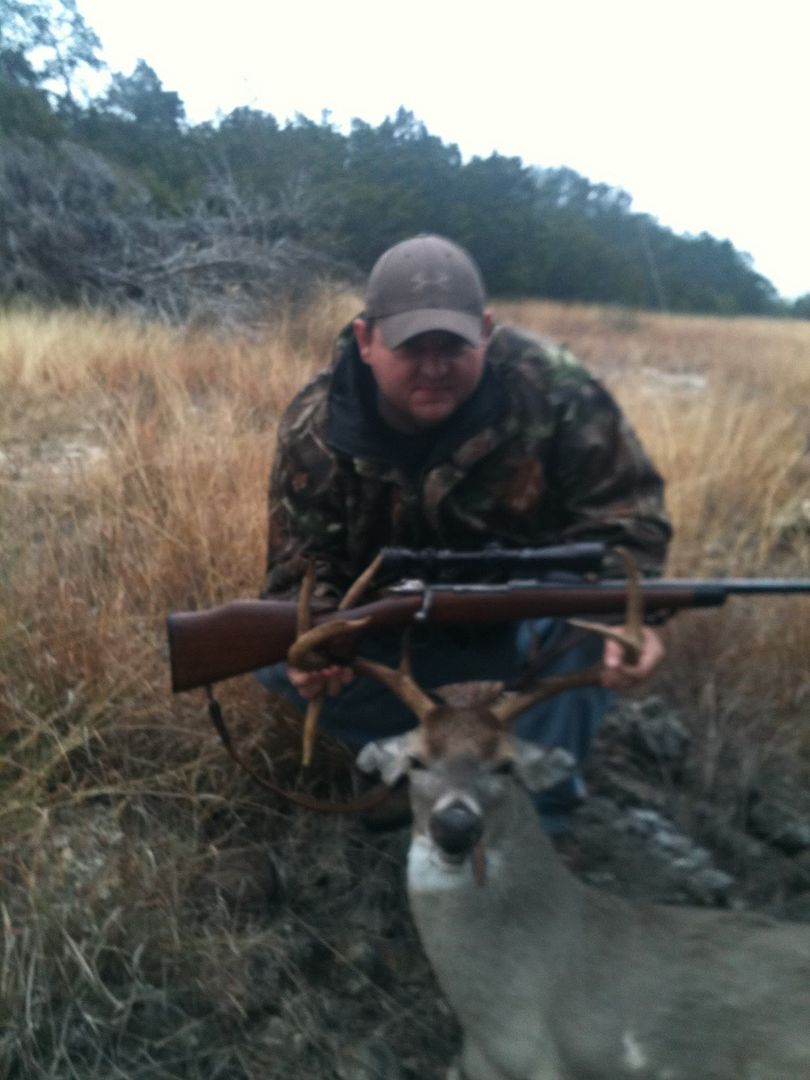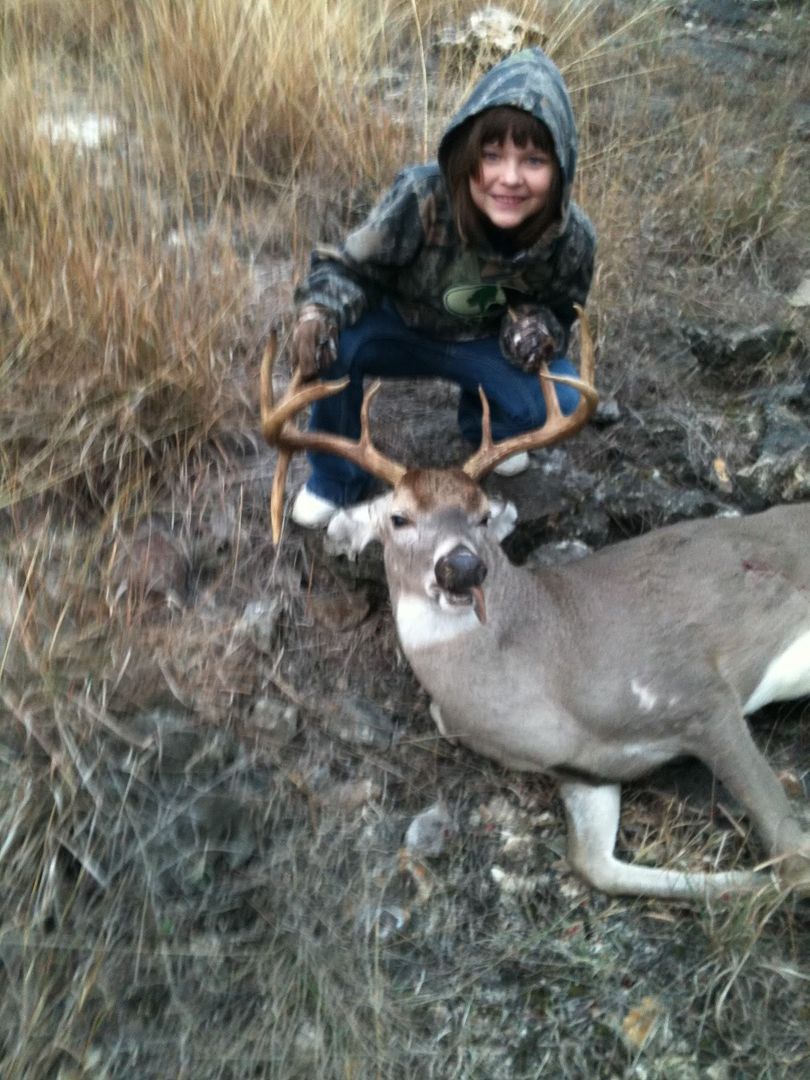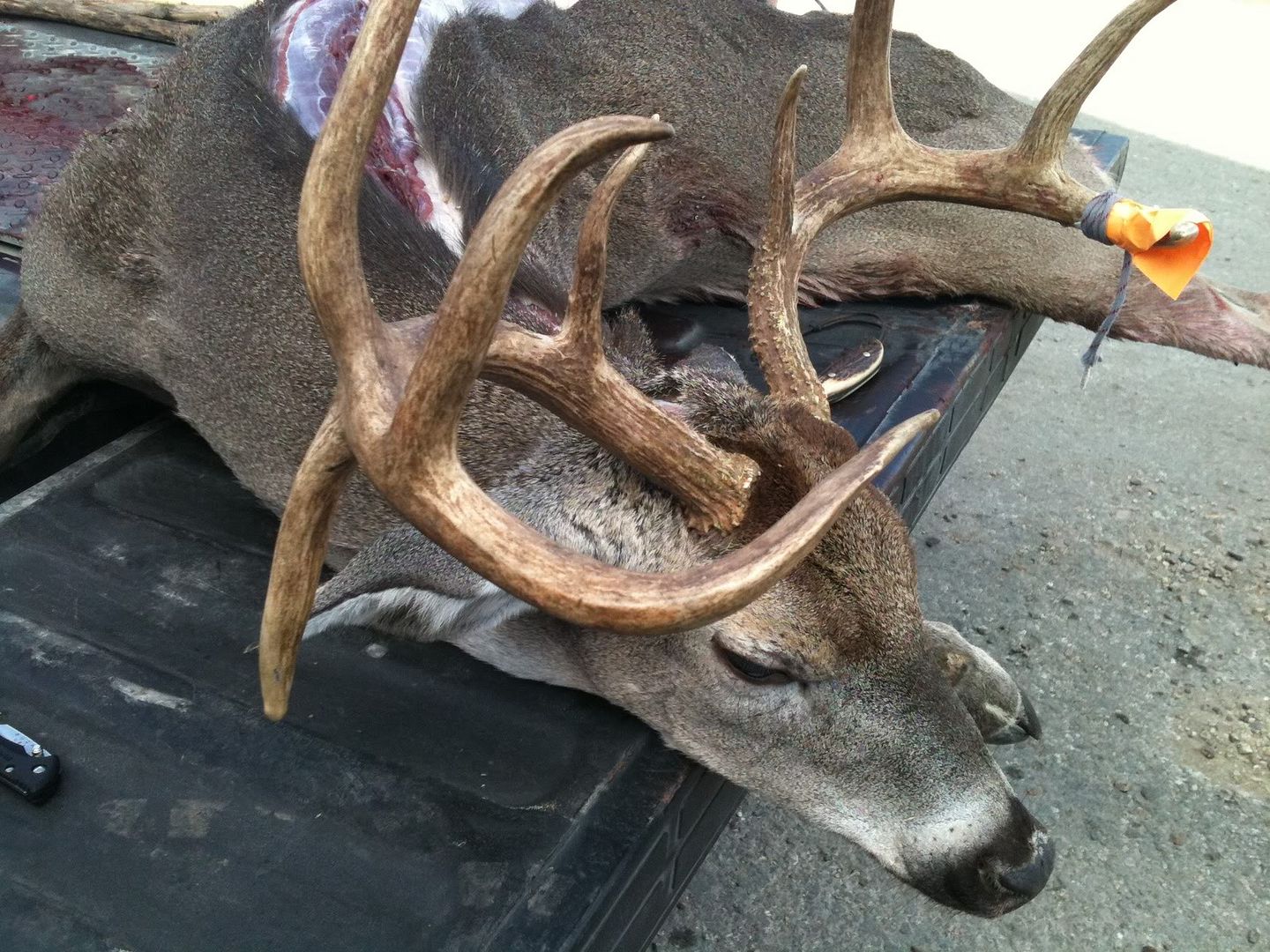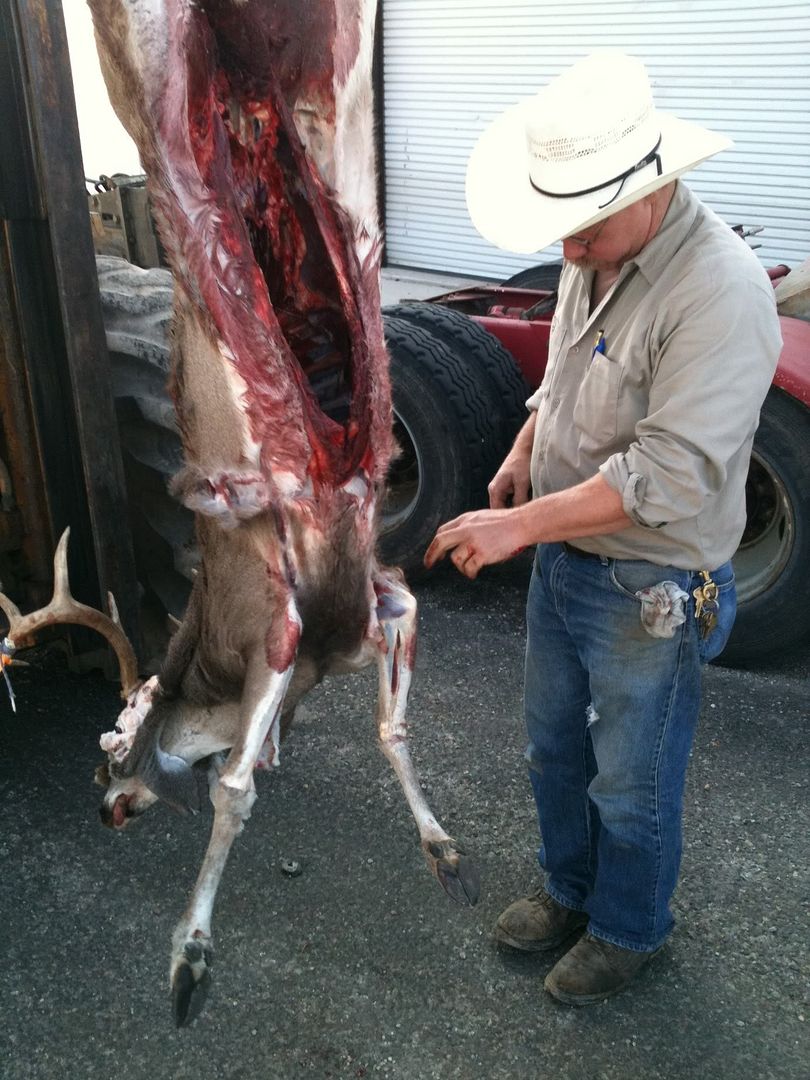 ---
Last edited by Horacio; 12-04-2010 at

08:31 PM

.
12-05-2010, 01:39 PM
---
Yeah, I think its a mistake to take a small kid hunting and jam a rifle in their hand right off. There's so much more to it than being able to shoot straight and I think you're doing it perfectly.
Posting Rules
You may not post new threads
You may not post replies
You may not post attachments
You may not edit your posts
---
HTML code is Off
---