help...recovering/tracking deer
08-31-2010, 04:45 AM
Boone & Crockett
Join Date: Feb 2003
Location: Ponce de Leon Florida USA
Posts: 10,079
---
Wingbone, sometimes if a deer is hit high, say a high liver shot, you will not find much if any blood, especially if there isn't a pass thru with either a bullet or arrow. They will bleed internally for a long time before they bleed outside. Main thing is don't give up on one if you are confident that the animal was hit. I agree that a dog is a big help.
08-31-2010, 06:36 PM
---
If you can't find blood or lose the blood trail, get a couple of friends and do a grid search. I think that most fatally hit deer die within 200yds of the shot - check out to at least 400yds for added insurance.
A trained dog will beat all the lights, sprays, grid searches, and whatever else you have hands down. Dogs are useful even if it has rained (up to 0.5") or snowed on the trail. I just started using Ruby last season. ... Go to the UBT website(
http://www.unitedbloodtrackers.org/
) to find volunteer trackers. If dog trailing is not legal in your state, join UBT and start writing letters...
-fsh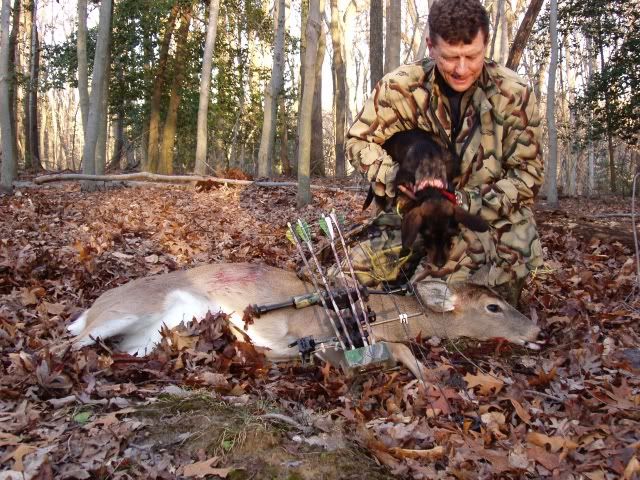 ---
Last edited by fshafly2; 09-01-2010 at

02:18 AM

.
09-01-2010, 08:51 AM
Spike
Join Date: Nov 2005
Location: Indy
Posts: 61
---
When I first started hunting someone recommended Finding Wounded Deer by John Trout Jr. I bought it and it is an excellent tracking tool. It has a section in the back that describes the hit based on the evidence (color of blood, hair, etc...) and what you should do (pick up the trail immediately, wait X amount of time, etc...). It stays in my backpack during hunting season.
09-01-2010, 09:23 AM
---
There is alot of things you can look for when tracking a wounded deer or a deer that was shot with a well placed. Look for hair laying where the deer was hit. Look for blood ect as well. Keep in mind a well placed shot and a deer will run a long ways at times before falling over. Tracking in the rain proves to be a much harder job to do. But can be done if you look for other signs than just a blood trail. Look for hair on bushes where your deer went through. Look for toes to be spread wide a part. This is the way a badly wounded deer will travel in order to maintain balance when walking or running. Also as others have stated mark the spot where you last saw sign from your deer. Then gradually make circles going completely around the area you last marked.Expanding the circled with each complete pass until you either find more sign or your downed deer. Most importantly do not just give up because it showed only a little bit of blood. Sometimes it takes a while to see any blood at all.
Good luck with tracking it..
---
Last edited by Phil from Maine; 09-04-2010 at

08:57 AM

.
09-01-2010, 09:32 AM
Nontypical Buck
Join Date: Mar 2004
Location:
Posts: 1,837
---
Most of it has already been mentioned and like someone already said I personally found out a long time ago one of the best tracking tool I had was giving the animal plenty of time to lay down after the shot. When I finally quit pushing wounded animals my recovery % went way up. It is OK when you know you smoked them to go after them as soon as a 1/2 hr but if there is any doubt in the location of the shot 4 hrs is as soon as I will go after them and if I know it was a bad shot I give them more time. One little trick I do for tracking a minimum blood trail is take some type of tissue and drop a piece at each location blood is found. Many times when I cannot find any more blood I can look back at the blood trail and see that I have gotten off the actual line that the blood trail is taking and can adjust back over in line with the existing blood trail and many times find more blood immediately. I have to go back and retrieve all of the tissue after the tracking is done but it is worth it. If you cannot find anymore blood then your woodsmanship has to take over. Be aware of everything. We once found a buck of mine that I hit poorly because the buck had ran into a chest high weed field that had multiple deer paths cutting through it (everyone knows these can be hard tracking without a lot of blood). Every deer path going through the field had spiderwebs with dew on them across the paths so they were shining in the morning sun. One of my buddies noticed that one of the paths had a freshly broken spider web on it so we took that one and found my buck. Be alert to your surroundings when tracking. If you bump the deer your tracking pull out immediately and give it "at least" 6 hours to lay back down
---
Last edited by SJAdventures; 09-01-2010 at

09:40 AM

.
Posting Rules
You may not post new threads
You may not post replies
You may not post attachments
You may not edit your posts
---
HTML code is Off
---