Been seeing any bucks?
07-21-2009, 08:12 AM
Been seeing any bucks?
---
I have a few pics of a nice buck and a few pics of some smaller bucks. I saw a bachelor group with what looked to be 2 year olds in it yesterday. I am getting ready to go. Bow is sighted in and the cooler weather has me thinking big bucks!
07-21-2009, 10:38 AM
Fork Horn
Join Date: Apr 2007
Location: S. Indiana
Posts: 129
---
I have had three nice bucks on my camera. All three are 8 pointers but one has a spread that is over 20" (Have not got a good picture to accurately guess). The other two have taller racks with pretty good mass (could be siblings).
07-21-2009, 01:03 PM
---
we started spot lighting last week in the northern tier of Pa. Saw alot of buck, considering corn isn't cut, as well as the oats, etc. What was VERY encouraging were the # of 6 pts. in the 70-80 class and 8 pt in the low 100's. We saw two that will be 140 class, both looked like mature- I'd say 3.5- 10 pts
07-21-2009, 06:21 PM
---
In my area the ag fields are going nuts with all of the rain we have had this year. Just Saturday afternoon I was going to one of my leases to move a camera and this monster decided to cross the road as I was coming around the corner. Luckily he hit my tire and broke of one of his 8 pts and crushed his front leg and shoulder. Not a dent on my truck, but it took one out of my chances this year. I have him on 3 seperate trail pics.
Not one bit of internal damage to the deer, and to say the least I had straps for breakfast. And yes the Warden was called and he said it was no big deal. supposedly if you have someone else process the deer, they need to come and take pictures, etc. I wasnt about to wait that night. It took me 90 seconds to cut his throat and put him in the truck. To give you an idea of how rural the area is, last year I watched a guy die on the side of the road after he flipped his truck, the ambulance took almost 20 minutes to get there.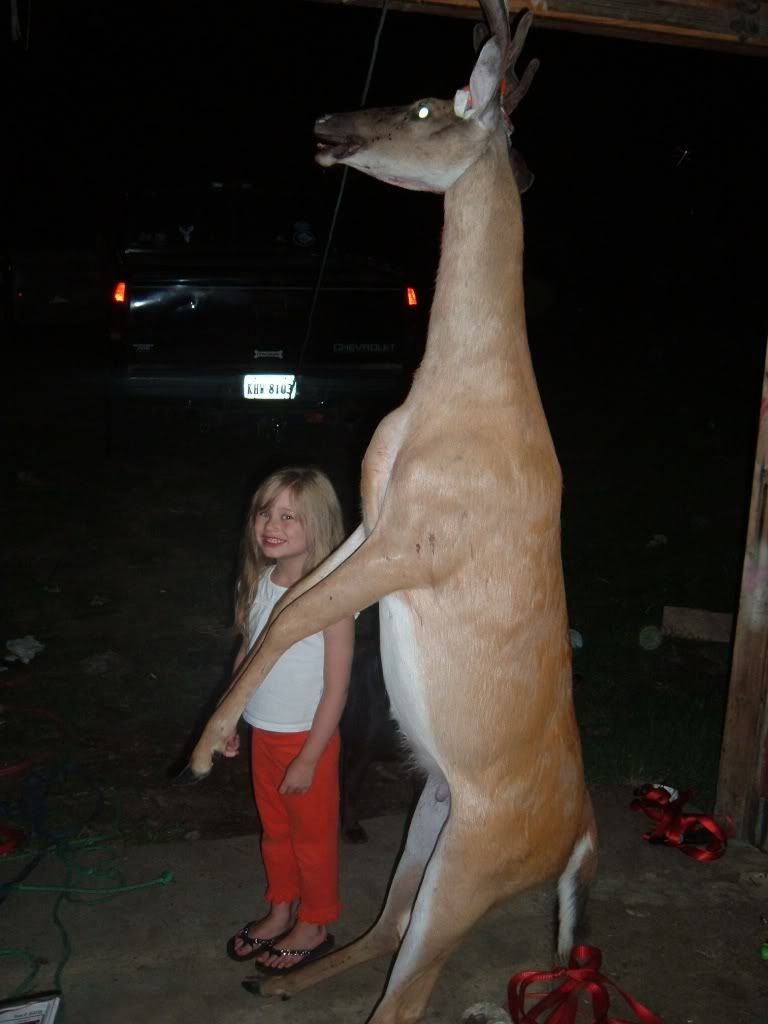 Here is a link to a good look at his rack, it wont let me upload it like the pic above.
http://i305.photobucket.com/albums/n...hitbytruck.jpg
And finally, the best part of all!
http://i305.photobucket.com/albums/n...tenderloin.jpg