Post up your Mule deer!
05-27-2009, 05:54 PM
Join Date: Dec 2008
Posts: 64
RE: Post up your Mule deer!
---
On a 2007 Mule Deer hunt in Colorado, I saw 6 decent bucks , but all out of range and on private land. I got within 50 yards of this young 4X5, but he was standing on private (posted) land. I took the picture standing on BLM next to the wire fence that separated us. He had just crossed where I was standing, but I intercepted him a little too late. It got dark while I watched him walk off onto the private land.
I ended up shooting a small buck. It was a great experience. I'm going back for ELK this year..... can't wait!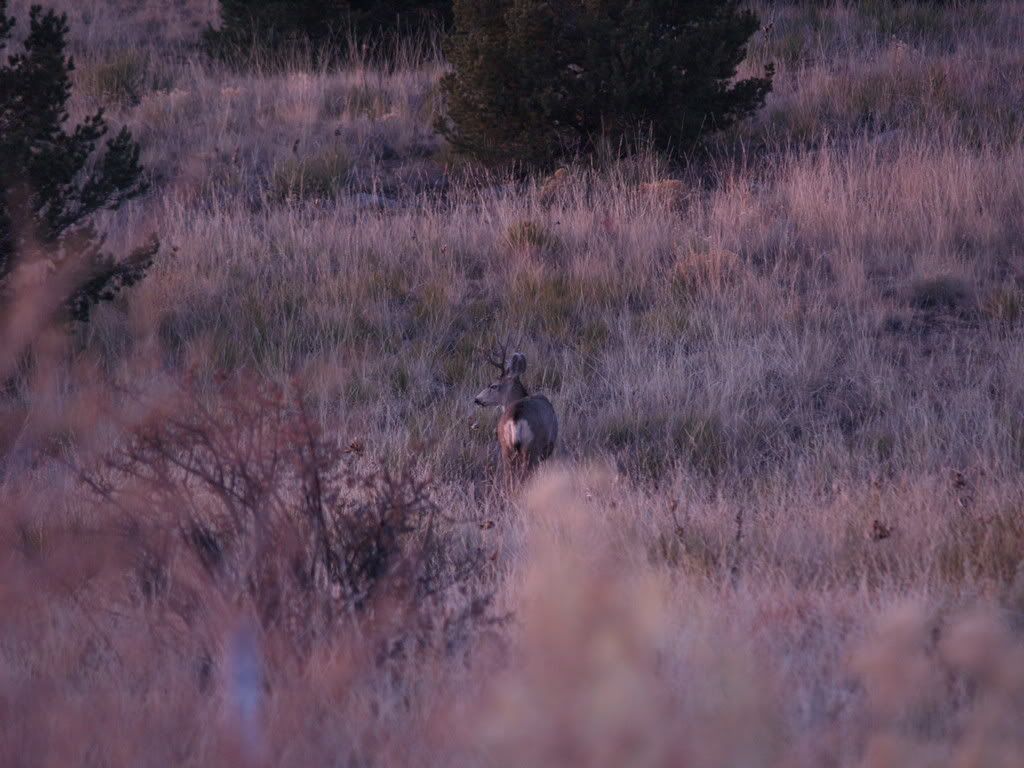 05-28-2009, 08:02 AM
RE: Post up your Mule deer!
---
I love these types of posts because it lets me post this picture haha
Got this guy in Montana in 2004. My father, brother and I went out there and hunted with my uncle who has lived in Montana and guided for years. On opening day we were glassing from a ridge when my uncle hissed that he just saw a big buck. Now my uncle is a typical western guy, slow talking and doesn't get excited about much, so i could tell by his voice that this must have been a real big deer. So we took off after it and within a hundred yards we run into another hunter who is white as a ghost. when he sees us he turns and whispers "did you just see that buck?!" so we sheepishly admit we did, and this guy says he had him broadside at 30 yards but already filled his deer tag so he could only watch him walk away. So feeling thankful and sorry for this guy at the same time we continue after the buck. We follow an old horse trail up to this big meadow and we don't see the deer anywhere. My uncle said that it didn't seem likely that the buck would be out in the open and would probably head to the jungle of pine thickets around us. we had just about given up when my uncle goes "oh look, there is a deer on the bench below us...IT'S HIM!" The buck was walking perpendicular to us and was unaware of our presence so we got behind an island of brush and used it to cut the distance by fifty yards or so, when my uncle hissed sit down and get ready. so i slide onto my butt and got the rifle up on my knee an tried to control my breath. My uncle whistled a couple times and the buck froze and looked in our direction as if he was posing for a picture, and as soon as he stopped the crosshairs drifted behind his shoulder and i touched the round off - dropped him in his tracks. Easily the most exciting moment of my hunting career. We were on public land where no motorized vehicles were allowed so we went back to get horses and a pack mule and packed him out old school, it was so cool. I can't wait to go back
Thread
Thread Starter
Forum
Replies
Last Post
Posting Rules
You may not post new threads
You may not post replies
You may not post attachments
You may not edit your posts
---
HTML code is Off
---