H&R/NEF Handi Rifle
12-12-2008, 06:26 PM
Join Date: Dec 2008
Location:
Posts: 49
H&R/NEF Handi Rifle
---
so I was doing some thinking and I have decided I want to buy a H&R/NEF SyntheticHandi Riflea .243 or a .270 so If you have owned or even used one any input on it would be great. Does it feel small since it's only 38 in.?, is it a quality rifle or does it look cheap? etc.


(it'll be used for deer hunting and I have only heard good things about it so I want to try it out.)


12-12-2008, 08:13 PM
Typical Buck
Join Date: May 2006
Location:
Posts: 585
RE: H&R/NEF Handi Rifle
---
I bought my son one in .243. It shoots great (very accurate) and the .243 does a great job on deer. The one pictured below is a youth model and I have taken it hunting myself several times. Its a great rifle.If you're looking for an accurate single shot that is priced right, I would recommend it.
12-13-2008, 06:38 AM
RE: H&R/NEF Handi Rifle
---
I love my Handi-rifle so much that I bought two. I have 3 barrel combo's between them. 45-70 gov (has killed many hogs in the past 3 years), .357 mag (for my sons to hunt with), and .50 cal muzzleloader. I highly recommend them and plan to send off for a .243 barrel during the off-season.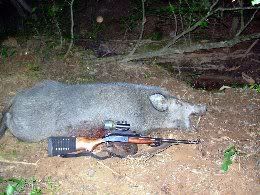 12-13-2008, 05:50 PM
Join Date: Jan 2004
Location:
Posts: 308
RE: H&R/NEF Handi Rifle
---
I have the Ultra Varmint version in .243. I remember being very surprised at the fit & finish when I received it. It locks up tight with a trigger that's not all that bad for a $300 rifle. It shoots great with the Simmons 4-12x40 on top too.


12-13-2008, 09:50 PM
RE: H&R/NEF Handi Rifle
---
I will say it time and time again. H&R is one of the most underated gun makers out there. The 12ga. slugger that I have in my opinion is one the most accurate slug guns on the market. Sure itsa single shot, but how many times do we get a good second shot on game when needed.