Building a new Deer Camp
05-28-2008, 03:39 PM
Spike
Join Date: Nov 2007
Location: Haughton, La.
Posts: 46
Building a new Deer Camp
---
We are in the planning stages for building a new Deer Camp. It will be nothing to nice but just a camp. We will have about 3 adults and 3 teenagers staying most of the time. We are thinking a 16X16 building...Anyways what you not leave out if you were building one things like wood burning stoves, gun storage.....just wanted to get some ideas from people that may have built one and wished they would have added something after they built it.
05-28-2008, 04:48 PM
RE: Building a new Deer Camp
---
Deffinetly the porch.
We built a cabin a year ago and its only like 14' x 16' then we have a 6 foot porch, but it is still a great cabin.
We added in a sky light and lightens up the cabin ALOT.
heres some ideas for you....
(note: some time in the summer we are gonna be painting the white tin a greyish-brownish type color so it matches better.)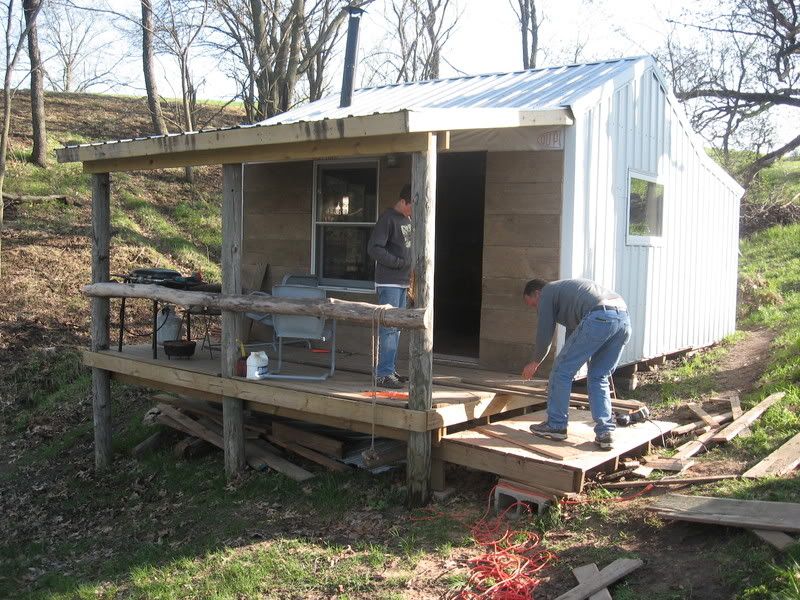 Outside
Inside
We have 5 windows.. theres windows on the north,east,south, and west side, and then the sky light.
We wished we had closed the floor boards closer together. If you went there and looked straight down you could see a little gap, a really tiny one. It lets alot of air in and it makes the floor real cold and it makes it a little cold inside. What you could do is lay the main floor down and then go under it and place ply wood under it, that will block most of the air movement.
http://huntingsphere.exofire.net/videos/vid3/video.php
(a short video of my hole cabin, and the surroundings)
05-28-2008, 05:16 PM
Join Date: Aug 2005
Location: Morgan County, IL
Posts: 1,073
RE: Building a new Deer Camp
---
Rifle rests in the windows?
Are you looking at buying a garage kit from a lumber yard or making a material list on your own?
I'vebuilt a kit garagein the past and it was awfuly handy to have all the materials precut and dumped off in one spot. I didn't pay for it though, just built it.
05-28-2008, 05:53 PM
RE: Building a new Deer Camp
---
05-28-2008, 10:19 PM
Fork Horn
Join Date: Mar 2008
Location:
Posts: 282
RE: Building a new Deer Camp
---
We built our camp with a garage kit. The lumber company substituted windows and a door for the garage door. That was in 1976 and it worked out really well. We put a porch on it a few years after it was built. The porch is 12 x 8, we should have made it bigger. The cabin is 25 x 25.
05-28-2008, 11:37 PM
Join Date: Sep 2004
Location: Camden County, Missouri
Posts: 1,019
RE: Building a new Deer Camp
---
Heres mine. More at this link!
http://www.huntingnet.com/forum/tm.aspx?m=2364699&mpage=1
05-29-2008, 10:43 AM
RE: Building a new Deer Camp
---
Consider going to a mobile home park and asking for a free trailer.
That's what 6 of us did a few years back and here's how it worked out...
The park gave us a mobile home, as long as we moved it ourselves, so my buddy made a hitch for his backhoe and we towed it a few miles down the road to our work spot (very early in the morning, to keep the local cops happy).
We gutted the inside and got some free t&g pine board, made 6 bunks, one big table and left the kitchen alone. We also painted the outside to blend into the surroundings better (baby blue didn't work for us guys).
Packed the wheel bearings, put some new tires on it, strapped the crap out of it (has peak roof) and called the local tow truck company to move it into the spot 80 miles away.
We had a total of $2,400 including the tow bill and a couple hundred man hours.
I had an old wood stove I donated and our outhouse was already there from our old camp.
Wa-la, instant camp, just add water.