Brother scores his first!
11-12-2006, 11:35 PM
Brother scores his first!
---
This year my brother decided to join in with my dad and me to go deer hunting.He went out one weekend with us bow hunting and saw a turkey but that's it. So he decided to join us rifle hunting as well.This is my brother's first season hunting, and hes all ready outdoing me. At 7am saturday morning him and my dad saw a really nice 130" or better buck but it was too thick to shoot and when my dad tried stopping him he stopped directly behind a tree. Then later that evening at 3:20 my brother shot this guy. We have a rule on our property that it has to be wider than its ears so my brother asked my dad if he was a shooter. He looked and said yea. He took the shot and didnt feel too good about it but the deer kicked back. They got down and found small amounts of blood, so they decided to wait a while then go look for it. Turns out after following the blood trail he only went 60 yards and expired just over the ridge. Here is my brother's first. I'm really proud of him.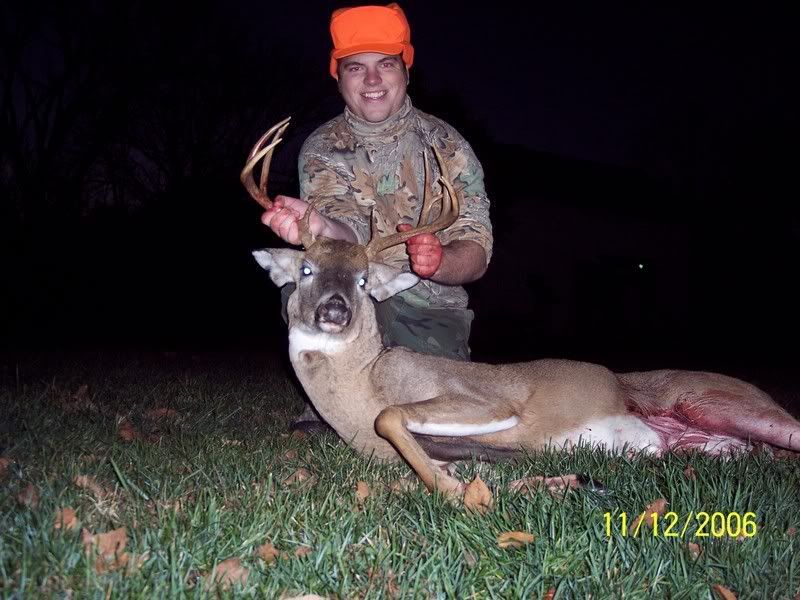 11-13-2006, 07:47 PM
Join Date: Nov 2006
Location:
Posts: 16
RE: Brother scores his first!
---
has he been field gutted? he looks like it... nice rack... nice deer tell ur bro i say congrats!!!!!!!!! i wish i'd shot a deer that nice... or any deer for that matter.... i just don't see enough deer