finally A Day Off To Hunt
11-24-2005, 05:40 AM
Join Date: Feb 2003
Location: chiefland Florida USA
Posts: 5,417
finally A Day Off To Hunt
---
[hr]
I took off yesterday at noon to pick up some stuff for the wife.(ya know honey do's).
got all that done and ate lunch.we left the house at 3:30 to got to the still hunt area.
I saw a doe on the way in,and Barbara said take her and lets get back home. I said you take her,we didn't.

got in my blind and in a few min. say a really skinny doe with a yearling only about ; maybe 50 lbs.I guess thats why the doe was so poor.looked really old also. they were only 15 yards.

they feed off and I saw another coming from the other way.he went away from me,then later he came back my way. he then saw the doe and turned to go into the woods to her. I had one little opening on his neck.I took the shot and he went down.
A nice old 4 pt. we estimated his age at 4 1/2 years old.
we have taken a bunch of 4 and 6 pt. with on eye guards.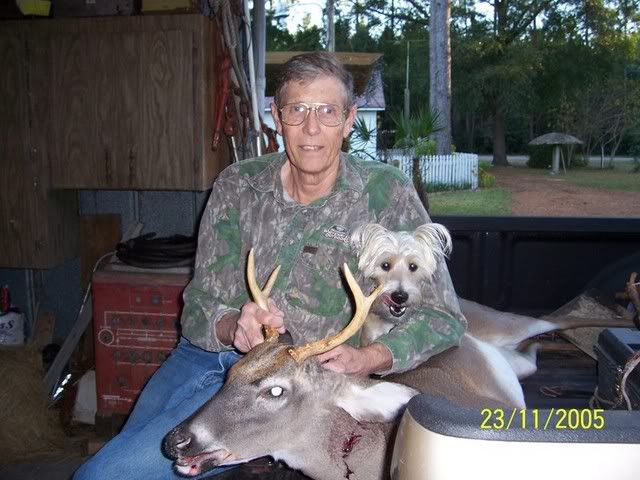 my bugger dog had to check him out.


Logged

[hr]
I am not a hunter , I am a whitetail population reduction specialist

remember , always keep your back to the sun,your powder dry and your knife sharp.
11-24-2005, 12:30 PM
RE: finally A Day Off To Hunt
---
nice shooting, try and hunt more, i get off work at 6 amand go to the woods,usually do this during the week,cause the weekend belong to the lil boys for hunting, i can't even take a gun,happy thanksgiving
Thread
Thread Starter
Forum
Replies
Last Post
Posting Rules
You may not post new threads
You may not post replies
You may not post attachments
You may not edit your posts
---
HTML code is Off
---