Yesterday's Hunt w/Pics
10-01-2005, 02:57 PM
Spike
Join Date: Feb 2003
Location: SW Saskatchewan Canada
Posts: 63
Yesterday's Hunt w/Pics
---
Yesterday was the last day of the archery only season here so I headed out to one of my hunting spots about 1 1/2 hours before dark. I haven't had much time this year so far to do much hunting so the hunt was more of a scouting trip for the muzzleloader opener which starts today.
As I was driving up to my spot I stopped on top of a hill about 1/2 a mile from where the deer had been feeding. Right aways I saw a bunch of deer moving into the field. I grabbed my spotting scope and saw that all the deer where bucks. It didn't take long for the group to run back into some brush about 600 yards away. I parked my truck and walked to a spot where I could watch the area where they had run to.
I started glassing and spotted a group of 3 does and 3 young bucks feeding about 500 yards away. Then I noticed a group of bucks walking through some bush. This group contained 4 bucks including 2 decent 4x4's. As I was watching them I spotted the first group of bucks making there way back towards where I was. I was standing right on the trail that they were following so I moved 15 meters into some waist high grass and layed down to wait for them.
As I was waiting, I got to watch the second group of 3 bucks fighting which was really cool to watch. It wasn't to long before I noticed antlers sticking up over the grass. I had my bow sitting beside me but I knew that there was no way I would be able to get into position to shoot without spooking the bucks. So I decided that I was just going to try to get some pictures of the bucks.
The group of bucks walked right down the trail that I thought they would and ended up standing about 15 yards from me. There where 6 or 7 bucks in the group but I was only able to get pictures of 4 of them. 2 of the bucks where fighting about 20 yards behind me and I was never able to get into a position to see them but I think they were smaller bucks. I was hoping that I would be able to get some pictures of the bucks fighting but I did take some video in which I can hear them fighting.
Here are some of the pictures that I got of the bucks: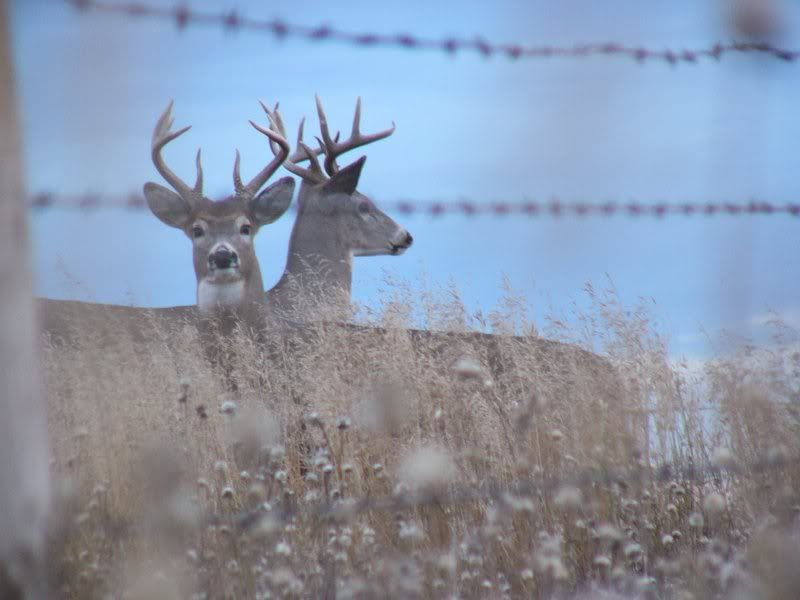 The bucks seemed to know that something was up and they kept looking in my direction but they just stayed in the one area until a couple of does came by and caught my scent right away and spooked taking the bucks with them. This is all I saw: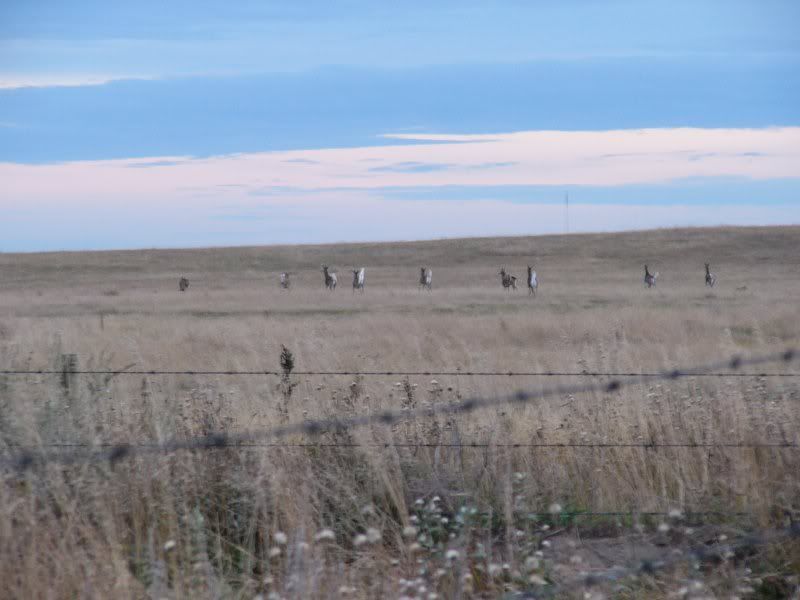 They weren't to spooked though and just made a big loop and headed out into the field to eat. I watched them until dark, then left without disturbing them anymore.
Any guesses on scores for the 2 bucks in the first picture? Originally, I had decided that none of the bucks were shooters but after studying the pictures alot, I'm thinking that the wide 4x4 isn't that bad of a buck. I think that I'll pass on him until next year though.
10-01-2005, 03:29 PM
RE: Yesterday's Hunt w/Pics
---
I wouldn't even know where to begin scoring them, but you can be safe in saying that none of them were monsters. Personally, I would've taken the wide eight pointer. He's not a bad deer, but he won't make the record book either. As they say, one in the hand, blah blah blah.
10-01-2005, 04:50 PM
RE: Yesterday's Hunt w/Pics
---
I would guess that the left buck in the first picture would score around 105 and the wide buck would score around 110 and that's gross. Neither would make pope & young if that's what you're after, but none the less nice looking deer. Good Luck.

Paul