He's back!
06-05-2010, 12:48 AM
He's back!
---
The buck I have been chasing for 2 yrs now has shown back up at the mineral site. Started getting pics of him in 2007 when I started hunting this farm. This buck I call Pretty Boy is 5 yrs old now and is shaping up into something special. I have quite a bit of history with this guy. At 3 1/2 and scoring near 150 I filmed my little brother miss him once and then shoot a little low and forward hitting him in the left leg. He wasnt bothered by the shot to much and walked just out of range to work a scrape. I ended up finding his right side shed with a very deep break that spring. Well last year he showed up to the minerals nearly every day. I saw him on a regular basis all summer long. His right side was effected by being shot. He had split his G2, grew a couple kickers and dropped his G4 on that side. By October he had moved to the west side of my farm which is his normal pattern and I didnt get any pics of him until late Oct. First part of November I had a 80 yrd encounter with him but was unable to get him any closer. I didnt see him any more during season while in the stand. I was able to find his left side this spring measuring 72". Now to this spring. I freshend up the mineral site the beginning of May and he showed up not long after.
Here he is in 2007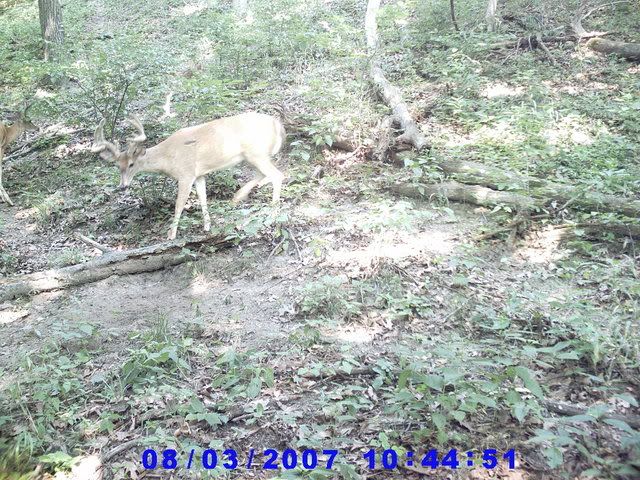 2008
2009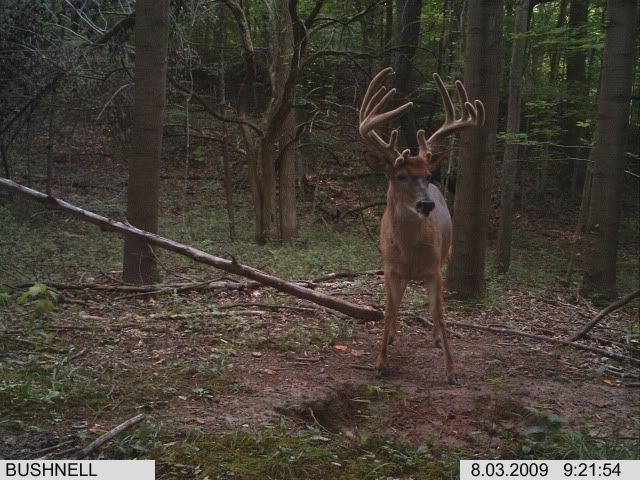 Here he is so far this year. I am kind of tired of just showing him off with trail cam pics. So I guess I need to put him on the ground!!