Turkey season over for me...
04-26-2008, 07:17 PM
Spike
Join Date: Jul 2007
Location:
Posts: 49
Turkey season over for me...
---
Went out to Nebraska and had some fun with the 10 gauge... two birds in one day!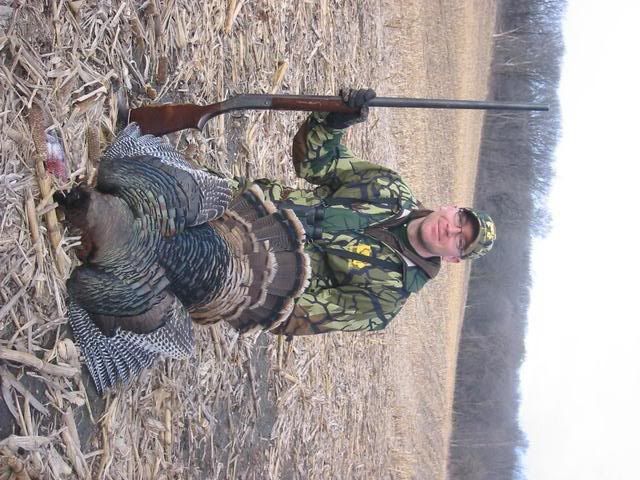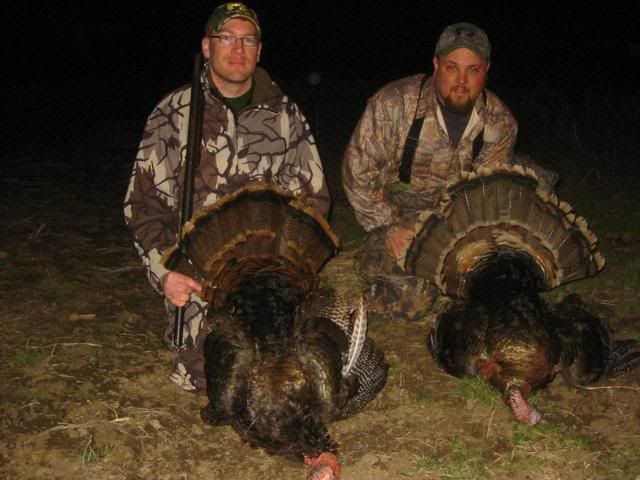 Then came back to Iowa just in time...
Shot this bird opening day. He came in with two other birds and I took the one that looked the most dominant... or the one that stood still long enough from beating on my Pretty Boy decoy. All the other photos were taken in the same location but a day or two prior while scouting. The entire hunt was captured on film, awesome hunt.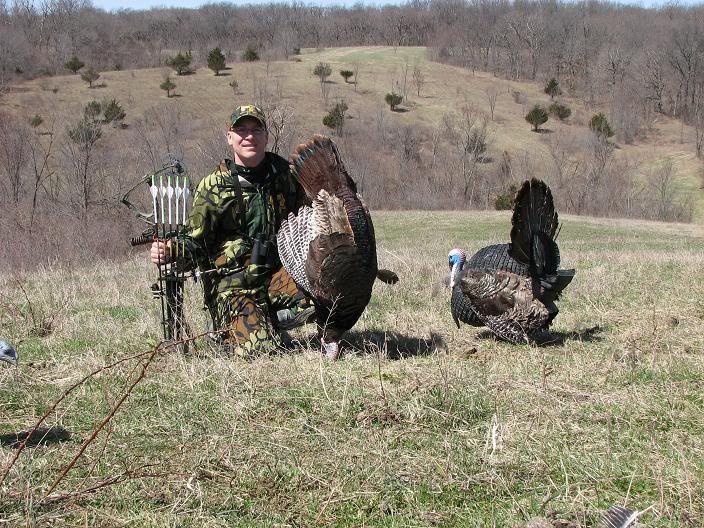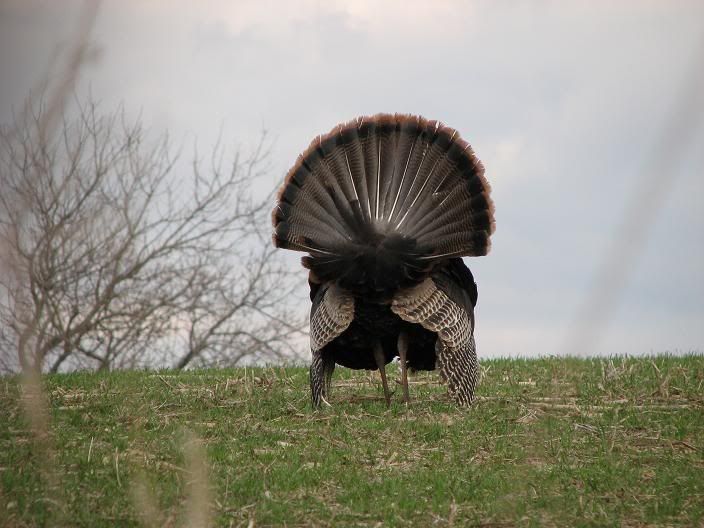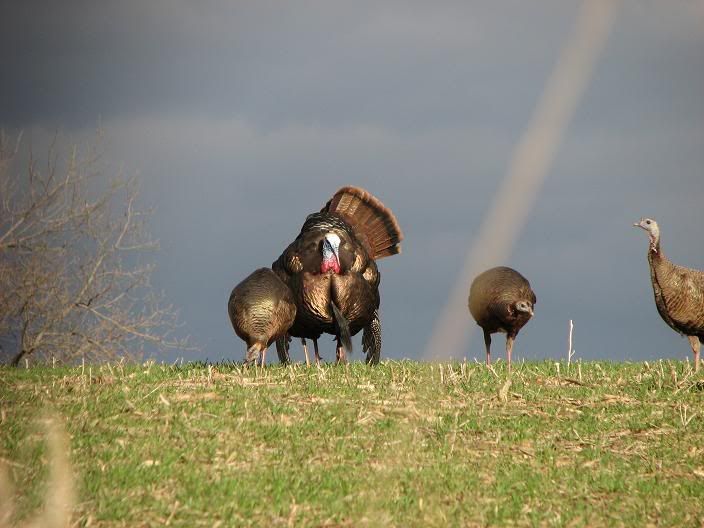 This other bird the story is long but pretty much the best hunt I've had in a LONG time.
Just ended what was probably the best turkey season I've ever had. The trip to Nebraska had a couple absolutely fantastic hunts and both of my Iowa birds were hunts that I will ALWAYS remember. This also is the year that I will swear by the Pretty Boy. Nebraska scored a PB kill and tonight I put the icing on the cake after "Puffy" got the snot whacked out of him... again!
Anyway... The past two nights absolutely sucked and I was frustrated. I talk to Kratz and say I need a change of scenery and he mentions a little chunk of ground that we havn't hunted yet this year. I say I'll get out there and set up and when he can get there he can hop in the blind with me. No problem other than he couldn't make it out, but he did warn me of the cows coming my way. I made a very quick maneuver and moved 100 yards down the ridge and tucked into some multiflower rose that was 30 yards off some public land.
Not long after I am texting away with about 4 people and suddenly I hear a lone gobble. I perk up instantly and put on my game face. A few yelps and I get a response, a few more and another response. For some reason at this point I remember Limbs post from yesterday about shutting up... so... I did just that. Thanks Limb! A little while later I hear another gobble and shortly after that drumming. I pop off a few more texts to keep people in the know and stay quiet. I then hear fighting and wing beats and more gobbles. I then grabbed my old gobble tube and figured what the heck and rattled off a half gobble which was IMMEDIATELY answered by multiple birds. I yelp and purr and then gobble again then grab my bow as I see a bird streaking behind me.
With no shot opportunity I let him go at 25 yards as he is fast walking. Right then I figured the night was over and just as nannyslayer sent me a text of "is one on the ground yet?" the birds gobble and they're RIGHT there. I gobble back, yelp, purr, and then hear the wings as they fly over a hog wire fence. Sticks and leaves rustle and suddenly two gobblers are staring at pretty boy.
This is where I have to shout out to THA4 as right before I left tonight I grabbed some fishing line and had Puffy all rigged up. I jerked the line and Puffy danced. The two birds went into 3/4 strut and did the "mean walk" up through my hens and proceeded to whap the holy hell out of Puffy. I got to full draw and came to the aid of my man with a piss poor shot through the leg. He flopped off and managed to get a little air before he hit a tree. Not long after I was in hot pursuit. I caught up to him as he was stuck in the fence, I had to hop up and over and then did a maneuver off the fence and landed on top of him. Yeah, WWF style. He started to rake at me but I managed to grab his neck and then gave him a pop in the head UFC style. I was going to go for the triangle submission but instead I grabbed a big stick and finished it. \:\)
Sorry the photos aren't the greatest, I had to use the self timer. I did laugh when I got back to my blind, there was crap EVERYWHERE.
Thanks again to Kratz for telling me where to go, to Limb for subliminally telling me to "give'm the silent treatment, and lastly to THA4 for convincing me to rig up the fishing line. Great night!
The Flock, he was right between Puffy and the first hen.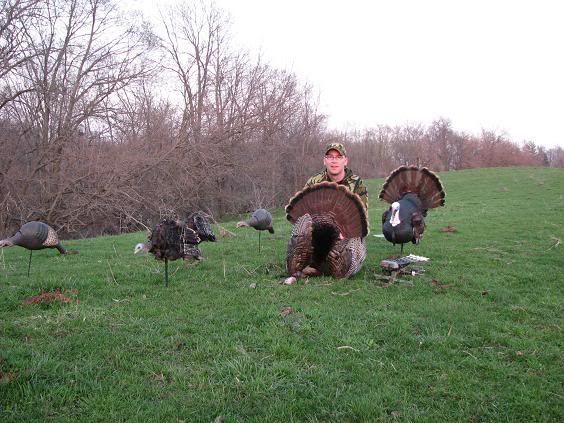 When I dove out of the blind I got hunt up in the blind and my backpack... looked like I got in a fight with someone!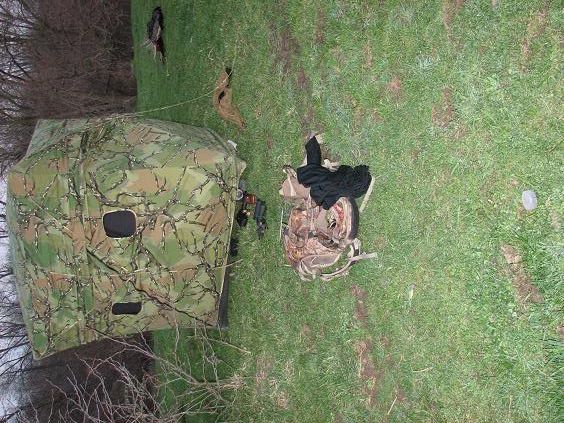 Pretty sweet picture of the sky as my camera fell off the tripod...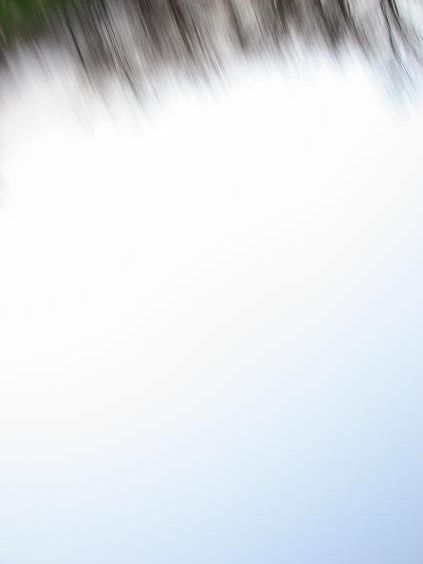 The finished bird after the chase and wrestling match!