Upland hunting with dogs in the winter?
01-18-2011, 08:46 AM
Spike
Join Date: Dec 2010
Posts: 3
Upland hunting with dogs in the winter?
---
Just wondering how many of you run your dogs in the winter and if there are things to watch out for. Do you put any type of clothing on your dogs such as sweaters or boots? How does deep snow play a role? ect.
01-18-2011, 08:49 AM
Spike
Join Date: Dec 2010
Posts: 3
---
Also wondering if anyone feeds their dogs sprout and if they have heard anything bad about it. I have an uncle that says you can starve your dog by feeding him that crap. My theory is if that were true it wouldnt still be on the market.
01-18-2011, 12:04 PM
Fork Horn
Join Date: Feb 2003
Location: Belle Fourche South Dakota USA
Posts: 192
---
My Setters just hunt summer and what part of the winter the season is open and nothing different for me or them in the seasons.
Not sure what "sprout" is but if its like "old roy" I will not feed it to my dogs.
01-18-2011, 01:05 PM
---
I hunt winter pretty hard. At times dogs do need some type of boot as around the nail region may get raw. One simple trick is with panty hose and super glue like EMT gel. That can fix any waorn pad quickly.

I feed Pro Plan Exclusivley for many many years. Will not change.

JW
01-19-2011, 06:54 AM
Spike
Join Date: Oct 2007
Posts: 70
---
We hunt all winter long. We run shorthairs and labs for upland birds. If the stickers are bad enough we will put boots on the dogs. For waterfowl we always put a vest on our dogs. I have never hunted with a dog wearing a sweater though.
01-20-2011, 01:10 PM
Spike
Join Date: Jan 2011
Posts: 2
Upland hunting with dogs in the winter
---
I hunt the winter with a Large Munsterlander dog and don't have any problems. I use Vaseline between the toes to avoid ice balls building up there and also keep the hair between the toes trimmed close. I have seen hunters with SHORT HAIRED DOGS that used sweaters, after the hunt to keep the dogs warm after being wet from the snow.
I would not use Spout dog food or any of the cheap Fleet Farm products on my dog, ( she is too valuable to me to not feed her the best products I can find ). In dog foods I have researched what is best and what is not good for a dog by college studies ( Wisconsin and Iowa ) and therefore I look at the ingredients and the first ingredient must be chicken or lamb and it must not contain corn or wheat.
01-25-2011, 04:02 AM
---
I put a neoprene vest on my short hair during the cold months. One thing I won't do is hunt him if the snow has a thick hard crust on it. I've seen guys run their dogs in that type of snow and their legs get cut up from the icey crust. For food, like mentioned above the first ingredients should be a whole meat not meat by-product and not grain.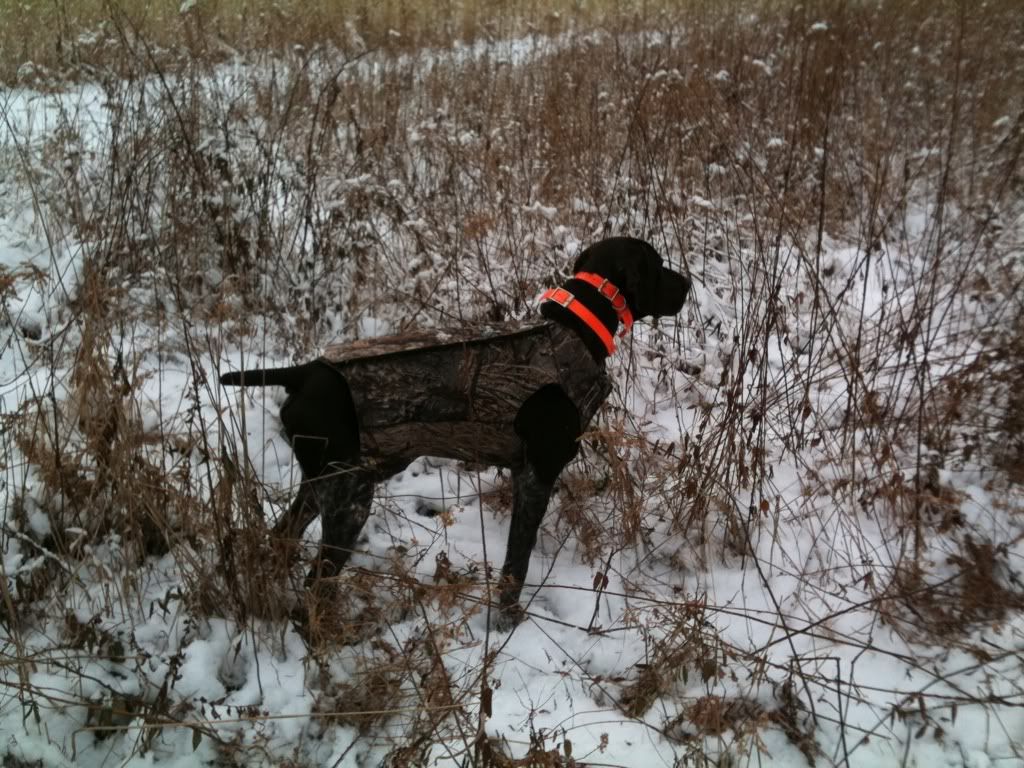 01-28-2011, 07:12 PM
Giant Nontypical
Join Date: Dec 2005
Location: PA.
Posts: 5,195
---
toby my lab hunts all winter. we walk logging roads and hunt culverts. i carry pistol with blanks and shoot in air when toby flushes a grouse.
toby is missing a TOE do to tumor and still hunts at 8 yrs old.
labs are real tough dog in rough weather.
in winter they are hunting machine .they can go all day in winter.
in fall, no the heat is hard on them but in COLD,lab is ticket.
01-29-2011, 07:23 PM
Fork Horn
Join Date: Nov 2010
Location: North Idaho
Posts: 129
---
We don't have an upland bird season here in the winter, but my lab switches into her rabbit hunting mode come winter. I'll weenie out way before she does due to the cold and the deep snow. Cold and snow don't bother her. Standing on ice does though, so we avoid it.