Redemption....1st of 2014 and 2nd ever
03-24-2014, 11:03 AM
Redemption....1st of 2014 and 2nd ever
---
I was still sick over the bird I missed earlier Saturday morning. I had him at 10 yards at one point, but couldn't move to shoot. I could feel his drumming in my chest. Oh well, I knew I could either sit and pout about it, or get back and there and take my aggression out on another turkey. I tried extremely hard the rest of the day to get on a bird. Burned some serious boot leather and did a lot of calling, waiting and hoping. It just wasn't going to happen. I spent from 5:30am-6:30pm in the woods Saturday. Went back and game planned for Sunday morning. I decided to set up where I saw one strutting out of range earlier Saturday morning. It was supposed to rain, but not until around 9am.
So we get there Sunday morning, get set up and just as they were Saturday morning, the birds were on fire gobbling. There were at least 3-4 birds close by. I should have got up and moved to them, but I wasn't sure where to set up or where they would fly down, so I decided to stay put on the greenfield. I let out a few soft yelps and a couple of gobblers answered, so I just sat and waited. I had a loud-mouth hen come in that I played with for a while in hopes that it would draw a gobbler in, but it didn't. About 8:00 am, the bottom fell out. I tried to just sit in the downpour getting soaked for 30 minutes before I called it. Went to the gas station in Notasulga and grabbed a biscuit and coffee. The rain cleared up around 1:30pm, and I headed back to the land. Got set up in the same area as the morning and didn't have high hopes, because of the pretty strong wind, but you can't kill 'em if you're not there. I used my box call for a while, but I wasn't confident it was working. I threw back in my YEKRUT special and started yelping every 10-15 minutes. I eventually decided to do some cutting and excited yelping and I heard a gobble that was VERY close. I got my gun up and waited. In a matter of seconds I saw two white heads come bobbing up the field and I released the Nitros on one of them at 35 yards. He didn't move a muscle, just dropped in his tracks. He was a love drunk 2 year old with a 8.5" beard and 3/4" spurs. This was my first turkey I called in that I got to shoot, and my second bird ever. I let my buddy shoot a much nicer bird last weekend that I called in. This was also my first Alabama bird, as I hunted in Mississippi the last 3 years. I am still on cloud nine.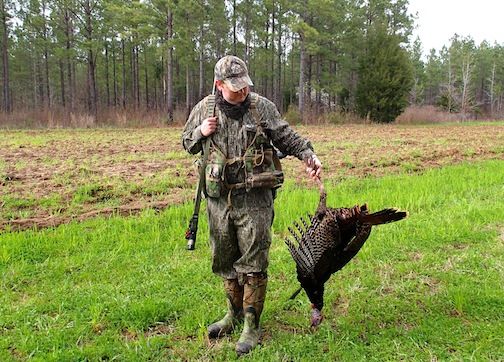 03-24-2014, 11:47 AM
---
Great story!

My favorite line besides the exciting stuff.... "you can't kill 'em if you're not there"

So true!
03-24-2014, 03:41 PM
Nontypical Buck
Join Date: Nov 2009
Location: Lutz, Florida. Turkey woods in the spring.
Posts: 1,136
---
Congrats on a fine bird. Nice story and pictures. Thanks for posting
03-24-2014, 08:07 PM
---
Congrats on a nice turkey!
03-25-2014, 06:23 AM
---
Congrats on a great turkey!!!! great story too.
03-25-2014, 09:36 AM
03-25-2014, 02:01 PM
---
Good job. You still down south? Gobbling is poor here at Oakmulgee.
03-25-2014, 08:17 PM
03-25-2014, 08:24 PM