Pa.Youth Hunt
04-23-2011, 12:55 PM
Pa.Youth Hunt
---
11 yr old Caleb bagged his first(rain soaked) longbeard on the Pa youth hunt. 22 lb and a 10" beard. We were set up above the birds.The birds were roosted between us and a road.Birds were gobblin on the roost when we spotted headlights pullin in below us.Wasn't enough to be pourin down rain ,now we had company.Lucky for us the birds pitched down towards some tree yelps. Once they hit the ground three longbeards headed our way.They put on quite a show and when they got to 20 yds boom.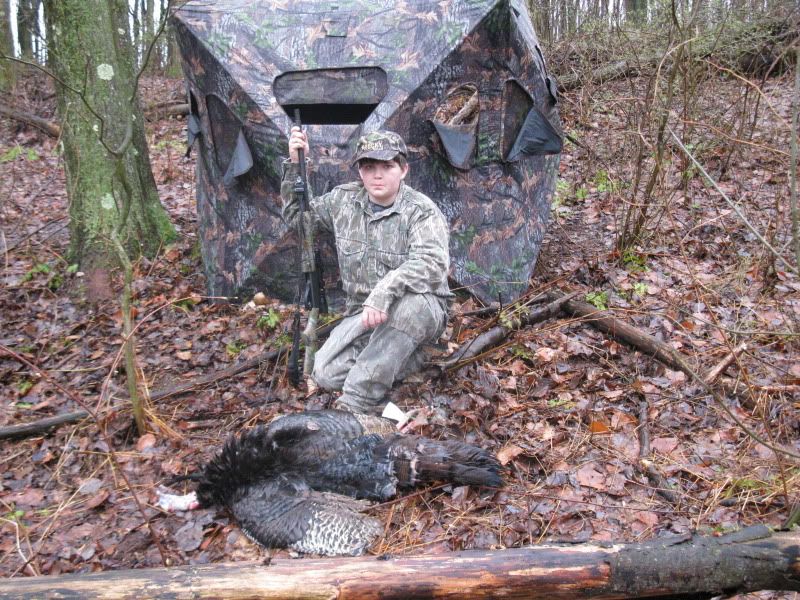 04-23-2011, 03:46 PM
Nontypical Buck
Join Date: Feb 2003
Location: NewLowell ,Ontario ,Canada
Posts: 2,765
---
Congrats ! Caleb and Jim ! Glad to see that it all worked out for you both. I truely know how much it ment to you to get this done.
Jim You need to make that boy smile in the pic's , its not hard
Congrats to both of you !
Posting Rules
You may not post new threads
You may not post replies
You may not post attachments
You may not edit your posts
---
HTML code is Off
---