40 yr old (turkey)virgin finally scores
05-16-2010, 03:40 AM
40 yr old (turkey)virgin finally scores
---
I never gave turkey hunting much of a thought until April 30th of this year. When a friend of mine called me first thing in the morning to declare he had shot a really big tom. He sounded like a kid at Christmas as he went on and on. He is only in his second year of hunting all together and it was his first tom and a 20 pounder at that.
The shear excitement in his voice was magic. I love to have people that are new to hunting really fall in love with it. There is a special bond between hunters that others just cant realize.
Well, his excitement was contagious! I pulled out my cell phone from the roof i was on at the time and called my deer hunting buddy. He has hunted turkey on and off for a few years now. I had tried once, an uneventful day about 5 years ago. I did however , continue to buy my turkey license every year since that day just in case of "that phone call" where an turkey hunt was going down and my presence was mandatory (you know how buddies are). Now it was me making "that phone call."
Well the next day (Saturday) we got a late start. It didn't stop us however from getting into some birds. I was actually pretty shocked to even hear a bird gobble in the same zip code i was in. Since we were actually hunting right in my back yard which is 80 acres of mostly town owned land. I know......... sweet! That first day produced one good chance as my buddy called a big old tom in to within 20 yards. He traveled over 200 yards to get there and he was hot for some turkey love that's for sure. At 20 yards he still wasn't in his shooting lane since the bird didn't come in like we had drawn it up. He come around some real thick stuff and popped out in an area we really didn't expect. The shot didn't materialize even at 20 yards because his head was behind some thick under brush and my buddy is very ethical. Well that's hunting and i was pumped, to bring that bird in that distance and that hot was awesome.
The following Saturday (no Sunday hunting in Mass.) brought another chance this time with a bird we had scouted and pinpointed his roost the night before. That big old bird was going to be harder to fool but not as hard as mother nature. The ripping thunder storm at 6am directly over head broke up whatever chance we had at the bird. We did have him within eye shot and he was mildly interested in the decoys. "live to fight another day" i guess. DON'T MESS WITH LIGHTENING
Then yesterday it came together. We were in the woods at about 4:50 headed to where we needed to be but one surprise. The bird was already there on the ground clucking away. DAMN! Let's put our heads together and come up with a viable PLAN B. We did that and knowing the property well payed off. We circled around and came out 300 yards to his left in a small field under a power line. We set out a hen and a Jake decoy. I grabbed a spot in the wood line and cleared one shooting lane. My buddy went 100 or so yards down the wood line and did the same. He would be the caller and me the shooter. Here is where i make a mistake. The mosquitos in this area are real thick since there is lots of swamp. I mean if they could team up they could take you off the ground thick. So i quickly took out some advanced cutter i keep in the pouch. You know when they say don't use too much and try not to get it on your skin. WOW they mean it. Not knowing how long i was going to be pinned down i soaked myself right thru with the stuff and a bunch of the fumes were locked up under my vale and i was wet right thru my clothes with the stuff. After about 10 minutes of my buddy working that bird towards us i was feeling very nausious. The lay of the land is such that the bird, in short order, could see into the field were the decoys were and me being only 10 yards into the woods i didn't dare move a muscle. Soon the bird was in the field 90 yards to my left just according to plan. I knew at this time that if he really took his time i wouldn't be able to hold back the vomit. He kept coming, i kept trying to suck in clean air. Finally convinced this was no ambush he covered the last 20 yards in about 3 minutes. I let him have it the second his head hit the shooting lane. A 35 yard clean kill. I quickly jumped up ran to the field threw off my hat and vale and doubled over trying to get some clean air. A few dry heaves later my buddy was headed to see my bird and wondering what the heck i was doing. i nearly poisoned myself but i took my first bird.
The thing i like best about turkey hunting is being able to hunt with a friend. It's like making instant memories. Thanks Dan that was one heck of a calling job.
Well that's my long winded story now on to the pic.
tale of the tape......18 1/4 lbs......10 1/4" beard.......5/8" & 3/4" spurs
Benelli Nova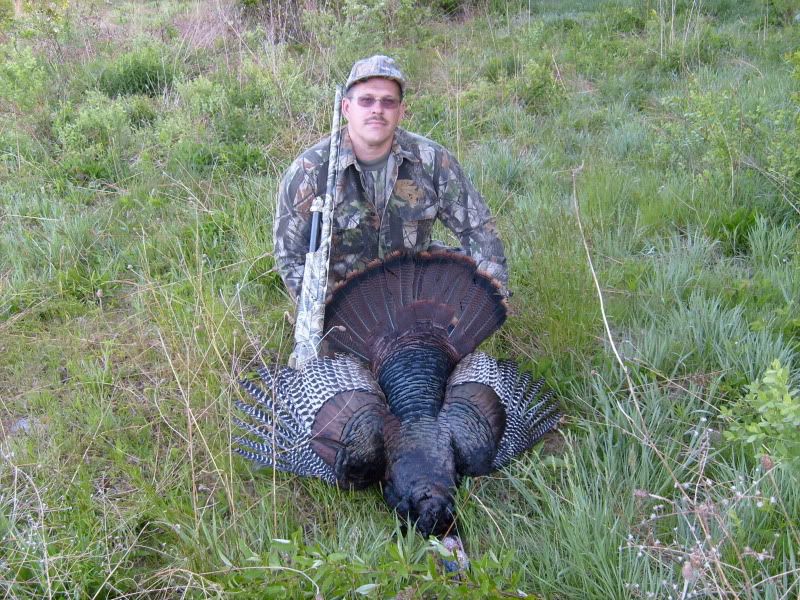 Here is your National Wild Turkey Federation Score
Your score is 18.25 + 6.25 + 7.5 + 20.5 = 52.5
JW!
---
Last edited by JW; 05-16-2010 at

05:07 AM

.
05-16-2010, 04:03 AM
---
Congrats! Fine bird
Welcome to the club...you'll never hear a turkey gobble the same way again.
Are you A: Afflicted, B: Addicted, C: Obsessed, D: Jus' plain crazy or E: All of the above?
PS. Don't answer that question!
05-16-2010, 04:51 AM
---
Another addict is born...lol. Congratulations on a fine bird. Don't ever loose the passion for the chase. Turkey hunting has never lost its appeal to me over the past 20 years and I hope you continue to enjoy the chase!
05-16-2010, 05:09 AM
---
I agree with Jackson - each tme out I learn something new. It is a friggin disease with nor cure!
What I learned this yr - Well I can tell you why in the past you saw birds in the field while driving by in a car AND now you don't!

JW

PS I added your NWTF score to your post! Nice Bird - very nice!
05-17-2010, 06:51 AM
---
Very nice... Congrats...
We just got my 52 year old father in law his first 2 birds this year... been a deer hunter all his life.. never gave the ol' chickens a 2nd thought.. he's hooked now.. went out and bought a new turkey gun and all of the other stuff now..
05-17-2010, 03:03 PM
congrats
---
Awesome bird, I was 42 when I killed my first bird, hooked for life, now killed my 6th one april 30th. It's better for you than crack and only slightly more addictive! you'll get crazy thoughts like when the Nashville flooding was going on I was thinking that the hatch would be screwed up there this year!
Posting Rules
You may not post new threads
You may not post replies
You may not post attachments
You may not edit your posts
---
HTML code is Off
---