Kojak Kids
05-05-2010, 07:32 PM
Kojak Kids
---
I just wanted to brag and post a couple of pictures of my daughters and their 2010 turkey.
My dad and I took them out the second weekend of the season. It was cold and windy but we managed to call in a gobbler around 9 am. My 11 year old had the honors but her 14 year old sister got too excited and dropped the bird a split second before my 11 year old was going to pull the trigger. She made a very good shot and was very excited. Her younger sister was a bit upset that big sis beat her to it.
The bird had an 8 inch beard and 7/8" spurs.
My 11 year old daughter had two other chances that weekend. We called in a gobbler the next day but for some reason she froze up and wouldn't pull the trigger. Then we called a jake in but he was a bit too far. She put some BB's in him but didn't bring him down. She was feeling a bit low after all that. However, she made up for it.
We went out this past Sunday morning, only four miles from town, and by 6:37 A.M. she had tagged her first gobbler. (She got two jakes last season.) The tom was gobbling from the roost as we walked in so we set up as quick as possible. I started calling to the gobbler and he answered every call. He gobbled and strutted all the way in! My daughter touched off her 20 gauge and that was that. We were both extremely excited!
The tom had a 10 inch beard and 1 1/8 spurs. My daughter was quite happy that it was a bigger bird than the one her older sister shot.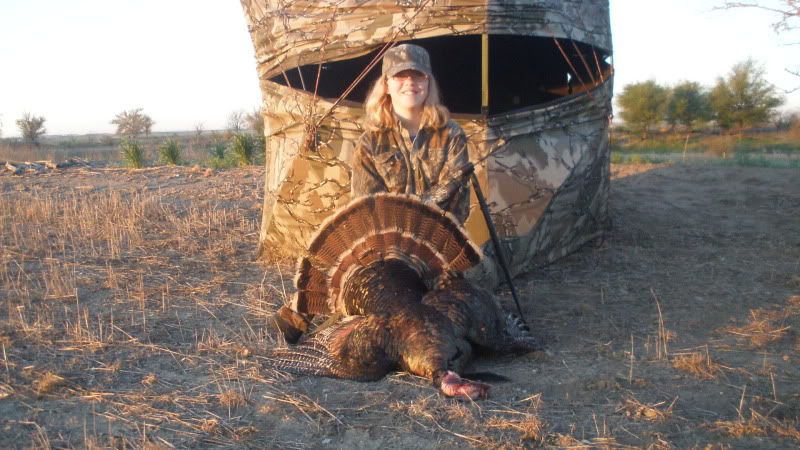 ---
Last edited by Kojak248; 05-05-2010 at

07:40 PM

.
05-06-2010, 05:37 AM
---
Congrats to both of your daughters!!!
To me, there's no greater joy than watching kids get involved in the outdoors - learning to respect and rely on all that nature has to offer! Awesome story - I love that sibling rivalry!!!
Kim
Posting Rules
You may not post new threads
You may not post replies
You may not post attachments
You may not edit your posts
---
HTML code is Off
---