5-2-10 Success
05-03-2010, 02:14 PM
5-2-10 Success
---
After a rough day on Saturday my buddy and I had a great hunt on Sunday. Tony bagged his first Tom ever at 6:05 - a nice 3 year old, I missed for the first time ever at 8:30, and at 11:15 I bagged a nice 2 year old that came in with his 2 buddies. I worked Tony's bird in which was ******ed by a hen from the roost to 14 yards. We were set up in a field on the edge of a block of timber. The tom gobbled on the roost around 5:30 and then responded to my calling. he went quiet around 5:50 and at 6:00 when I called he gobbled and I knew he was close so I told Tony to pick up his gun and get on the shooting sticks. I looked to my right and he was about 75 yards out walking out of the woods into the field and coming our way. He half strutted to my deocys at 14 yards and Tony hammered him. He was the only bird that we heard so we packed up and left that farm. We put his bird on ice, grabbed a cup of coffee and headed to another farm. As we were walking in I spotted 2 toms over in the next field as we topped a hill. We backed up, set up and as soon as I called the responded. We decided to try and video this set up and just got ready (not more than 5 minutes) when a tom sneaked in from our right. He was strutting but we bumped the tripod and he must of heard it and started to look a little nervous. He was at 45 yards and I knew I was good out to 50 so I picked up my gun and shot. My first miss ever, and it was on video! I'll admit that I rushed the shot, didn't get on my shooting sticks, and took a little bit of a far shot. Oh well, I'm sure that anyone whoo has hunted long enough has missed a bird or two right???????? Anyway, I was so mad at myself I felt sick. We stayed there for an hour and I decided to pack up and move about 500 yards or so to the west where there was a deep draw between two fields. After about an hour of callig we heard a gobble pretty close by and figured the bird was just below us. A few minutes later I heard spitting and drumming and saw 2 red heads stick up over the crest of the hill at 35 yards. then another pops up! I got on my stiicks and redeemed my earlier miss with a nice 2 year old. Tony's bird was 19.5 lbs, 7/8" spurs, and 9" beard. My bird was 18.5 lbs, 3/4" spurs, and had a 9.5" beard.
Tony and his tom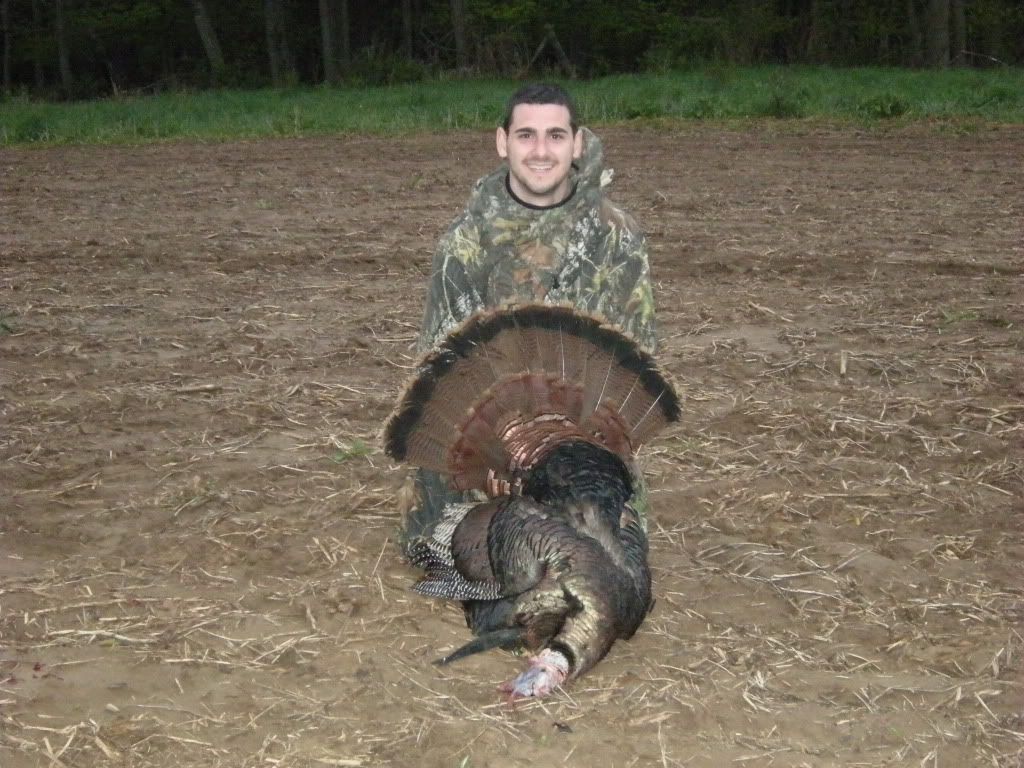 My decoys in the background
me and my bird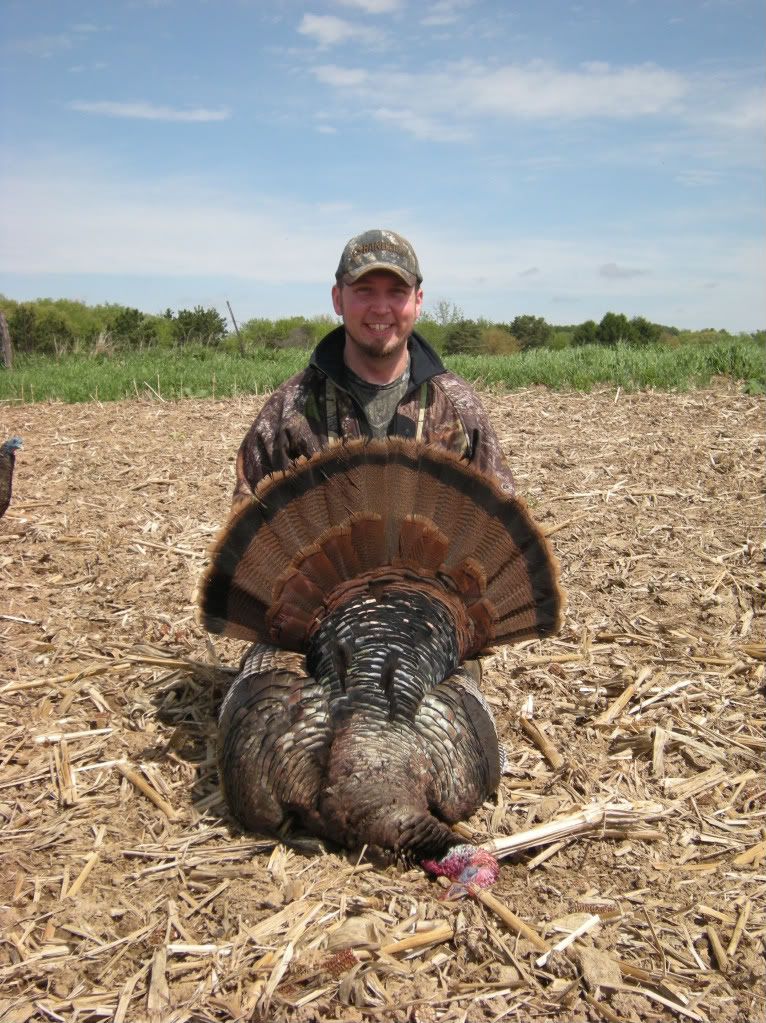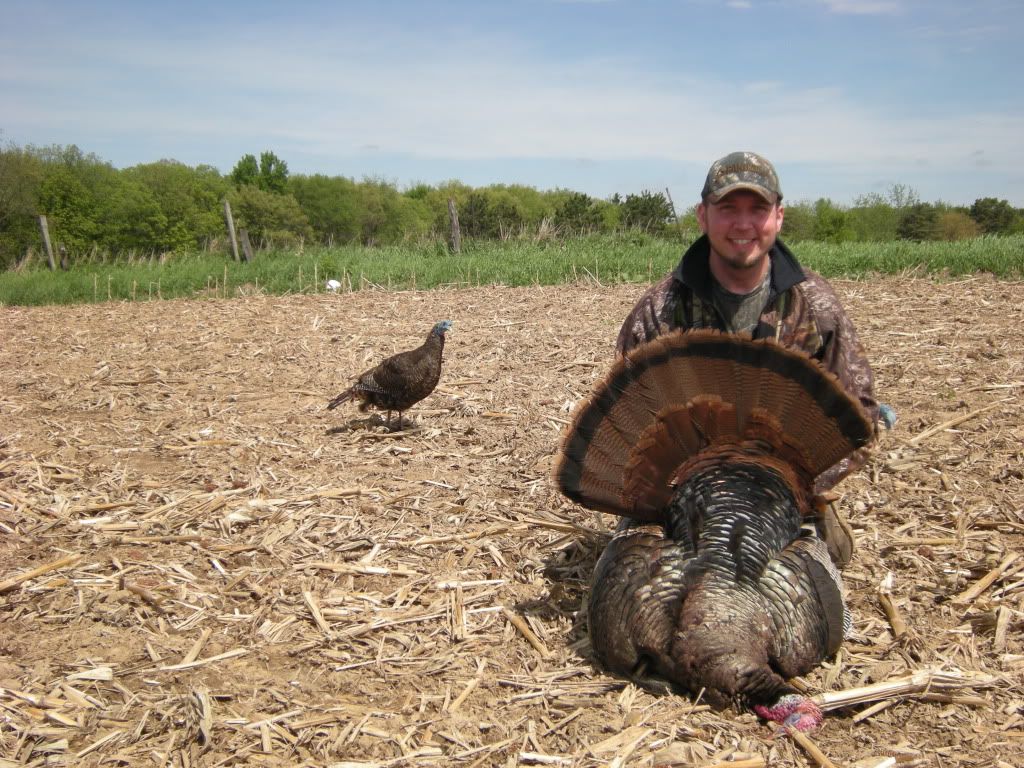 05-03-2010, 04:17 PM
---
No he's not. This was his first time turkey hunting. I replied to a thread last week about filling up the last 7 spots but no one told me if I was on a team or not. How can I find out if I got on? I've got 2 birds down already and have tags for the next two seasons in WI - 4th (D) and 5th(E) and can bet on filling at least one of those tags.
Posting Rules
You may not post new threads
You may not post replies
You may not post attachments
You may not edit your posts
---
HTML code is Off
---