Doubled bearded SC gobbler down!
04-18-2010, 05:43 PM
Nontypical Buck
Join Date: Aug 2007
Location: SOUTH Carolina--I've moved!
Posts: 2,760
Doubled bearded SC gobbler down!
---
Of course, the first year I don't sign up for the turkey contest I score my best bird. I didn't enter the contest because I got married opening weekend and I was gone on my honeymoon the following week. I just didn't think I'd have much time to hunt. A couple days before I killed this gobbler I had "a" gobbler within 100 yards of me gobbling until my cousin fired up the tractor to disk one of his fields. That shut the bird down. I have no way to know if that's the same bird as this one. On my 4th hunt of the week, I put the smack down on this good bird. Here's the story.
I arrived at the farm around 6:10 Friday morning. Its a short walk to the corner of the field where I set up my jake and hen decoys so I don't have to kill myself to get there too early. Besides, I hadn't heard a bird gobble before 8:00 any morning I'd been there. So I was shocked to hear this guy fire up at 6:45. He was a good 200 yards to my right and in the woods and I was sitting on the field edge. I decided to sit tight, play hard to get, and hope he would make his way to me. Slowly but surely he was coming in my direction...gobbling the whole time. I was only calling every few minutes. The last thing I wanted to do was over call him.
After an agonizing 20-25 minutes I knew he was directly in front of me but still in the woods and I couldn't see him. Then I saw a hen walk through a "hole" in the woods. I just knew there was no WAY he would leave that girl to come to me and my decoys. I made a couple yelps on my diaphragm call and he lit up again. At that point I never made another sound. He gobbled and I thought he had passed me and was following the hen. I thought the gig was up. Suddenly he appeared in the same "hole" the hen was in a couple minutes before. He was strutting and showing off. At this point my heart was about to beat out of my chest. He stretched his neck out when he spotted my decoys. I remained silent. At this point he was about 60 yards from me but still in the woods.
Finally he made his way to the edge of the field and stepped out. All I could see was the paint brush hanging from his chest. He strutted back up and made his way towards my decoys. I still remained silent. My decoys were only 20 yards from me so this hunt was up close and personal at this point. What a RUSH! He slowly strutted his way over to my jake and hen and just stood there in all his beauty. I couldn't stand it any more and I gave him a quiet yelp to make him stick his neck out. As soon as he "de-strutted" just for a second, I let him have it. My Mossberg rang out and he dropped like a rock. I chambered another round and ran to him. I stood on his head for a brief minute to ensure no suffering. He was mine.
I absolutely love to deer hunt but there is nothing like interacting with these birds. This hunt happened just like you see on the videos and tv shows. I don't know what I did to make him leave his hen and come to my decoys but I did something right! Sorry for the long post but I'm still pumped.
He weighed in at 20 lbs, 1 1/8" spurs, 10 1/2" and 9" beards. He's at the taxidermist as we speak. On to the pics...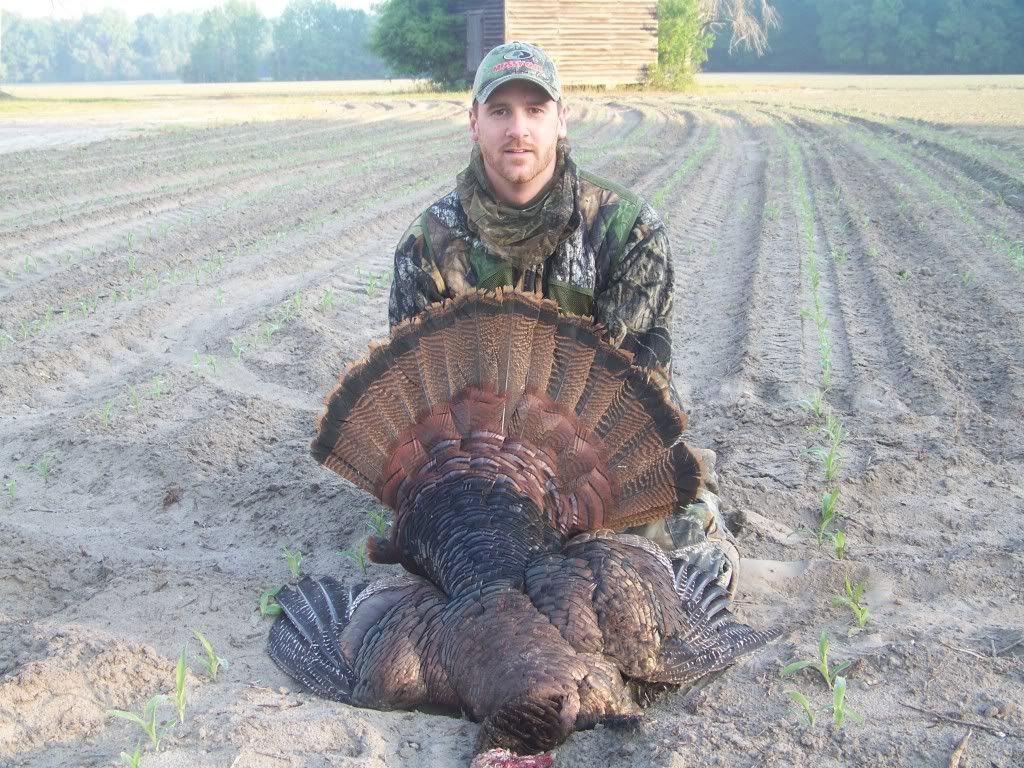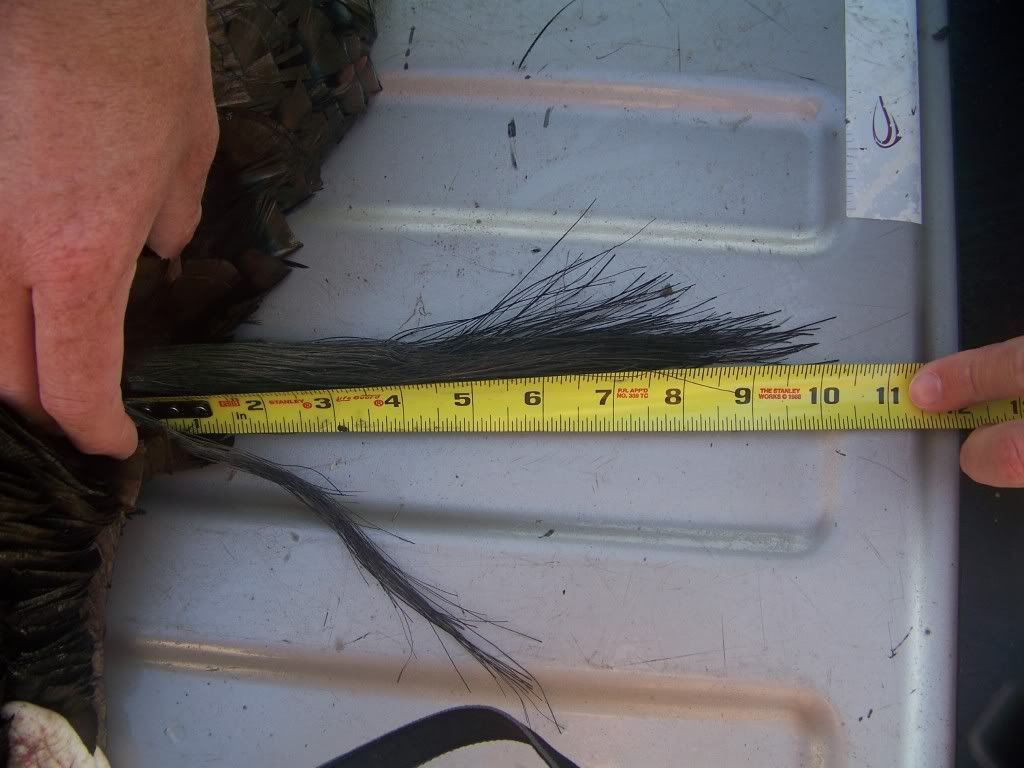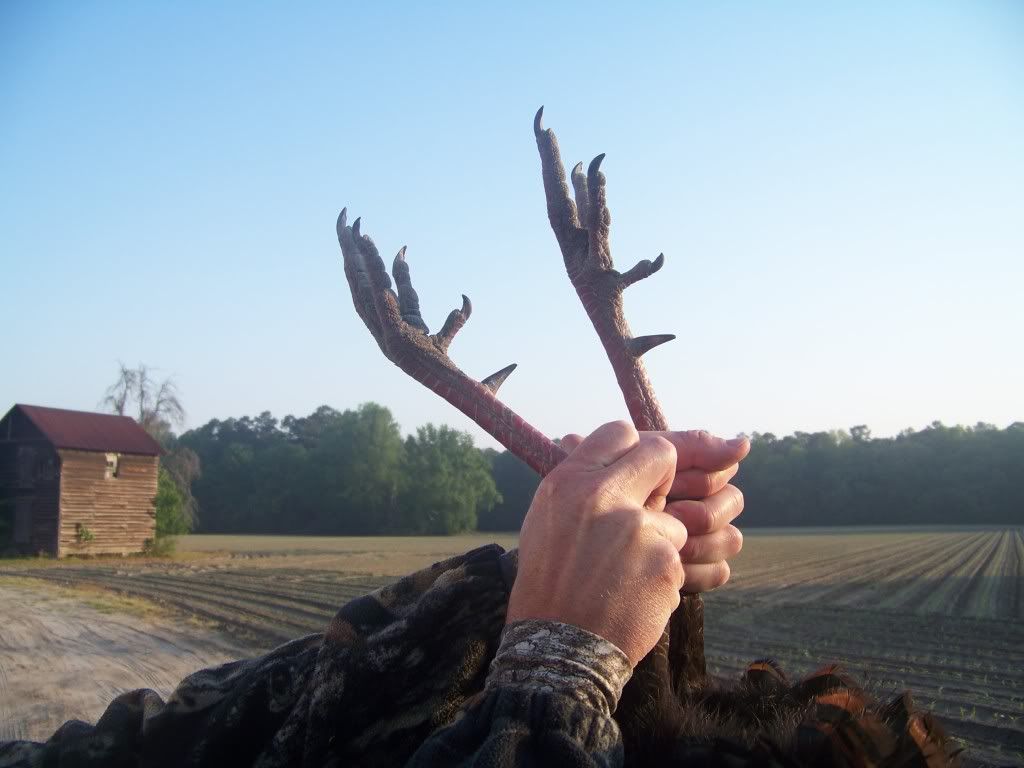 ---
Last edited by NCRemington700; 04-18-2010 at

05:49 PM

.
04-19-2010, 04:20 AM
---
Awesome Turk Dave!!!
Those are some big ol' hooks on that bird!!! Great beards - beautiful color... You definitely did something right, to pull him off those hens!!!
Hopefully you won't think that not signing up for the turkey contest was good luck!!!
haha All joking aside - CONGRATS on a trophy turk!!!
Kim
04-19-2010, 04:59 AM
Nontypical Buck
Join Date: Aug 2007
Location: SOUTH Carolina--I've moved!
Posts: 2,760
Posting Rules
You may not post new threads
You may not post replies
You may not post attachments
You may not edit your posts
---
HTML code is Off
---