Finally Called in A good'un!!
04-03-2010, 07:55 PM
Finally Called in A good'un!!
---
This is my second season turkey hunting--Last year I killed a jake on my last day to hunt!! I was hoping for better this year--Different things happened so I ain't got to hunt as much as I would like.
I work for the Fl Game an Fish, as a check station operator, and the 2300 acre Mgt area where I work has three, 3 day turkey hunts.I drawed a quot permit for the third hunt--I was able to hunt as a guest one day on the first hunt--no gobbles/called in a hen-seen two others.
A friend was drawn for hunt two I went as his guest. Day one no gobbles/ no hens.
Day 2--gobbling on the roost--setup in a hurry, started soft calling, Gobbled, Sounded like he was 3 miles away-- waited soft called again, Gobbled, shook the ground--then I seen them two longbeards-walking a rise about 100yds away-soft purrs and clucks made them turn and look at the decoys,they Gobbled and about ran half way to the dekes, stopped started feeding--caught them with heads down and soft called again--up came the heads and in they come, My friend was shooting first( we had to share bag limit of one bird) so I wasn't planning on shooting unless he missed. when they got to the dekes one of them got Hinky and started to leave--I first whispered "kill em", I whispered louder "kill em",Both birds was wide open for me but the closer one was behind a bush for my friend- I didn't know till later, I then almost yelled "shoot em"-
-the bird looked out from the bush and he shot--The bird then flew straight up about 10/12ft and was leaving-I shot him like you would shoot a phesant, and he took a dirt nap.I told my friend it was his bird but when he skinned it out he decided he didn't make any killin hits and I killed it-So I guess I killed A 193/4 lb Tom, with double 9 1/2 beards, an left spur 1", right spur 1 1/8".
Sorry about the long post,,but without being there its hard to describe!!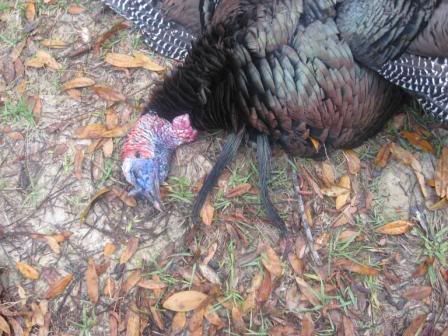 Hope I didn't break ya'lls puter but no pics of just the bird.LOL
Bring on the third hunt!!!!
I may have told ya'll a fib by mistake--We measured the Beards with a CM tape and I converted wrong. When I actually seen the beards again, they where closer to 8 1/2 inches!!!!Sorry about misleading--I made a mistake!
---
Last edited by BowKnutt; 04-05-2010 at

10:57 AM

.
Posting Rules
You may not post new threads
You may not post replies
You may not post attachments
You may not edit your posts
---
HTML code is Off
---