Finally got him!!!!!!!
04-29-2009, 04:35 AM
Finally got him!!!!!!!
---
I posted my troubles with a long beard that I've been after a few days ago and thanks to SwampCollie's help, I put him down yesterday morning. I got set up at the base of the tree that had fallen into the field and at 6:00am he started gobbling back in the tall pines. I gave a few soft purrs just to let him know that company was on the ground. 20 minutes later I heard him fly down and he was close. With 5 minutes I saw him coming and got ready. He was at 7 yards and in full strut as he approached She-Mobile. I gave 2 quick clucks and he came out of strutt and stuck his head up high. Of course at 7 yards, my SX3 put a hurting on him bad. My little girl could have gotten him with our .401 easily. The most important thing that I learnt was to not be afraid to get in close and in his path. That may sould like a given but this is my second season turkey hunting and I still have a lot to learn. I'm going to try and post the pictures.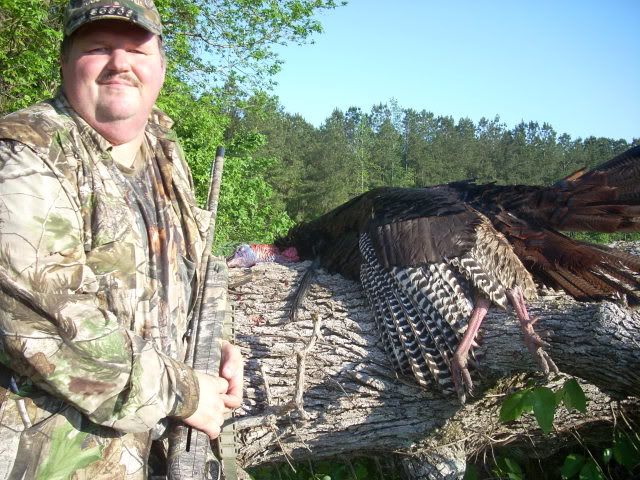 ]
04-29-2009, 05:12 AM
RE: Finally got him!!!!!!!
---
Wow! Nice rope
And the second time you tried to post the picture you forgot the slash mark for the last /img
and use lower case letters
You did everything right BT - I jsust fixed it for you so try to load some of those other pictures.
I am on the Chat if you need help
again minus the (') quotes '
'
JW
04-29-2009, 05:19 AM
RE: Finally got him!!!!!!!
---
That is awesome, congratulations About not being afraid to take a risk and get in close...well that is one of the biggest things I've learned in turkey hunting so far, well done congrats again
04-29-2009, 05:21 AM
RE: Finally got him!!!!!!!
---
24 lbs
spurs 1 5/16 & 1 5/16
Beard 10 3/4
Drum rolllllllll......................
Your score is 24 + 13.125 + 13.125 + 21.5 = 71.75
Dang nice bird. Anytime you get a Eastern over 60 points you have shot more than likely a 3 yr old or older
Dang nice bird!
JW
04-29-2009, 09:53 AM
RE: Finally got him!!!!!!!
---
Ray your email yesterday really made my day buddy. I'm still overwhelmingly excited for you! That is one fine bird too my friend, like JW said.... an eastern with a single beard over 60 is a good one, and anything over 70 is a realtrophy. I've never killed a bird in our part of the world that topped the 24# mark, and there are only a handful killed around here each year... thats just a pig of a gobbler!

You already knew what they were doing... all you had to do was connect the dots.Moving too much and being impatient is a real problem for a lot of turkey hunters.... but sometimes being a bit too timid can actually burn you too.It is hard to call a bird much over 150 yards out of his way in our part of the world... not only because of the amount of hens, but largely because of the geographical and natural barriers created by cutovers, swamps, and blowdowns from hurricanes. All you haveto do is your your God given gifts....you are observant and know what the birds are doing on your place... Just keep putting yourself in their way. I don't know how in the world you kept your heart from leaping out of your throat with that brute at 7 yards!!!!

Just keep on paying attention to what the birds are telling you... think a step ahead.... what are they doing... where are they going... why are they doing that... and when they do the same thing everyday.... well.... if you are patient it almost isn't even fair!

Congrats again buddy!

-Andy