Son of Mastevt scores big......
04-25-2009, 11:19 AM
Son of Mastevt scores big......
---
Took the weekend off from work to take the boys hunting. Set Brandon, my oldest, up on my big ridge overlooking my food plot. Same spot I saw my bird I took on wednesday come into my property. Then took Trevor to another spot. Well, Trevor being young and all, can't stand still for 2 minutes, got busted by 2 big ole toms, on two differant set ups. Uggg! Oh well. So about 9am we desided to head back to the area where Brandon was, and check with him on the radio. When we got there, he was working two birds above him on my big ridge. Both gobbling their heads off. So I called Brandon and told him to stop, and I started calling from across the pasture. Hoping to draw them to Brandon. It didn't work, we spent over an hour, and they wouldn't budge. So I walked down to Brandon, and we then headed around the big ridge just like I did on wednesday with my bird, and headed for my hidden east pasture. After set up, I called, and they both hammered back, we teased them for a little over an hour when they stopped gobbling. I told Brandon to get ready cause they were comming in, and sure enough, about 2 minutes later, here they come. Up the same path as the one I took. I didn't have to tell what Brandon to do, in an instant, there was a big boom, and one bird was flopping. He ended up only 10 yards from the spot where I dropped my, shot off the same ceder tree, How awesome is that! Our 2nd only spring Gobbler taken on the property. Bird weighed 20 1/2 lbs, 7/8 spurs, and three beards, 10 1/2, 8, & 7 3/4. Scored 90.5 on the NWTF websites scoresheet.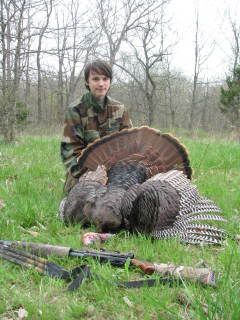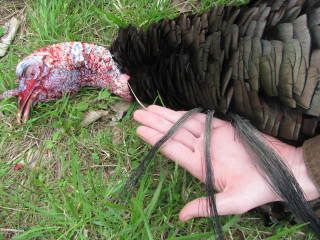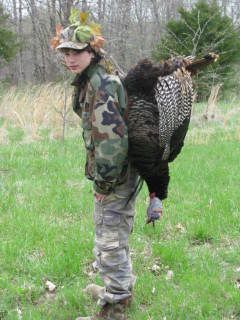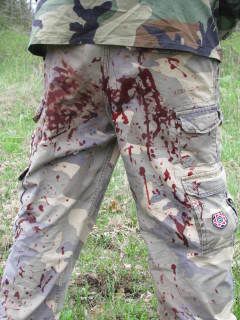 Heres a couple of pics of the bird with the box calls that Barefoot made me. The wood is oak, harvested from my property, to make a dresser for Brandon.
04-25-2009, 03:46 PM
RE: Son of Mastevt scores big......
---
WAY TO GO, SCOTT!!!
I always like to hear when one of my "children" helps someone connect!
Tell Brandon that he done good! He's got one heck of a trophy there!
Looks like you might need to retire those two boxes now!
04-25-2009, 03:54 PM
RE: Son of Mastevt scores big......
---
Not on your life Ken! Those calls sound awesome in the woods, Real Raspy. Those two toms just hammered when I used them. That oak is real differant, but good! Just got done skinning the bird. I'm gonna be mounting it for him.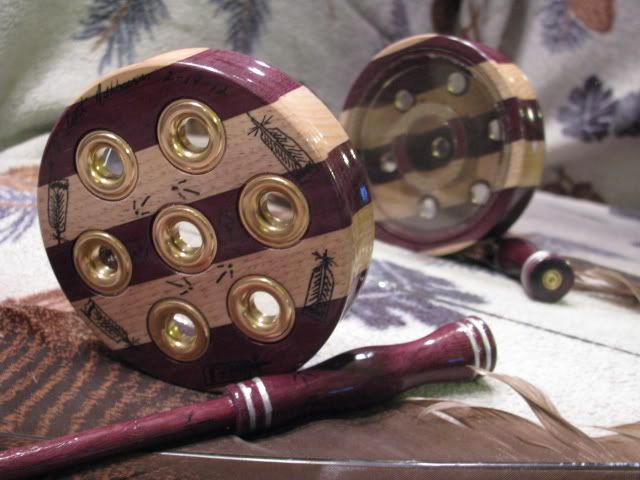 No bones here!
04-25-2009, 04:58 PM
RE: Son of Mastevt scores big......
---
Now thats pretty darn cool , it's great to read about a father taking his childern hunting and to read about their success.
You should be really proud of yourboys as well as yourself , congrats to you and your son in time your youngest one will learn to sit still and be more patient.
Maybe a next year we'll be reading about his success , keep passing our hunting heritage along and they'll grow up to be great hunters like thier Dad.