What scope on your turkey gun?
04-01-2008, 04:19 PM
What scope on your turkey gun?
---
I've had a cheapo tasco on my 500 turkey special for quite some time, and while I know the scope isn't high quality is has gotten the job done for several years and never changed POI on me, and never fogged up. I just sold the gun to my best buddy because I've finally gotten him hooked on turkeys, and am now setting up a new gun.

I just ordered a new 535 Tactical Turkey (with the sweet pistol grip and adjustable stock) and am looking to order a new scope for it. I'd like to keep it under $150 at most. I prefer a scope with a diamond type or circle type reticle in it rather than traditional crosshairs. I'm also curious to learn more about red dot scopes, but again.....would prefer a circle reticle rather than a dot. I'm also a bit concerned about a red dot having the batteries die on me.........anyone have this happen? How long do the batteries last?

What scope are you shooting, and why? Would you buy it again?

04-01-2008, 05:11 PM
RE: What scope on your turkey gun?
---
I have the Bushnell Trophy 1..75 X 4 and really like it. It has the Circle X reticle.
One word of warning about that tactical stock - make sure the pin is engaged and locked. Some guy posted a picture of his face last season after getting hit in the forehead by the scope on his tactical turkey gun. The pin apparently didn't engage or it broke or something and the stock collapsed busting him with the scope. It was very impressive - about 20 stitches if I recall.
Mouthcaller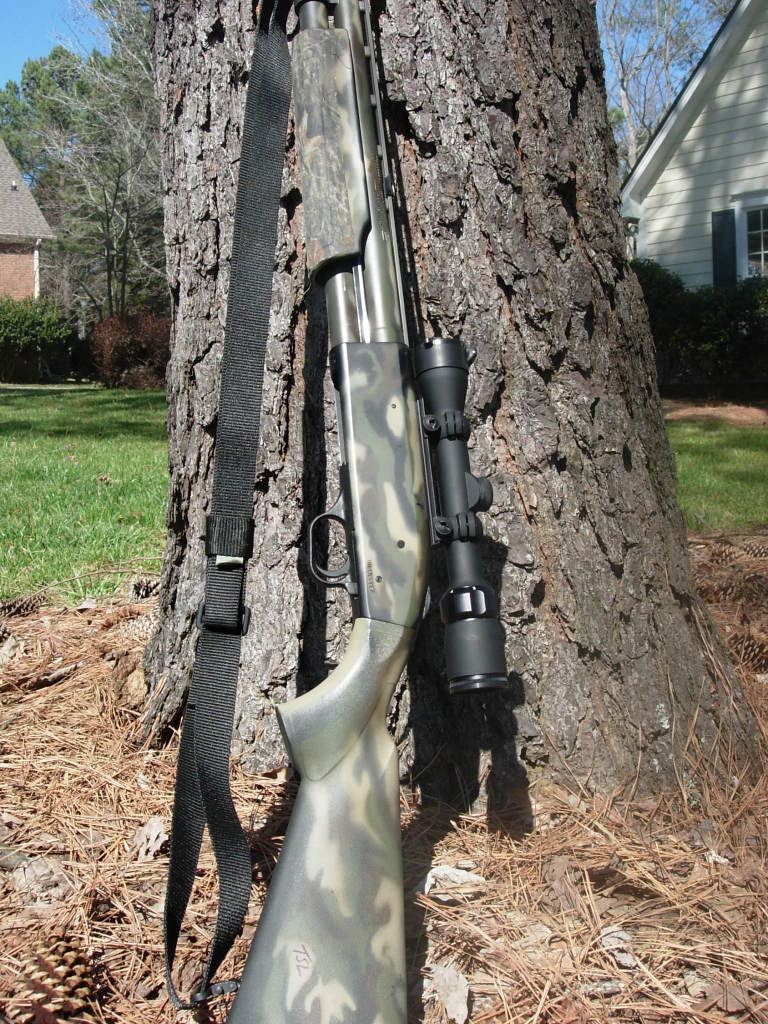 04-01-2008, 05:26 PM
RE: What scope on your turkey gun?
---
Nikon Monarch turkey pro is what I use...has what you are looking for. Daimond reticle with crosshairs - very nice in low light comes in camo ro matte black - I have matte - have used it now 5 yrs going on 6 - have never gone back and re-set - this cope has been banged around real good.

Yes I would re-purchase

JW

04-01-2008, 08:02 PM
RE: What scope on your turkey gun?
---
This is what I use...the 30mm model
http://www.bushnell.com/general/rifl...hy_73-0135.cfm
I like it because it has 4 different reticles, and both green and red illumination. The green is very nice in low-light/early morning conditions. I usually leave it on the circle encased dot for turks, and then switch to the crosshair for deer. I've used it for 3 years and am still on the original battery. I am quite anal about always turning it off every day, and usually have it off in the woods unless I know a gobbler is around.
I have it mounted on a B-square mount atop my Ithaca 12 ga., and after I zeroed it in it has not moved.
S&R
04-01-2008, 08:42 PM
RE: What scope on your turkey gun?
---
Thanks guys. I know no one here suggested it, but I've bought a Mueller 2-7x32mm with the illuminated circle dot reticle. I know Mueller isn't a super popular brand name around here, but they have an awesome reputation among the predator hunters I know. This scope will give me everything a red dot scope will do, plus a regular reticle in case the battery ever dies. It also has a circle in the reticle that represents a 15" circle at 40 yards when at 2x power. This thing should be perfect for yotes and turkeys. At under $150 along with a lifetime warranty........I couldn't find a better deal.

Thanks for the suggestions!!