20 guage mossberg
03-01-2008, 09:27 PM
Typical Buck
Join Date: Feb 2003
Location:
Posts: 882
20 guage mossberg
---
I just got my son a bantam 500 mossberg turkey gun. It came with a full and an xtra full choke. I'm going to limit his shots to 30 yards and under. If anyone has this gun, what loads did best for you. I will try to find a load with the factory choke before I go out an by an aftermarket.
03-02-2008, 09:13 AM
RE: 20 guage mossberg
---
ORIGINAL: Hick442

All guns shoot loads different so just buy a bunch of different kinds and see what shoots the best.
Exactly. But remember, if your son's 20ga kicks anywhere like a 12ga with turkey loads, he might want to consider making every shot count on the target. Those things can hurt.
03-03-2008, 07:23 AM
Nontypical Buck
Join Date: Feb 2003
Posts: 2,358
RE: 20 guage mossberg
---
My son has the same gun, if its exactly the same, the smooth bore barrel is ported which helps with recoil, but makes is LOUD.
My son has shot lots of ducks and geese, a 140 lb deer and a 20 lb turkey with his. For the turkey he an the full choke with 3 inch #5 shot. It patterned well out to 30 yards, but it does KICK. When he was patterning it, after one shot he started flinching so I finished and due to the short stock I basically punched myself in the nose! Watered up my eyes!
The turkey didn't seem to notice it was a "little" 20 guage, he just sort of flopped onto the ground and the deer took the slug through both shoulders and out the other side, and sort of fell down.
GREAT gun!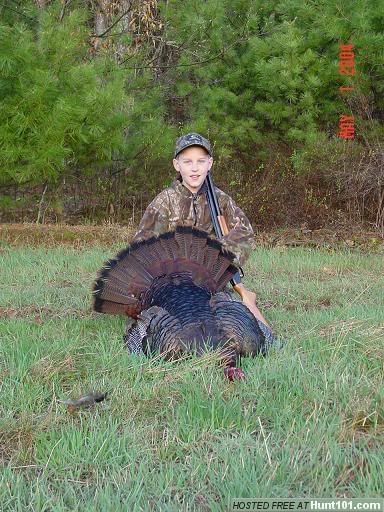 03-03-2008, 01:33 PM
Fork Horn
Join Date: Sep 2003
Location: Jamestown, KY
Posts: 207
RE: 20 guage mossberg
---
I killed my second bird of 2007 with a Mossberg 500 20ga. I was using a Hastings .572 choke, with Hevi-13 #6 shot. I killed the bird at 37 yards. This is a 40 yd combo for me. I have a new Indian Creek .555 choke coming. Whichever choke you pick, shoot serval diff loads to find what works best. Also, there is a lot of info. on the NWTF board.

03-03-2008, 04:21 PM
Typical Buck
Join Date: Feb 2003
Location:
Posts: 882
RE: 20 guage mossberg
---
Thanks for the advice. I will limit him to 30 yards or less.I will also pattern the loads for him. He will just practice with low recoil target loads until he pulls the trigger on a bird. I bought fed #6 and Win. #5 shot to pattern.
03-04-2008, 10:28 AM
Nontypical Buck
Join Date: Feb 2003
Location: Hampton Virginia
Posts: 1,607
RE: 20 guage mossberg
---
I do the same thing with my son. He never shot buck shot until he shot at a deer. He shoots bird shot and the range and he has shot 1 shell of turkey shot. His new 870 with a Gobblin Thunder Choke tube from Kick's Industrys shoots a great pattern. The range only has 25 yards and 50 yards so when we shoot at the range we set up for 25 yards and there it is very impressive. At my uncles sand pit I set up at 35 yards and it still threw a very nice pattern. I think I am going to use 35 yards as his limit. Good luck
03-04-2008, 11:46 PM
RE: 20 guage mossberg
---
My sone has the same gun. I think my sons load is a Remington Nitro 3" #4 or #5, not sure on the shot size. Patterns real well at 30-35 yrds. That was with the full choke too. He is 10 and only about 60lbs. He can take a few shots but likes the3" steel for duck better. LOL

These loads will not kill the pockett either.... They actualy patterned better than my 12.