I Saw Freak Daddy II!!!
10-11-2009, 10:04 PM
I Saw Freak Daddy II!!!
---
Unfortunately it was less than 40 yards from my stand on Sat. morning at 6:40 AM.
Here is a couple of pics of him just a few minutes prior to our encounter which spooked him into the next county. Pike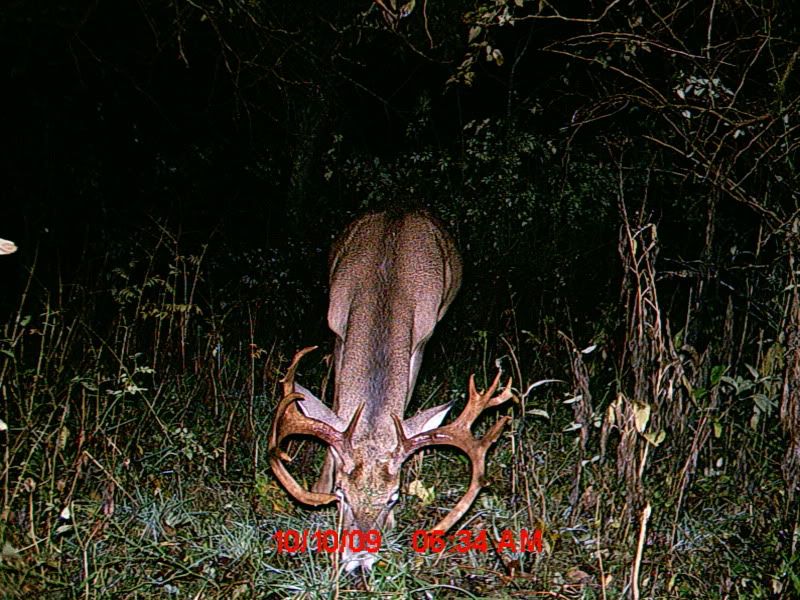 ---
Last edited by J Pike; 10-11-2009 at

10:07 PM

.
10-12-2009, 06:18 AM
---
Bummer, You should have moved your set you knew you were in his bedroom or at least only hunted inthe afternoon there otherwise you were destine to bump him out. bet the neighbor will be happy. Awesome buck maybe he will be back
10-12-2009, 09:13 AM
---
Canuck what you never bumped a deer while you where walking to a stand?? I did move my set from that cam!! Problem is he doesnt bed in the same area every day. I got pics of him all summer long on 3 different cams and have them placed 300 yards apart from each other. ( I have pics of him bedding in front of 2 of them) The only way that I wouldnt bump this deer would be not to hunt him at all. The only thing I can do is enter each stand set the proper way and hunt the stand that has the right wind. Also I would bump him for sure is I hunted him in the eve. because I wouldnt be able to enter the area without him knowing Im there. The only chance I had was getting there prior to him making it back to the area and staying put all day.
Actually Im not that worried about it, Im sure I bumped this deer at least once a month since Feb. and he hasnt left the area yet. Pike
---
Last edited by J Pike; 10-12-2009 at

09:47 AM

.
10-12-2009, 09:23 AM
---
hey pard...put all the pics in date formation, draw an ugly pic of your land and where the cams are and draw lines according to the pics from cam to cam, use different colors after you get so far so you can see a pattern..i.e orange fer cam 1 blue fer 2 and red for 3..we did this 2 years ago and if paid... not fer me unfortunately, but it did.
10-12-2009, 09:29 AM
---
Halfbaked already been doing that, but all that is done is showed how unpatternable this buck is!!
Here is a couple more pics of him at different times of the day and at different sets. Pike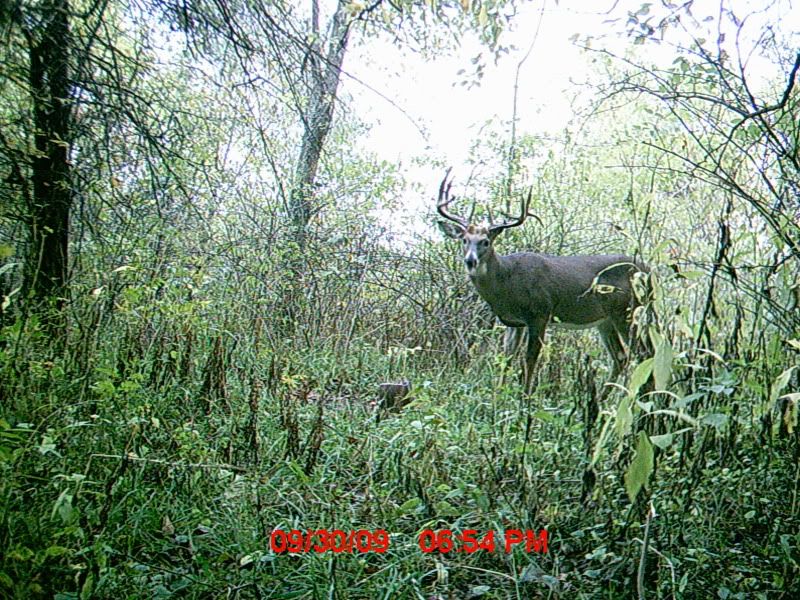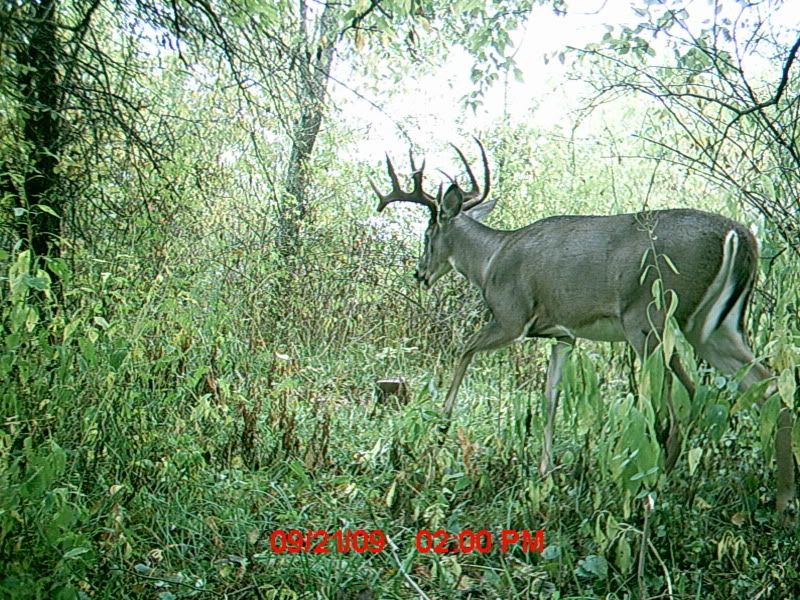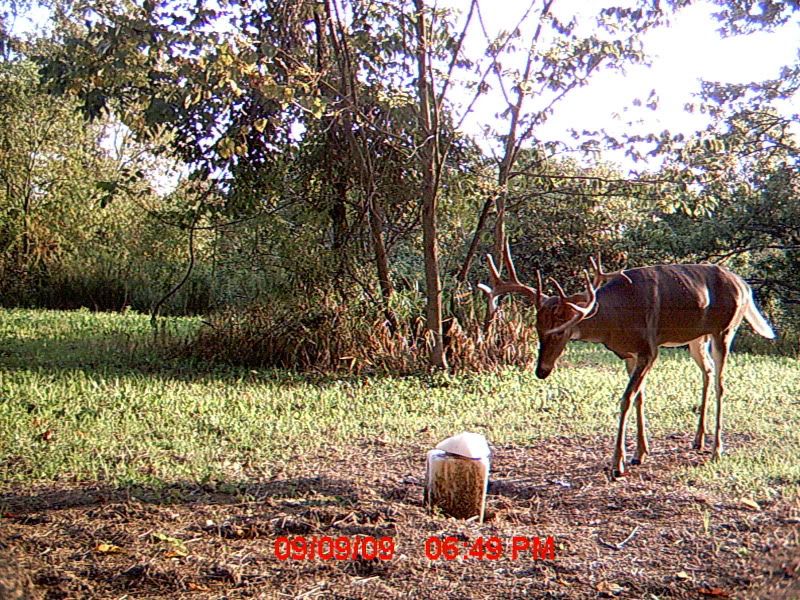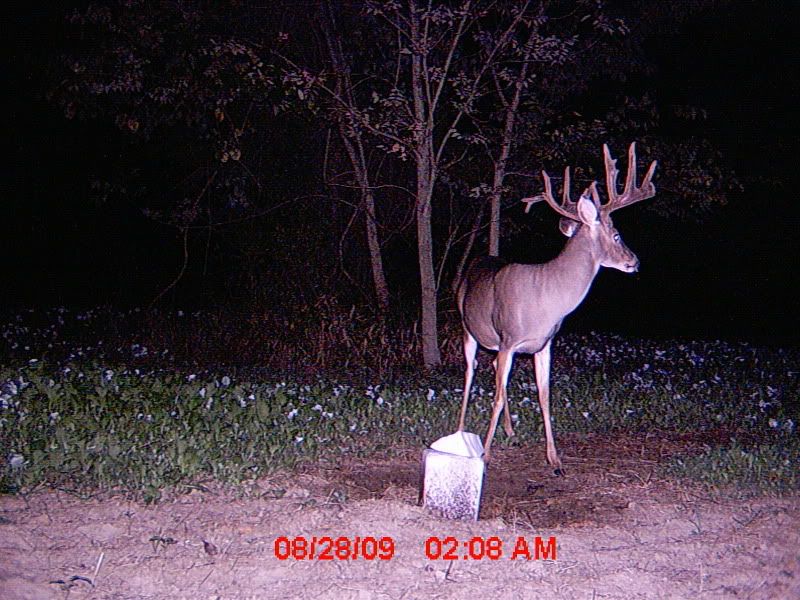 ---
Last edited by J Pike; 10-12-2009 at

10:03 AM

.
10-12-2009, 09:35 AM
---
Oh I've bumped my fair share, and probably many more I don't even know about, I realize it's impossible to hunt without bumping them, wasn't trying to imply anything just wasn't sure if you were hunting that set you knew he was under I know you have enough pics of that buck to have a great idea where he hangs. The important thing is to ejoy the ground you hunt, he will be back he was there for a reason, he must feel pretty safe. Good luck with him
10-12-2009, 09:56 AM
---
Here is a pic from the only cam that I dont have him bedding in front of but as you can see is in a food plot that I carved out of the 400 acre jungle consisting of Multa Flora Rose, Green Briar and Autumn Olive. But If you look closely you can see that he is stretching in the pic. which tells me he was bedded very close to this cam aswell. Pike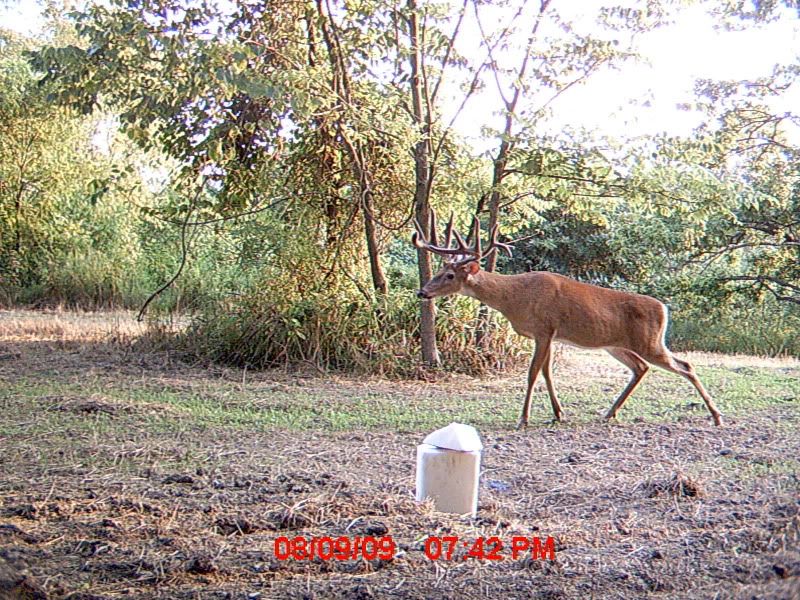 10-12-2009, 10:20 AM
---
alright then, looks like he is hittin the licks, take em all up xcept 1 while u r there, maybe do some still hunting on your way in to get em, maybe put em all around your stand!!! i dunno how yall r set - up.. jus a thought