steel arrows????
06-26-2015, 04:18 AM
steel arrows????
---
Ive come upon some rather unique steel and wood arrows. Three of them are old steel arrows with aluminum nocks. The aluminum nocks are attached by dimpling the outer steel tube. The steel arrows have 3 depressions where the short fletches are supposed to be glued but some of the fletches missed the mark by a little which is why I noticed the tiny grooves in the tube in the first place. The tips are steel and likewise held into the steel tubular arrow by crimping.
The matching wooden arrows are footed and the front and one is footed at the nock end. Some of them have brass point and a pin to hold them in place while others have steel tips. Some of the arrow were modified to accept plastic glue on nocks. I was not aware of any company making steel arrows but these appear to be quite old. Does anybody know anything about steel arrow makers?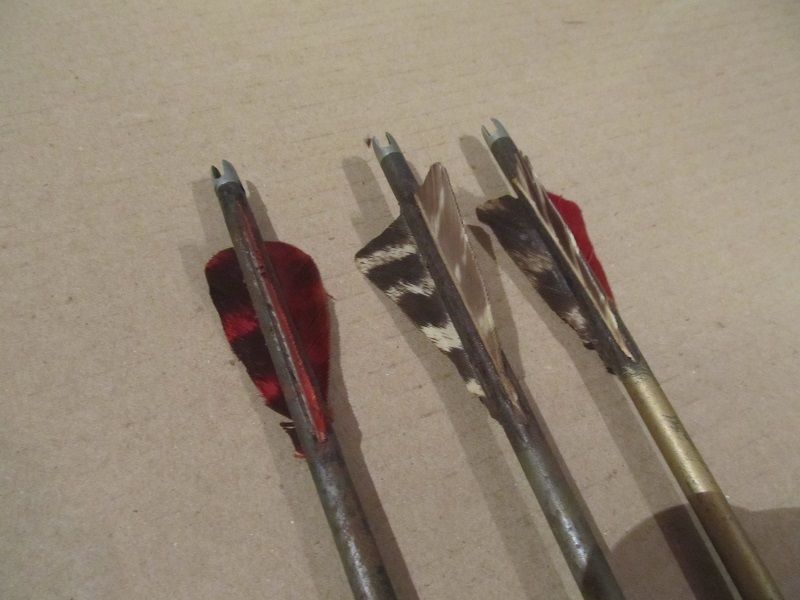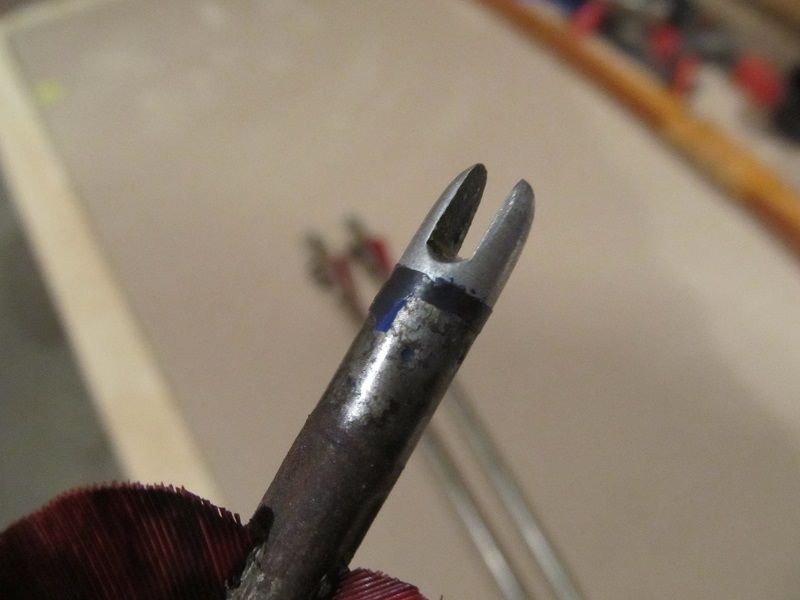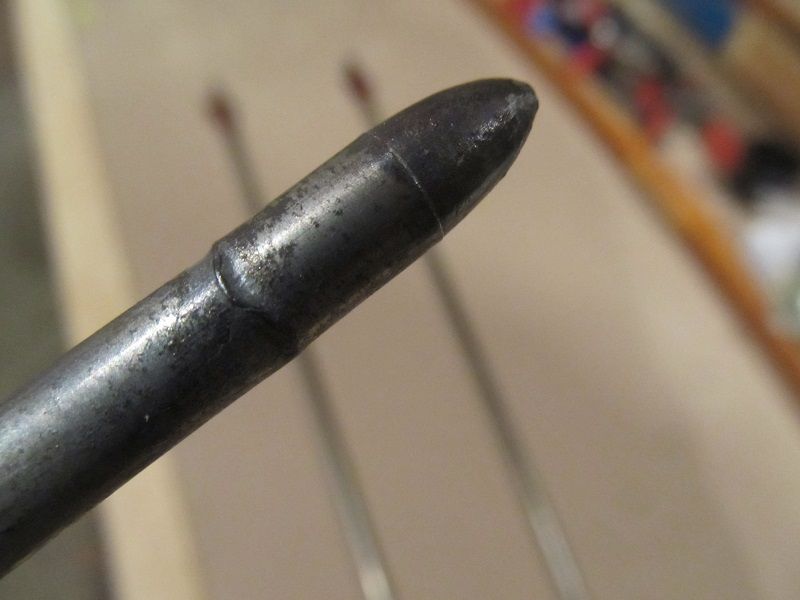 06-26-2015, 05:35 AM
---
06-26-2015, 08:33 AM
---
Another update. It would appear these steel arrows are from the late 1920's or early 1930's and manufactured in Dayton Ohio by the Dayton Steel Racquet Co. (makers of Tennis Racquets)
In 1927, Samuel C. Allen applied for a patent which was granted in 1931 for the process to manufacture thin walled tubular metal arrows with emphasis on methods of attachments of the arrow tip, nocks and most notably fletching by forming grooves in the metal tube to receive the fletching. (The internet is an amazing source of info)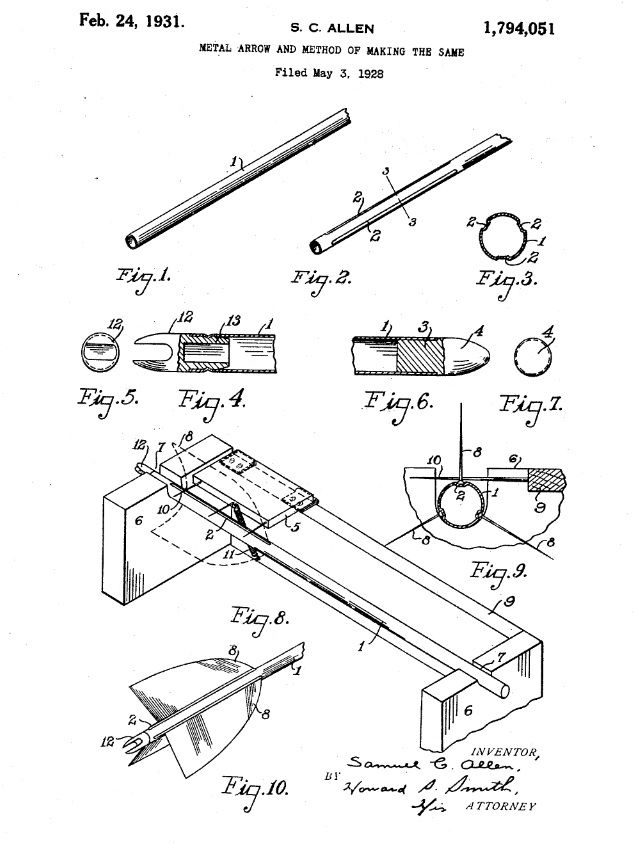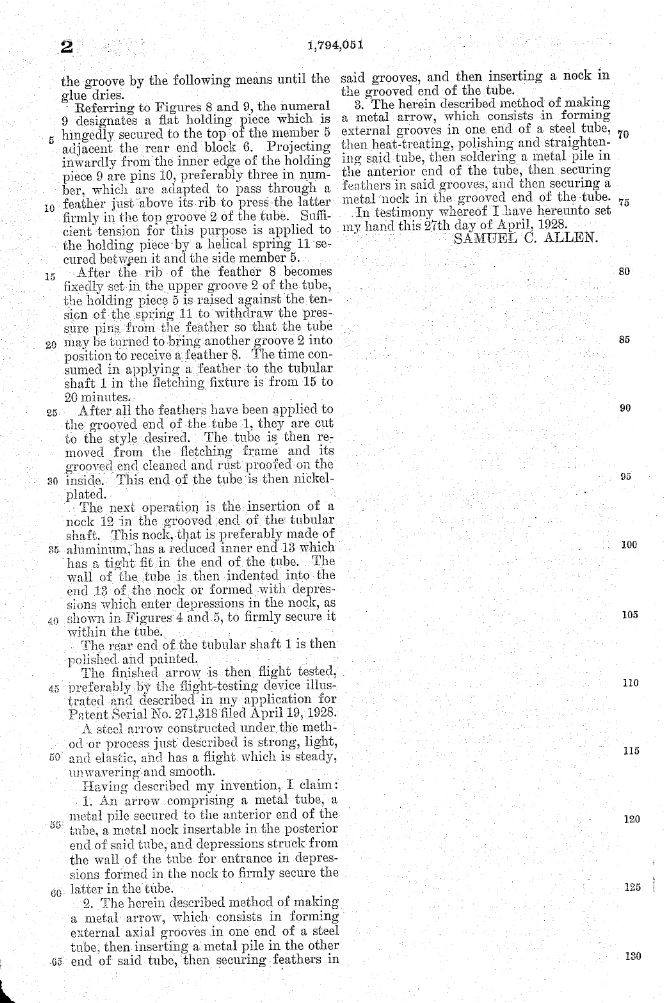 http://www.freepatentsonline.com/1794051.pdf
http://www.freepatentsonline.com/1789575.pdf
11-02-2017, 10:07 AM
Spike
Join Date: Nov 2017
Posts: 1
Dayton Steel Arrows
---
I know I am replying to an old post but I just found this site while looking for info on these steel arrows. I have a dozen in the original box. If there is interest, I will take pictures at a later date. We are downsizing to move from Pa. to Colorado and I would sell these if anyone has a serious interest.
Posting Rules
You may not post new threads
You may not post replies
You may not post attachments
You may not edit your posts
---
HTML code is Off
---