Target
06-27-2006, 06:55 PM
Target
---
I think I am going to wear my welcome out if I keep asking questions, but I am very uneducated about all of this traditional archery. If any of you have been keeping up with me, I have bought a bow, in the process of ordering a string from Chad, and just bought some arrows (Easton XX75 @ 29.5"). Hopefully they are ok, the local bow shop told me they would do fine. Now I need to get a target before my string gets in. What type of target to you all recommend for shooting my recurve into. I was thinking of getting a Block. I normally get the 'ol cheap nylon target stuffed with cloth from wal mart, but now I think I need something to shoot broadheads into. I never had one I could shoot broadheads into b/c I had always used mechanicalsthat flew like field points and didn't have to practice with them. Which target would you all recommend?

Thanks,

Trent

06-27-2006, 07:54 PM
RE: Target
---
For the price you cant go wrong with a bag. They last for ever and are easy to pull your arrows out of. I have a bag for feild points and on of those cheep foam targets for broad heads. I dont shoot anything else at itbut broadheads, I have had it for 3 years (two with the comp and one with the long), I think it was $14 bucks. If I realy want to shoot some heads I go to the range and tare up the out theretargets, thats why I pay to shoot there.
Another good thing to doisget a freind to lend you their block target and not give it back
.
06-28-2006, 12:17 AM
Join Date: Dec 2004
Posts: 49
RE: Target
---
Foam blocks work well for broadheads, as do hay bales. Alfalfa's the best!
Bales will blunt your heads double quick, so keep that in mind.
Oh, and hay's biodegradable- but don't feed it to your pack mule if you've lost a head or two in the bales!
06-28-2006, 06:51 AM
RE: Target
---
Behind me on the first pic is my latest target that we have been shooting since March, all it is, is a big piece of styrofoam that my friend got me from a loading dock. Below that is a home made target that I shoot. And below that is a target I made for my son, it stops his arrows real goodand will stop arrows from my bow, but you need to secure it pretty good (for my bow). I also shootat along with a Morrell Bag in my basement and a few 3d targets.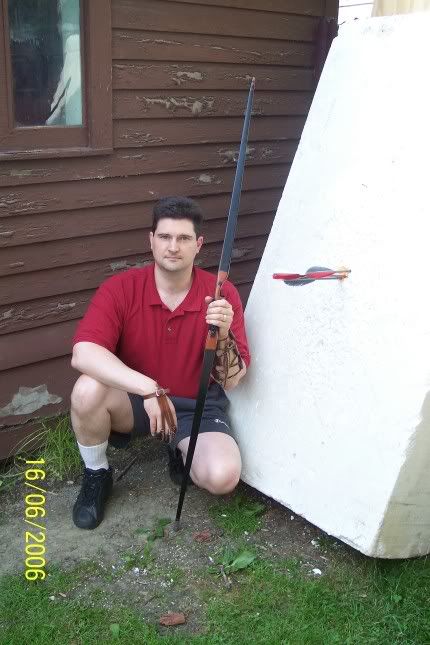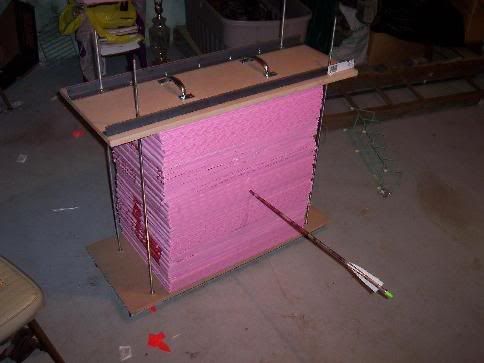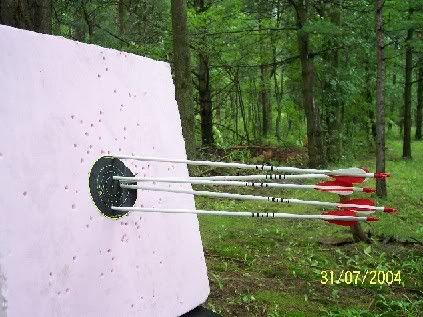 06-28-2006, 11:48 AM
Join Date: Sep 2005
Location: Oklahoma
Posts: 52
RE: Target
---
I bought one of those 4 sided bag targets. That way I can put it in the middle of the yard and chunk my arrows all over the place. Then I just walk around the yard and pick up the arrows wherever they stuck and shoot the target. I'd get something like that for everyday shooting, then just the cheap foam target for your broadheads. I usually just shoot a few rounds with broadheads; I've never had any trouble with flight[8D]for some reason.

Oh, save all your plastic bags (wal-mart) packing material, plastic wrap or anything of that nature. That way, when your bag target starts to break down and arrows are flopping, just cut a hole in the top or bottom and stuff all that plastic stuff in there.

Thread
Thread Starter
Forum
Replies
Last Post
Posting Rules
You may not post new threads
You may not post replies
You may not post attachments
You may not edit your posts
---
HTML code is Off
---