Taxidermy competition results
03-24-2007, 11:19 AM
Taxidermy competition results
---
Here's some pics from the 2007 PA state taxidermy convention and competition which was just a few weeks ago.
My button buck mount.
My archery doe mount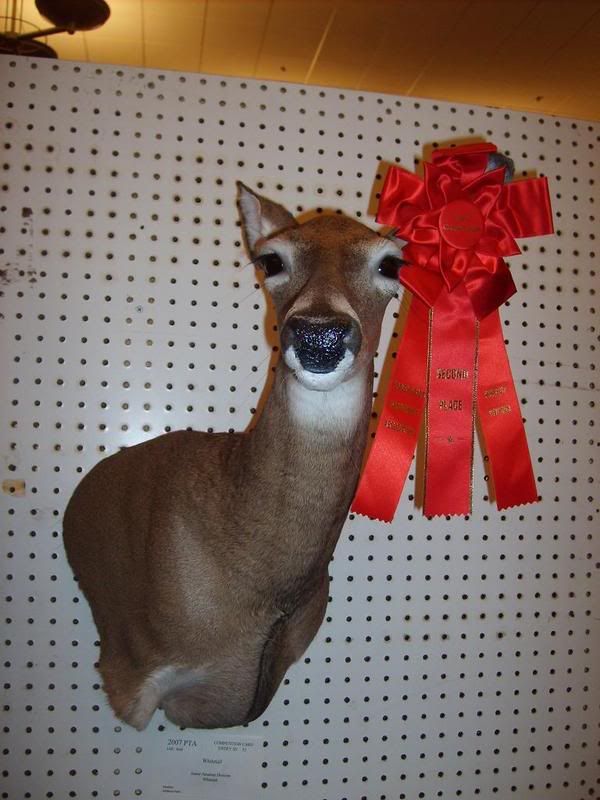 Piebald Drawing I did...First Place, best of category
I have hundreds of pics of all the other mounts people had there, and will get around to posting some of the better ones sometime soon.
04-09-2007, 06:32 PM
Nontypical Buck
Join Date: Apr 2004
Posts: 3,236
RE: Taxidermy competition results
---
ORIGINAL: robdre56

wow great work did u also get first for hottest girl at show? lol sexy sexy great work tho
Wow Nina, what a sweet talker. Makes you want to change your handle!
Nice pics, good job. See you next year, hopefully.
04-11-2007, 06:02 AM
RE: Taxidermy competition results
---
Thanks. I used a Resaerch Mannikins form for the button buck. Itwas aform actually made for a button buck. I didn't use the skull plate, just filled filled the skin where the buttons where, with Apoxie Sculpt.