my dogs first bird, story and pic!
11-20-2004, 10:18 PM
Join Date: Oct 2004
Location: Mankato, MN
Posts: 85
my dogs first bird, story and pic!
---
Hello all, this probably was the best day of my young young life so far. We left right away, 8:15.. since pheasant hunting doesn't start till 9:00 a.m. Anyways, we get out there with our dog (buddy) and our friends dog (yancy). Let me tell you, we weren't even going to bring our dog out because he was so young. But my dad decided, he'll never learn how to hunt staying at home. So we take him, but we didn't think he'd do any good.
The first bird we shot, we got up by ourselves, our dogs were busy chasing each other. My dad shot that one. So we left the bird where it was and got our dogs. Our dog is a yellow lab, his is a brittany. Our dog got to it first because he knows the comand "here" and yancy doesn't know it yet. He wouldn't pick it up at all, but we kept incouraging him, he finally picked it up by the wing and dropped it right away. We expected that, but at least we got an effort.
After missing 3 roosters out of us 4. We went to a different part of the property and started hunting there. We got a rooster up out of it, my brother missed. But now here is the best part of the story. We got a rooster up and my dad saw it land in a little patch of field line. So we took our dog, and went out. I actually helped walk the middle of the little field line, I got the rooster up for my dad and he shot once and got it.
We didn't even think about it, but here we were talking about the rooster and there were probably more in there. So as we were talking we noticed something running full bore out to where the bird was. And it was our dog! He must've watched it fall, which was totally unexpected. So, we encouraged him alot to pick it up, he picks it up, by the body mind you, (before he only picked it up by the wing) and he brings it right back to us and drops it right at our feet! Boy, that was his first really taste of pheasant, and let me tell you, we were wore out from walking, but he was ready to hunt. So im hoping that the one bird he brought back to us will make him want pheasant better than ever.
Sorry it took so long, but im still so excited! And here's the picture of our dog, we didn't have a camera out there, but here he is with the 2 birds we got. And for my post about retrieving, ( it was called " Specifically for trainers ) that i started, but never needed to use it. We didn't even make him retrieve it, but he wanted to, so ya it was the best day of my life so far!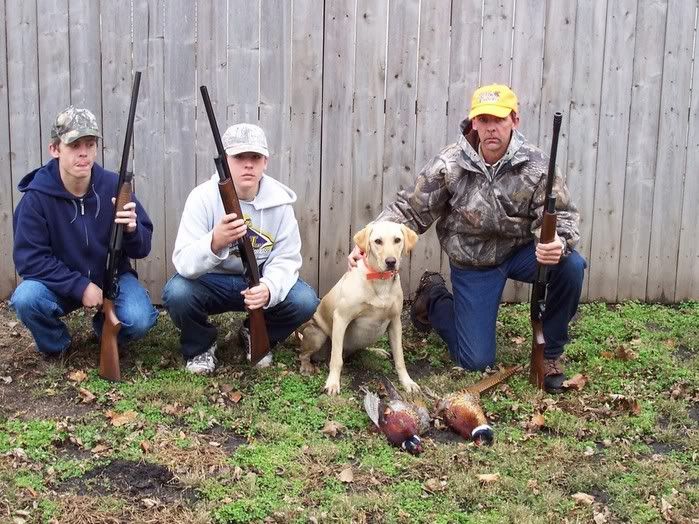 11-21-2004, 12:31 PM
Join Date: Feb 2003
Location: Elsmere, Kentucky USA
Posts: 154
RE: my dogs first bird, story and pic!
---
Congrats for you and your dog. Labs are awesome! Remember, exposure, exposure, exposure and the more you take him hunting, the better he will become. Just expect a few minor "hiccups" along the way.
Thread
Thread Starter
Forum
Replies
Last Post
Posting Rules
You may not post new threads
You may not post replies
You may not post attachments
You may not edit your posts
---
HTML code is Off
---