Hunting with a dog.
01-11-2022, 11:08 AM
Nontypical Buck
Join Date: Oct 2007
Location: NE Kansas
Posts: 1,049
---
I had labs for almost 40 years and enjoyed hunting over them. Properly trained they are great hunters and companions. Although I used mine mostly for waterfowl when I hunted it I also used them for upland birds (grouse and pheasant). Labs are easy to train, smart and can be used in a variety of situations. I had one chocolate female lab that was the best dog I ever owned. I swore that dog could read my mind. The only thing I don't like about dogs is that they don't last long enough. My little Rajah broke my heart when she past and I never got a dog to do what she could do.
I still have labs but I don't hunt them anymore.
You've confirmed what I've been thinking on this: the OP's situation sounded like it begged for a lab. My knowledge of dogs is too limited, though, to be making any recommendations.
04-29-2022, 01:24 AM
Spike
Join Date: Apr 2022
Location: Concord
Posts: 10
---
Hunting with a dog is a completely different thing. Only with a dog can you feel fully on the hunt. Frequent trips to the evenings began to attract me more and more after first time hunting with my Tricks. When he was 8 months old, we went with him to a full-fledged pheasant hunt, where we ventured into the paddock. And then the dog woke up a huge passion for the bird. We heard rave reviews about the work of my puppy at that time. Tricks managed to stop when the bird was rising and carried the carcasses of the shot trophies with great pleasure.
06-28-2022, 10:44 AM
Spike
Join Date: Jun 2022
Location: United States
Posts: 15
---
Hi everyone,

So, I am thinking about getting a dog specifically for hunting when my current 11 year old dog passes away sometime in the future.

I have a few simple questions about hunting dogs. How useful is it to hunt with a trained hunting dog? What can dogs do that benefit the hunter?

I have NEVER hunted with a dog, so this is why I am asking.

Any help or advice understanding this will be much appreciated.

Jared
I would recommend going for a "Pakistan Bully Kutta". They are a very tall, muscular and powerful dog breed used for hunting feral hogs.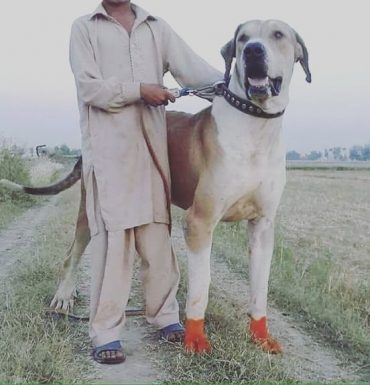 02-26-2023, 10:09 PM
Spike
Join Date: Feb 2023
Posts: 4
---
Hunting with a trained hunting dog can be highly beneficial for a hunter. Here are a few ways in which trained hunting dogs can benefit hunters:
Retrieving game: One of the most important roles of a hunting dog is to retrieve game that has been shot down. This can save the hunter time and effort, as they don't have to search for the game themselves.

Tracking wounded game: A trained hunting dog can also help track and find wounded game that may have run away after being shot. This increases the chances of recovering the game and reduces the risk of it going to waste.

Flushing out game: Certain breeds of hunting dogs, such as spaniels and pointers, are trained to flush out game birds from hiding spots so that the hunter can take a shot.

Posting Rules
You may not post new threads
You may not post replies
You may not post attachments
You may not edit your posts
---
HTML code is Off
---