The pups first bird. (pic)
10-25-2006, 09:49 PM
The pups first bird. (pic)
---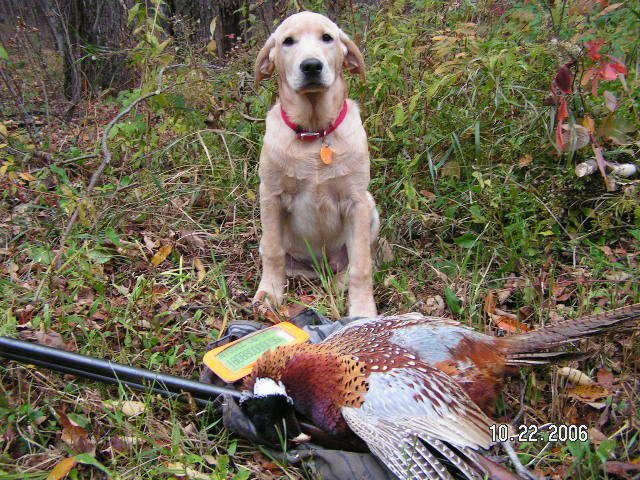 Well the boy is now getting so that he's starting to know what this hunting thing is all about. He ran this rooster about 30 yards before putting him up. At only 17 weeks - hes a little young but I think he's going to turn out to be a good one. Best thing for them when they're this young is to get em on the birds.
Poor guy looks pissed in the pic - he hates having his picture taken..
10-25-2006, 10:19 PM
RE: The pups first bird. (pic)
---
Nice work, good lucking pup! I agree....get them on birds early and make them realize what hunting is about and that it's fun. You want them (your dog) to want to go out and find the birds and make them realize it's not work!

Funny thing about your pup hating pics taken. My old GSP (the white one) hated his pictures being taken around dead birds...always put his ears down and shyed away....always thought it was a quorky (sp?) thing only he did.

11-27-2006, 12:44 PM
RE: The pups first bird. (pic)
---
I wish that Monster would have held still that long when he was 17 weeks! No way!

Thats great to hear! I am sure there will be many more birds for y'all down the road!

11-27-2006, 11:55 PM
RE: The pups first bird. (pic)
---
Nice rooster and your dog doesnt look like he wanted his picture taken. Yeah you are right about starting them early, Im getting a springer pup in mid january and we will be starting him in september so he will just be justover 11 months.

11-28-2006, 03:20 AM
RE: The pups first bird. (pic)
---
Good lucking puppy. And I agree that its funny that he looks like he doesn't like having his picture taken. My old GSP, he was like me; didn't like to have his picture taken at all. If he knew I had an camera, he would literally not look at the it until after i was done