golden retriever question
07-30-2006, 08:07 AM
Typical Buck
Join Date: May 2005
Location: northern colorado
Posts: 749
golden retriever question
---
So, I inherited this golden retriever six months ago and my wife has turned her into a human. She is three and is amazingling obesdient. Now, I know theoretically I should have sent her to training at 8 weeks old but I didnt get her until she was two and a half. SHe points at doves and grouse on walks isnt rangy. She'll get about 25 yards away but stays in that general area. SO, DO you think I should give her a try this fall? SHe flinches at gunfire and acts a little worried but as soon as I affirm her she seems to be fine. Do you think that If I fell a bird and have her retrieve it that she will take to hunting? I am poor and cannot afford another dog or high end schools for her. Give me yer .2 Cents worth. Thanks, EJ
07-30-2006, 10:28 AM
RE: golden retriever question
---
I think I would limit any gun fire or loud bangs around her until you
can get her on birds. It sounds like she may soon be getting gun
shy. Get a fewbirds and see how she does with loud noises when
she is consentrating on the birds. Hopefully this will help her to
associate the noise to the birds and she may start actting better
towards the gunshots. Good Luck
07-30-2006, 11:10 AM
Typical Buck
Join Date: May 2005
Location: northern colorado
Posts: 749
RE: golden retriever question
---
Your right, she needs to associate the loud bang with the joy of retrieving a bird. That totally makes sense, if she doesnt get the chance to make this connection, she may forever be flinching and think badly of gunfire. EJ
07-30-2006, 12:34 PM
Senior Member
Join Date: Oct 2005
Location: Berea, Kentucky
Posts: 340
RE: golden retriever question
---
She needs to associate the gun with the catching of birds, get the desire built up and let her bump, chase and catch, you can then overlay the retrieve then, and encourage, after 3-5 birds catching, then watch the dog through the whole process, as soon as mouth opens to get, fire then the timing is perfect because she will not usually take the time, to pull off the bird, and if she does, give her anoher 3-5 and try again, I NEVER ASSOC. GUN ON A CLOUDY DAY, OR WITH A DOG THAT HAS NO DESIRE FOR THE CATCH, it can and or will bite ya in the butt!! The retrieve assoc. would prolly work, but have seen it not work, better to be safe than sorry. Cya Jonesy
07-31-2006, 08:11 AM
Typical Buck
Join Date: Oct 2004
Location:
Posts: 860
RE: golden retriever question
---
Start off by shooting a .22 blank! Don't introduce shotguns right away. Once she figures out that noise is comming from you, she'll make the connection. Don't surprise her. Also, I wouldn't recommend taking her to the gunrange. You can't get away fast enough before she turns truely gunshy. Banging pots may not work either at that age. She can probably figure out the difference between a pan banging and a sudden 'boom'.
08-27-2006, 09:46 AM
Join Date: Oct 2005
Location: Hurley, NY
Posts: 864
RE: golden retriever question
---
Goldens are the best! This is our 2 yr old male named Moose baby sitting our new bernese mtn dog Bear! He doesn't like fireworks and gets nervous around gun shots so he is now a couch potato and ball fetcher! We love him to death and he is also a Human now! LOL..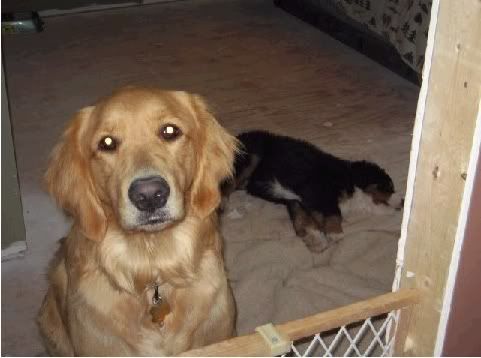 This is Moose at about 3 or 4 months.. i can't remember now.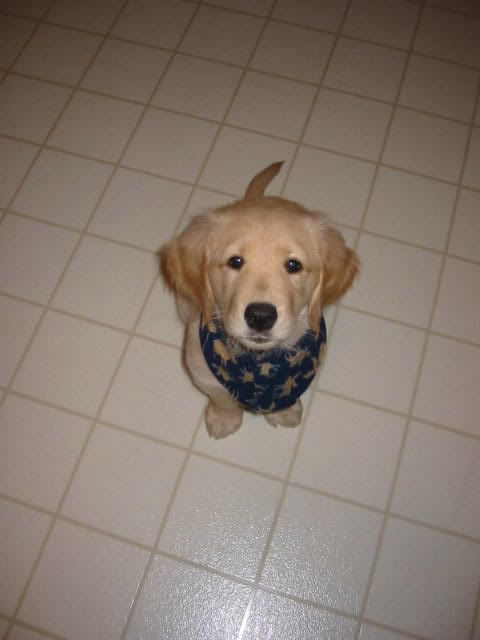 Thread
Thread Starter
Forum
Replies
Last Post
Posting Rules
You may not post new threads
You may not post replies
You may not post attachments
You may not edit your posts
---
HTML code is Off
---