VA rabbit hunt w/ PICS!!!
12-05-2009, 04:15 PM
VA rabbit hunt w/ PICS!!!
---
It's that time of year!!! Tuesday we had our 2nd rabbit hunt this week and I ran my FC Otis' Big John (green collar), Magic (orange), Brownie (red), & Summer (yellow). We jumped 11 rabbits and harvested 9; my buddy shot his 1st limit & I harvested 3. The dogs all ran superbly, in sync, & each one contributed to the races, not to mention it was a bluebird day, what more could we ask for!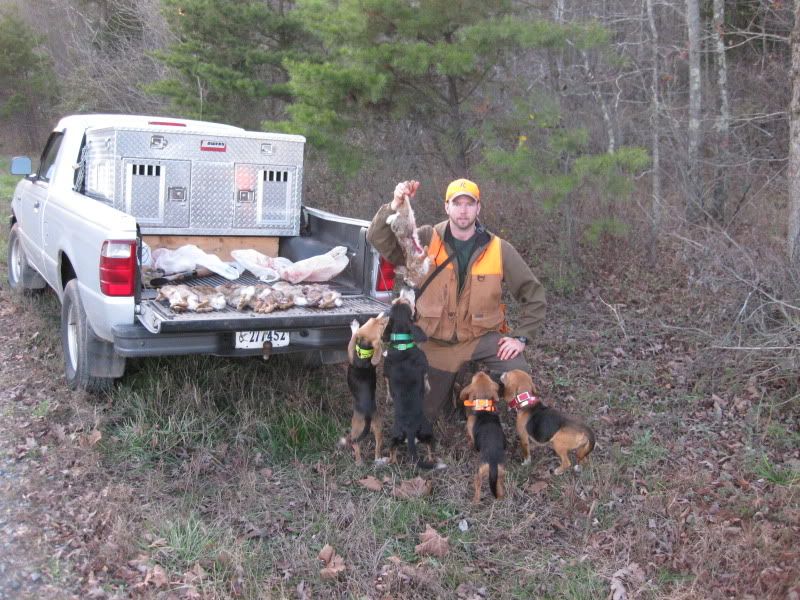 12-08-2009, 07:11 AM
Fork Horn
Join Date: Feb 2003
Location: woodbridge va USA
Posts: 361
---
I was wondering whats it like in the day of a rabbit hunter. what time of the morning do you start? does any of the rabbits eveer get away? how many hunters are usually used? i did see a fox chasing a rabbit 2 saturdays ago. The rabbit got away. The fox was probably 40 yards behind the rabbit. It was cool watching it.
do you use #6's-assuming shotguns are used.
12-09-2009, 04:41 AM
Fork Horn
Join Date: Oct 2006
Location:
Posts: 372
---
We usually start an hour or two after sun up. The more hunters the better. Usualy 4 to 6 beagles. It is a social event and we even bring the kids. The more hunters you have, the better chances you have of kicking up the rabbits. We do not jump shoot the rabbits. Its all about hearing the dogs working the scent of the rabbit. We typically hunt the really really thick stuff. Thicker the better. Briar proof clothing is a must, plus dont forget you blaze orange. Sometimes a rabbit does get away by holeing up or getting in a brush pile that the dogs can not get completly in. But, most times a run ends in a harvested rabbit. It may not be on the first, second or third circle or the same number of shots taken. This is where having a good number of hunters helps out the dogs from having an hour long chase. Rabbits are tuff to shoot, very smart and sneaky. Shots are typically up close and personal and happen very very fast. Rabbit hunting is great fun for all,
especially
if you have a great pack of beagles to hunt behind.
12-09-2009, 06:11 AM
Nontypical Buck
Join Date: Sep 2004
Location: WV
Posts: 4,485
---
I used to rabbit hunt as a kid all the time. Had a couple of dogs and my buddy had and entire pack. We had great days...back in the day. It's hard to beat a good day of rabbit hunting.

I don't really rabbit hunt anymore. Seems like all the rabbits around here (eastern panhandle of WV) have disappeared. Of course I haven't really looked for them for a long time but rarely do I ever jump a rabbit while out doing something else anymore. Our hunting started dying off probably 15-20 years ago. We always suspected too many feral cats, not enough cover left on farms, and now foxes are everywhere too (usually see one about everytime I'm out nowadays).

You guys sure seem like you have good places down there. Can you tell me what kind of land your hunting?? private farms?? Public?? managed club?? Is the hunting Preety good all over down there (where are you??)??? Sure would be nice hearing the dogs howl again and yell "THERE HE GOES!!!"
thanks
12-09-2009, 07:31 AM
Fork Horn
Join Date: Oct 2006
Location:
Posts: 372
---
We are hunting private and hunt club land. Culpeper county, Prince William county, Fauquier county. Our hunt club land is a tree farm of mostly pines and patches of hardwoods. We hunt the clearcuts after a few years of thicket growth and before the pines begin to grow tall enough to kill off the thicket undergrowth. The rabbits are loving these thickets for protection from the fox and birds of prey. It hard hunting but this is where the rabbits are. We see lots of rabbit sign in these thickets, telling us we are in the right place. Plus we are always seeing and killing rabbits. Hoping to be out in the thickets this coming Saturday. TALLY HO TALLY HO!!!!!!!!!!