yote and fox
01-05-2010, 06:29 PM
yote and fox
---
killed this yote yesterday evening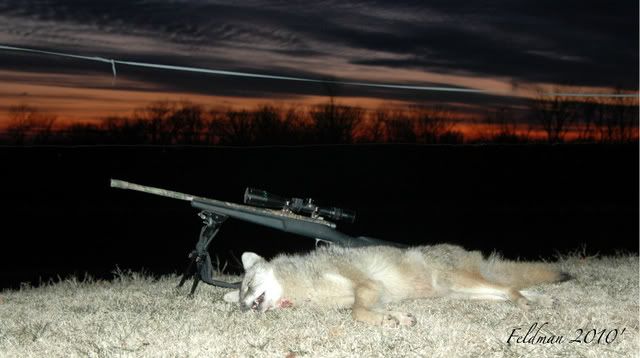 and this fox tonight before dark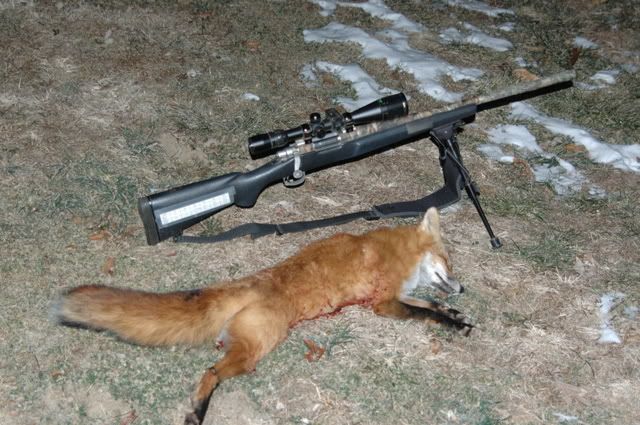 both 22-250 kills. 150yards on the yote and probably 120 yards on the fox. used my fx5 to call them in
---
Last edited by ilyotehunter; 01-08-2010 at

06:01 AM

.
01-05-2010, 06:44 PM
---
Two nice kills...........................Congrats !


Looks like the yote when right down (neck shot?) but the fox had to bleed out first ???


Using anything as a decoy or just calling ?



Good photos..........................very cool !!!
01-05-2010, 06:53 PM
---
no decoys. i shot the yote in the chest because he was facing me and he dropped. the fox i shot behind the shoulder and blew his insides out his belly and he dropped. thanks for the comments
01-05-2010, 09:53 PM
---
How do you repair the damage when selling to the furbuyer? Or do you just sell it in the round and let him deal with it?
I've shot animals with a 22-250 and can't imagine shooting a fox with one... unless I hire a seamstress.
iSnipe
01-13-2010, 08:06 PM
Spike
Join Date: Jan 2010
Posts: 42
---
The important parts on most animals to sell is the strip down the middle of the back.
But the fur buyers will give you less because he doesn't think you know any better.
Every fur buyer that I knew would try to buy your fur for the lowest price they can give you if you don't know about the parts of animals that are worth what.
I worked for one before and he would give medium to small prices for large .
You have to watch them and make sure they know that you know what your furs are really worth.
They will screw you.
Posting Rules
You may not post new threads
You may not post replies
You may not post attachments
You may not edit your posts
---
HTML code is Off
---