As 2009 Season Winds Down...
12-31-2009, 02:50 PM
Nontypical Buck
Join Date: Feb 2005
Location:
Posts: 1,784
As 2009 Season Winds Down...
---
The weather here hasn't been very conducive to hunting the last few days, and our deer season ends on Sunday.
I have been seeing a lot of tracks but not much on my cameras. I decided to change my tactics. I moved a ground blind into the edge of my parent's pasture on a creek bank close to where there is a major game crossing. I have seen hog, coyotes, and deer using the crossing, so there is no telling what might show itself. I sat in the blind yesterday evening and got skunked, and I went back this morning at daylight. The weather was foggy, and as the morning wore on, it began to clear out. I have errands to get done today before the holiday tomorrow, and I decided to sit until 9am.
By 8:30, all I had seen was squirrels and crows, and I had decided that at 9 I was going to shoot a crow and leave. At just before 9, all the crows made a hasty exit as if they knew something wasn't right, and I have learned to trust the senses of birds and squirrels to tell me when something is coming. I got my gun ready, and low and behold, out stepped a big coyote. BANG! FLOP! My son had seen three coyotes last Friday, so I decided to stay a little longer just in case. This decision was rewarded. Not two minutes after I killed the first yote, another stepped out from the same trail. He must have sensed something wasn't right and began trotting up the woodline, but he made a fatal mistake. He stopped. BANG! FLOP! I stayed in the blind for another 30 minutes, but nothing else came out. The first coyote was about 50 yards, and second was 80.
Just so you know, a 250 gr Accubond out of a 9.3x62 will literally KNOCK THE **** out of a coyote.

Here are a couple of pictures of my blind, my Tracker, and the yotes.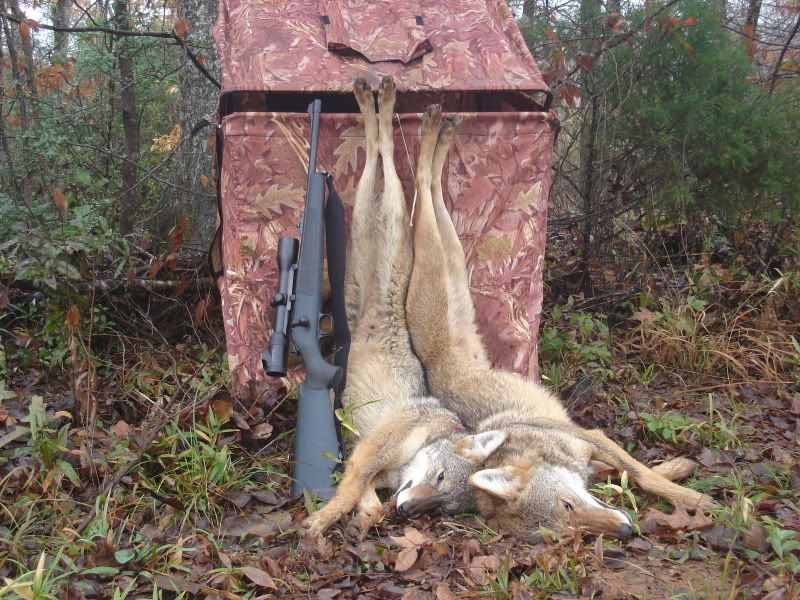 Posting Rules
You may not post new threads
You may not post replies
You may not post attachments
You may not edit your posts
---
HTML code is Off
---