This seasons Varmint setup...hehe
03-09-2008, 07:32 PM
Join Date: Jul 2007
Location:
Posts: 175
This seasons Varmint setup...hehe
---
Im going to try something a little different for this season for hogs, and yotes...so far I have about 100 rounds in it, and am shooting .5-.75MOA with black hills ammo. More accurate then I am capable.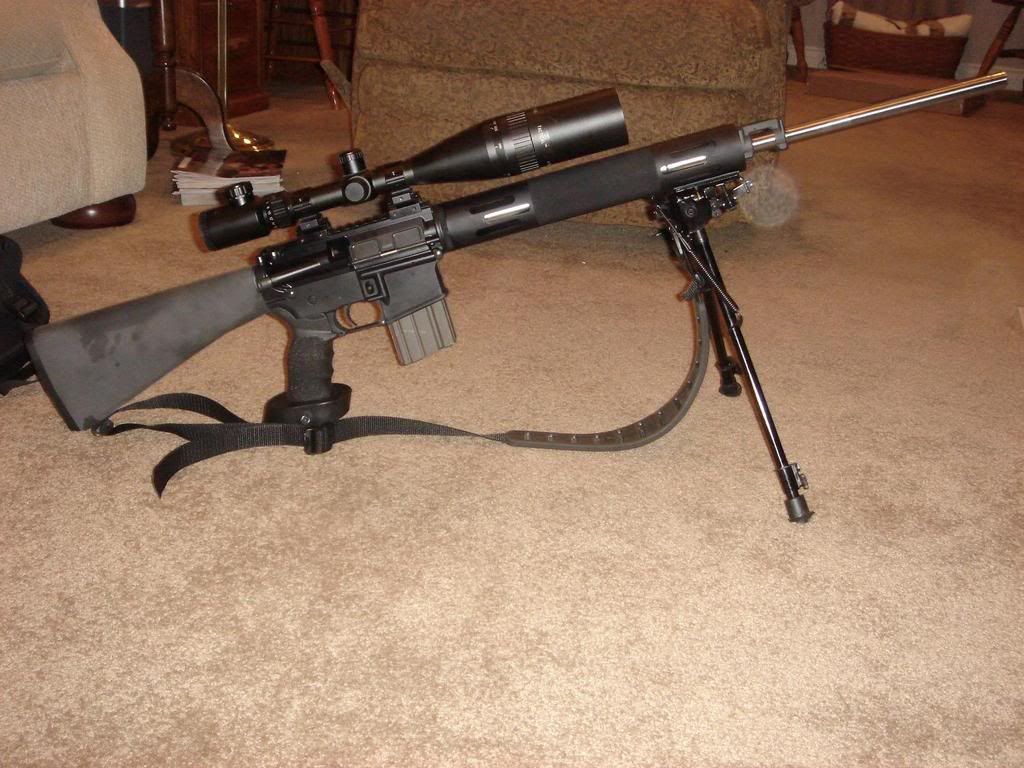 03-10-2008, 02:34 PM
Join Date: Jul 2007
Location:
Posts: 175
RE: This seasons Varmint setup...hehe
---
ORIGINAL: Antler Eater
She's a beauty!
Bushmaster?
.223?
What kind of scope?
Congratulations!!!
Thanks man. Yes this is the Bushmaster .223 with a Mueller Tactical 4-16x50AO with an illuminated Mildot. For $250 this thing rivals my $500 Nikon Monarch glass, and light, and it has a illuminated reticle.
03-14-2008, 01:28 PM
Nontypical Buck
Join Date: Aug 2006
Location: Rivesville, WV
Posts: 3,192
RE: This seasons Varmint setup...hehe
---
I hunted with a Rock River Varminter last year. I shot 93 ground hog's with mine. The AR is as fantastic platform for shooting ground hog's. No recoil, you can watch your shot, and a fast double tap is just a hoot. I shoot the Black Hills Red Box 50 grain V-Max ammo. The accuracy is incredible. I have been reloading for 35 years and I do not think I can reload a shell to shoot any better than the Black Hills. Tom.