More Putting America First
06-03-2017, 05:05 AM
More Putting America First
---
Townhall.com

Commerce Dept: Mexico Has Until Monday to Stop Violating U.S. Trade Laws
Cortney O'Brien |Posted: Jun 02, 2017 5:00 PM

Mexico has continued to violate U.S. trade laws by dumping subsidized sugar into our marketplace.

Our trade laws are intended to keep inefficient foreign producers from running businesses to the ground. Unfortunately, that is the situation we have found ourselves in with Mexico. Phillip Hayes, the media relations director for the American Sugar Alliance, a coalition of sugarcane sugar beet producers, spoke with Townhall about Mexico's unlawful acts, and how the Trump administration is preparing to respond.

In 2013, he explained, Mexico started dumping their subsidized surplus sugar here in the U.S.

"They flooded the market, more than doubled their exports here and it absolutely collapsed the prices and the market," he said.

As a result, the U.S. sugar industry lost $2 billion.

The ASA filed a lawsuit against Mexico, with the Department of Commerce and U.S. international trade commission, while the U.S. government launched an investigation. The government ruled unanimously that Mexico was violating U.S. trade law. As a result, we planned to place duties on the Mexican government, even as high as 80 percent.

Instead of imposing those duties, the Obama administration came to an agreement with the Mexican government in which the latter promised to stop misbehaving.

As you can imagine, they didn't. Mexico is still harming the U.S. industry and Hayes pointed out that since the Obama administration's "deal" with Mexico, the U.S. sugar industry has lost an additional $2 billion. In Hawaii, where sugar has been a huge part of the economy and culture for more than a century, the industry has been completely shut down.

The Commerce Department gave Mexico until June 5 to comply with our laws. If not, they will face duties. As the governments work on a new agreement, however, Mexico has not been extremely cooperative.

"They have been reluctant," Hayes explained. "They've resorted to blackmail. 'If you do not let us continue to break your trade laws, we are going to punish U.S. exports into Mexico.'"

Hayes, however, said Mexico should think twice before using the same tactics on the Trump White House.

"Personally, I think they are overplaying their hand," he said. "What I know is that the Trump administration – they do not seem like the kind of people who would bend to extortion and blackmail. I think they have been standing strong."

As mentioned, the Commerce Department, led by Commerce Secretary Wilbur Ross, are prepared to places tariffs on Mexico come Monday should they not step in line.

U.S. workers and businesses continue to lose work because of Mexico's unlawful practices. Yet, Hayes pointed out that every day Americans should be concerned about other factors at play – like their food supply.

"It's jobs and our ability to produce food in this country is a key component of our country's national security," he said. "Sugar is a key ingredient of the human diet. This is about more than just sugar. This is really precedent setting. It's going to send a clear signal not only to Mexico but to China and other countries that, when we have a trade deal, you must abide by it."

To make Mexico accountable, the American Sugar Alliance has released ad campaigns in Washington, D.C. and reached out to members of Congress and the White House.

"Everyone agrees that trade cheats need to be held accountable."
06-03-2017, 05:27 AM
---
The United States (U.S.) is the fifth largest sugar producer and fifth largest consumer of sugar in the world. The U.S. sugar industry has enjoyed trade protection since 1789 when Congress enacted the first tariff against foreign-produced sugar. Since then, the U.S. government has continued to provide trade support and protection for its domestic sugar industry.

The framework for the current U.S. sugar program has its roots in the so-called "Farm Bill" enacted in 1990. The farm bill is the primary vehicle for setting U.S. sugar policy and that policy is currently based on three main pillars: price support through preferential loan agreements, domestic market controls and tariff-rate quotas.
The U.S. Department of Agriculture (USDA) provides loans to sugarcane and sugar beet producers and processors that guarantee a minimum price regardless of the true market conditions.
USDA allocates a share of the anticipated U.S. sugar market to sugar producers annually. This allotment basically determines the amount of sugar an individual company is allowed to sell that year. However, these allotments can be, and often are, adjusted based on harvest conditions.

If companies produce more sugar than their allotments permit, they are forbidden to sell it. Instead, they must store the excess sugar at their own expense until they have permission to sell in the future. The 2008 Farm Bill requires that these allotments be at least 85% of domestic sugar demand.
US sugar has been one of the most protected/regulated crops EVER in US history and you and i have been paying for it. Sugar prices in the USA are higher than many other countries. Its been higher than the world average for longer than probably any other crop.
What a rip off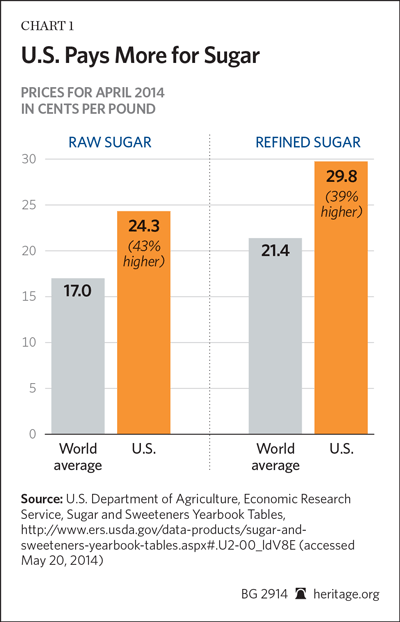 ---
Last edited by Gm54-120; 06-03-2017 at

05:32 AM

.
06-03-2017, 06:16 AM
---
I think the point of this to stop dumping government subsidized sugar on the US which is an unfair trade practice. I suspect other subsidized products from other countries will take some scrutiny. If the US sugar producer could sell more sugar the price will come down.
06-04-2017, 06:11 AM
---
Whats unfair is our government has caused us to pay a higher amount for sugar than the world average for longer than most (if not all) of us have been alive.
Just in 2013 we over paid by around 1.4 billion dollars. That is equivalent to more than $310,000 per sugar farm in the United States. Even at the so called "Mexican dumping price" were are STILL paying more than the world average for sugar by 6%-15%.
06-04-2017, 07:19 AM
---
I still believe if we prohibit the sale of foreign products that are government subsidized and if our own government stopped propping up our farmers in all agriculture products such as milk and sugar, we would enjoy lower prices. It has to start somewhere. At one time we had so many dairy cattle in the US the government paid farmers to dispose of a percentage or of all of their dairy herds, then they allowed them to sell those cattle so they got paid twice for the same animals. Farmers have always been sacred cows in the US because they provide food. Our country has done and is doing things that do not allow the market to dictate prices of farm commodities. We need to stop allowing the sale of foreign and domestic subsidized food products from being sold here. Once the government get involved with giving out money it is very hard to stop, Sheep growers are still getting a wool subsidy that was started during WWII so growers would provide more wool for military uniforms There is still a subsidy paid for wool and Mohair today. The government pays the farmer based on how much money they sell their wool for., actually the formula which changes, pays more for the wool than the owners sell it for. Usually government subsidies on farm products works so the more the farmer earns on his products the less the government pays them in subsidies. The wool and mohair subsidies are the opposite, the more the farmer gets the more the government pays. I believe stopping imported subsidized farm prouds is a good start to stopping domestic subsidies. However I doubt I will live to see it because the farm lobby is akin to the Mafia.
06-04-2017, 09:16 AM
---
The contrarian strikes again!
I am against the prejudiced gooberment subsidies. I am also against allowing foreigners to dump their products at the expense of America! We need to get out of any and all agreements that are unfair to America! Getting out of the Paris deal was a good place to start! Let's keep it going!
06-04-2017, 06:30 PM
---
That sounds like it is right out of the Liberal Gooberment's Play book! "How to Redistribute Wealth- The Socialist' Way!"
No, I am NOT for higher prices, I'm for fairness and quality! Also, I'm not against the "little guy, stretching their paycheck."
Paycheck being the key word here! The "little guy," is obviously a working-tax payer, because he DOES actually have a paycheck!" Not a subsidy or welfare check!
If our gooberment would spend more effort to promote American business and stop foreign dumping, maybe we wouldn't need as many subsidies and welfare. More jobs would be created so that those that really want to work could!