NY Bucks 2009
11-02-2009, 05:28 AM
---
Taken 10/31/09 evening
Onondaga County New York
8 point with a kicker
173 pounds dressed weight
Weight estimator puts live weight at 218 pounds
Diamond Marquis Bow
Rage 2 blade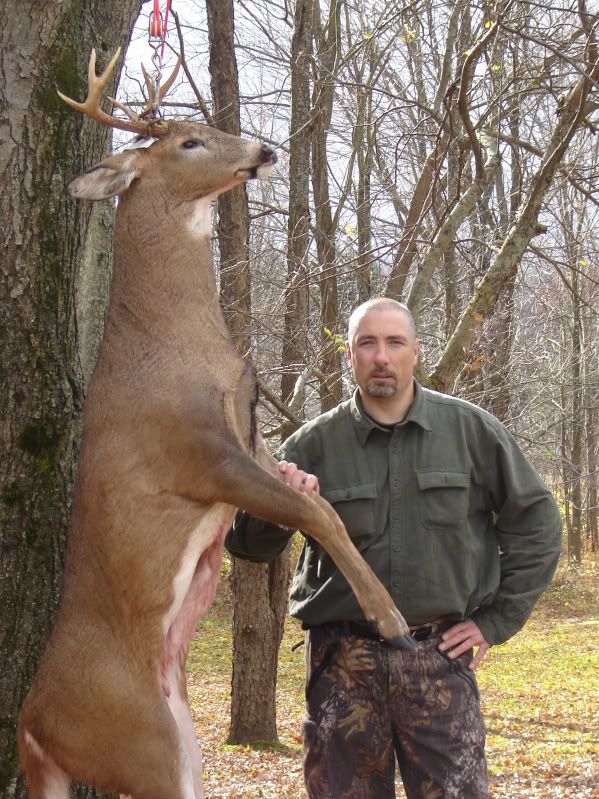 I have been in deer thick all week 27 deer sighted from stand in last 7 days. I have passed up a 1.5 year old 3 point twice and a 1.5 year old 7 and a couple fawns. The spot I am hunting has dog problems. The last two evenings I have had 2 dogs chase a deer by my watch. But I have been seeing deer so I never know what is coming and hoping the dogs do not screw this spot up. I was in stand at about 4pm and as pattern nothing going on until close to 5:30. At 5:40 this guy came in to the right of me and cut behind me about 50 yards out. I can called him a couple times and he would stop for a minute and the continue on. The third time I hit the can the wind kicked up and something startled him and he spun around and took a couple bounds back the way he came. He then cut right up my side at about 25 yards and when he went behind a cluster of trees I came to full draw. As he cleared the tree he turned a bit towards me and at 18 yards I buried the arrow in his shoulder right into the boiler. He spun and took off and I heard the crash when he fell out of sight. I only waited maybe 5 minutes due to I knew he was smoked. He went around 80 to 100 yards and piled up. He is a big bodied deer and dressed out weight was 173 pounds on the scales. He is either a monster bodied 2.5 year old or a 3.5 with a sub rack. I am very happy with him he is a pig!
Nothing like being up to you elbows in blood in the middle of the dark on halloween night!!
I have seen 27 deer this week which is good for here. Seeing rubs and scrapes pop up this week but no chasing and not any reaction to calls yet.
__________________
11-02-2009, 03:01 PM
---
Ty, yea he is a pig for not that old of a deer.

A budy of mine hunts a farm down in Tully next to some state land I hunt shotgun season. Anyhows one of the guys that hunts with him took a 10 point last week that dressed 236 pounds. Yikes!! I have also seen some giants on the Syracuse website taken already around here.

Looks to be a good year for good weights and some good racks.
11-05-2009, 10:26 AM
Spike
Join Date: Oct 2009
Posts: 13
---
Got this 8pt on 11/3/09 at 7:30am.
At first light, I saw a small fork horn come in. But he was walking funny. It looked like he had a bum left rear leg. I decided that I would take him if he came by but he never came close enough for a shot. Too bad. He really looked like he was favoring that leg quite a bit.
Then around 7:30am I suddenly heard a deer come right up behind my stand. He stopped directly under the stand then worked his way around to my immediate left. I grabbed my bow just in time. The buck moved right next to my 20 yard marker and I grunted him to stop. He was at about 18 yards. He turned into a quartering away position and I sent the arrow sailing through for a picture perfect-double lung shot. The deer ran 80 yards.
He's a nice 8pt with three little stickers on the antler bases.