'09 PA Buck
10-20-2009, 09:45 AM
'09 PA Buck
---
Arrowed this guy this past saturday evening. He came in to a couple soft doe bleats.
I don't know much about judging a bucks age by their teeth, and a little about judging there age by their body structure and wear on their feet - Long story short, i am having trouble judging the age of this deer...Any guesses? a run of the mill 2.5yr old or an older deer with a lackluster rack?
10-20-2009, 10:24 AM
---
I am not saying i couldnt be wrong but i highly doubt thats a 1.5yr old buck (southcentral pa). A typical 1.5yr old looks something like this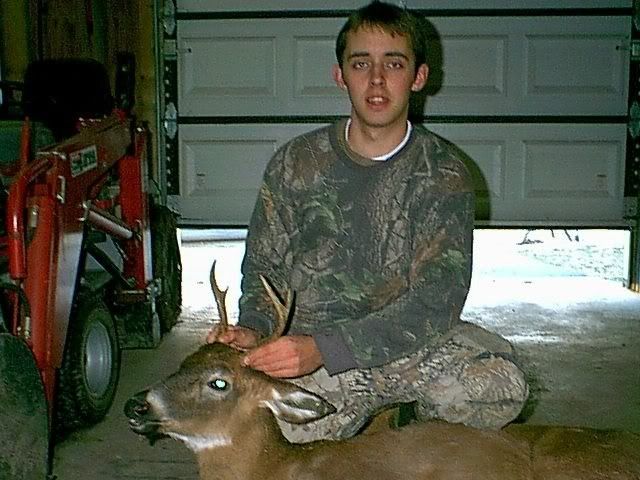 Note the shorty nose and overall the stubby apperance of the deer compared to the much longer sleeker look of this years buck (and yes that deer was shot in 2000 long before ARs so don't start flaming me).
10-21-2009, 02:34 AM
---
I first learned of aging deer by their feet/track from an old taped seminar one of the Benoit's did a number of years ago. They went into great detail about how the overall width and shape of a deer's foot changes with its body structure as it ages. Seems to me it could be pretty subjective but they always found the big bucks just by their tracks so i figure they must be a little something to it. Its really interesting stuff, i will have to see if i can dig it up.
10-21-2009, 05:19 AM
Nontypical Buck
Join Date: Apr 2004
Posts: 3,236
---
Measure from the front of the nosepad to the front corner of the eye. If you come up with anything at or beyond 7 or 7 1/2 inches, you most assuredly have a buck that is 2.5 years of age or more. It is best to use calipers to get this measurement, for accuracy. I say 2.5 on that deer, just by looking at his muzzle. Most (there are exceptions!) 1.5 year old bucks will have an eye to nose measurement of 6 1/4 to 6 3/4 inches. Hope this helps. You do need to take a good accurate measurement though. Just measure in a straight line.

Nice kill. Congrats.