Shed Hunting Question
12-26-2007, 02:56 PM
Shed Hunting Question
---
i am from northern ny , when in ny do the bucks start to shed their racks ? i want to do some serious shed hunting this year and i didn't know when this usually starts !
Thanks guys - Art
12-26-2007, 10:18 PM
RE: Shed Hunting Question
---
I'm in Central NY and look for sheds every year.
I'm sure you know guys that have taken bucks in December that dropped their antlers already, My buck this year (taken Dec 16th) had dropped within a couple days of being shot. He had a serious foot/ankle injury though - which sometimes can make them drop early.
For me - I like to get out every thaw - after Mid January. Most deer in my area are shedding Jan15 - Feb15. Though a few times I've seen bucks with Anlters in March (not usually though). My problem is that - we usually have alot of snow- and even a big thaw - it won't all go, so if I check an area with snow, I always have to back to that spot when it melts completely. So - I only look for antlers in the winter in High Percentage spots - like apple orchards or Field Edges. I usually go back to these spots anyhow.
I get Serious in April before Green-up.
These were found in a clover plot in Late March a couple years ago.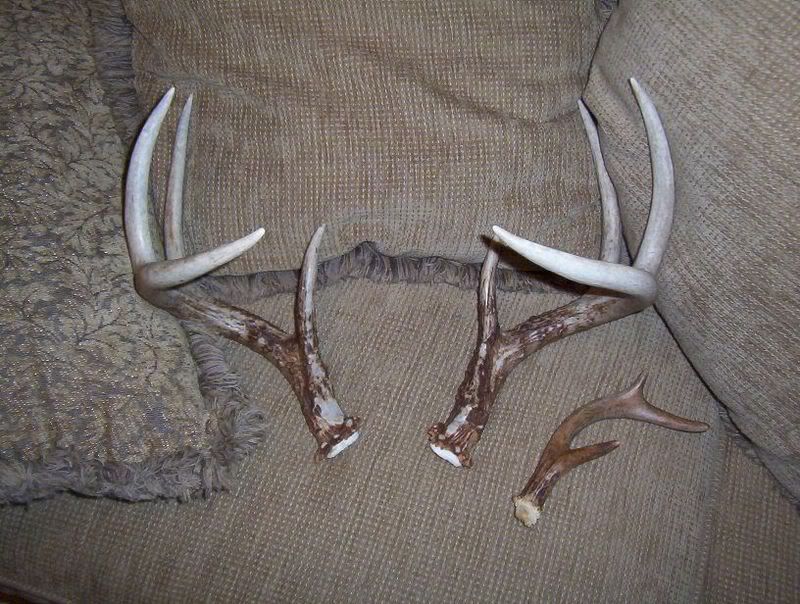 FH
12-27-2007, 12:40 PM
Join Date: Feb 2003
Location: Allston MA USA
Posts: 533
RE: Shed Hunting Question
---
Many bucks are already shedding here in MA. As was said, Mid Jan to Mid Feb is when most are dropped. I look in the bedding and feeding areas. if the snows are deep that winter, I look in the yarding areas...
12-27-2007, 01:13 PM
Nontypical Buck
Join Date: Apr 2004
Posts: 3,236
RE: Shed Hunting Question
---
Where I live, bucks don't usually shed before March unless they are juveniles.
I have seen bachelor groups near the house in the first week of March in different years.
All had racks except for the young bucks, and some of them had a half rack.

12-27-2007, 05:55 PM
RE: Shed Hunting Question
---
I would think the deer up your way should "yard" in the winter.

Basically - its an area that the deer congregate in deep snows or very cold weather. Our yarding area on our hill has an older Hemlock cover - that they center around.

People should stay out of Deer Yards when the Snow is very deep - and probably altogether during the time they are used.

FH
12-27-2007, 08:36 PM
Spike
Join Date: Oct 2007
Location: Paradise NY
Posts: 71
RE: Shed Hunting Question
---
Great finds farm hunter!

They should be dropping in your area thinktwicez71,I've found one already here in western Ny.This is going to be my 20th shed season in 08,and I have found that they will start dropping good around the last week of February.Good Luck this year guys!